Terence Davies explores the impact of war on poet Siegfried Sassoon in this lyrical biopic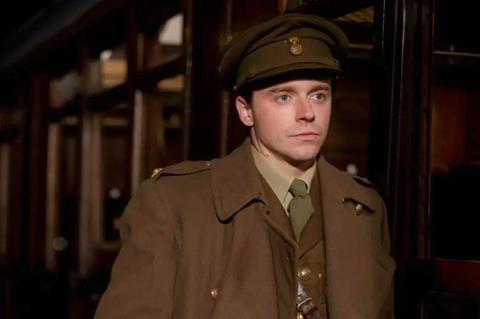 Dir/scr. Terence Davies. UK. 2021. 137 mins
The life of the poet Siegfried Sassoon (played by Jack Lowden, and, as an older man, Peter Capaldi) is explored in a suitably lyrical portrait by Terence Davies. Deftly weaving together Sassoon's voice and verse with scenes from his life, the film is particularly effective in its use of archive footage of the First World War juxtaposed with Sassoon's writing. A patchwork structure reveals a gradual hardening in Sassoon, as the emotional scar tissue thickens following the traumas of war and the subsequent tussle between his homosexuaility and the "ultimate capitulation" of marriage, religious conversion and a life of bitter respectability. It's an elegant piece of filmmaking, if a little too decorous at times.
Davies' focus here is on the man rather than his creative process
Benediction follows another poet biopic from Davies – his most recent film was A Quiet Passion, which took America's Emily Dickinson as its subject and premiered in Berlin in 2016 before enjoying a healthy festival run and modest arthouse success. This picture could be viewed as a companion piece and will likely follow a comparably journey, connecting with a similar audience with a taste for literary-themed prestige drama.
Davies' focus here is on the man rather than his creative process. The film is mercifully free of scenes of Sassoon scribbling away in the trenches or tentatively finding his voice. His genius is a given; his words, read in an authoritative voiceover, pierce the murky confusion of the First World War with spotlight precision and clarity. The emphasis, rather, is on the psychological aftermath of trauma – in Sassoon's case resulting both from his war experiences – a decorated war hero, he became a pacifist – and from the heartbreak of betrayal by his great loves, composer and actor Ivor Novello (Jeremy Irvine) and, in particular, bright young thing Stephen Tennant (Calam Lynch).
This is a life which is traced through formative encounters, the first of which is with Dr W. H. R. Rivers, (Ben Daniels), a kindly and perceptive presence at the military institution where Sassoon is treated for "nervous disease" as a polite alternative to court martial following his decision to publicly condemn the war. Also at the institution is Wilfred Owen (Matthew Tennyson), who offers his poem, 'Disabled', up for approval by Sassoon, and dances the tango with him. A lovely shot imagines Owen and Sassoon swimming together underwater, pale bodies intertwined, floating dark hair emphasising their ethereal, almost translucent pallor. Their connection is as precious as it is fragile.
Davies' gift for dialogue is in evidence throughout, both in the gentle intelligence of the scenes with Dr Rivers, and in the waspish parrying encounters in Sassoon's post-war social circle. Ivor Novello's casual cruelty prompts Sassoon's mother (Geraldine James) to observe that he's "amusing but unpleasant". The world in which Sassoon moves is a glittering one, but the brilliance is refracted through frivolity and spite.
And it takes its toll. Sassoon seeks redemption and meaning, first in his marriage to Hester (Kate Phillips), then in his infant son, and finally in religion. But insight into his struggle comes in the words of another poet: the reprise of Owen's poem 'Disabled' sharpens a slightly diffuse and overlong final third and suggests that Sassoon's wartime emotional wounds were as life-altering in their way as the devastating physical injuries suffered by his fellow soldiers.
Production company: EMU Films
International sales: Bankside Films films@bankside-films.com
Producer: Michael Elliot
Cinematography: Nicola Daley
Editor: Alex Mackie
Production design: Andy Harris
Main cast: Jack Lowden, Peter Capaldi, Simon Russell Beale, Jeremy Irvine, Joanna Bacon, Thom Ashley, Calam Lynch, Ben Daniels, Geraldine James, Matthew Tennyson, Kate Phillips