Mia Hansen-Løve takes Vicky Krieps and Tim Roth on a pilgrimage to Sweden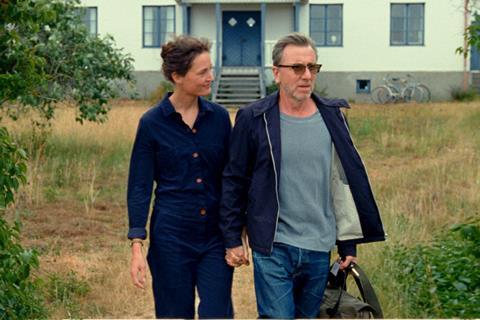 Dir. Mia Hansen-Løve. France/Belgium/Germany/Sweden. 2021. 112 mins.
Not so much a homage as a full-blown pilgrimage, Mia Hansen-Løve's Cannes Competition title Bergman Island shows what happens when two film-makers come under the spell of a legendary auteur and his island home. It's also an illustration of the dangers of falling in thrall to artistic masters – not only because Ingmar Bergman's influence on the lives of these characters isn't entirely beneficial, but also because Bergman Island itself feels a little oppressively haunted by the shadow of the Swedish master.
A problem is how pampered and self-absorbed these characters are – there's a certain Sunday supplement chic to the film
A beautifully shot portrait of Bergman's beloved island of Faro, the film is also a self-reflexive jeu d'esprit about gender, desire, creativity and the magic of cinema. Hansen-Løve's auteur prestige will guarantee niche exposure but its highly cinephilic tone and frustrating film-within-a-film indirectness are likely to limit further interest.
The film begins with a couple named Chris and Anthony (Vicky Krieps, Tim Roth), both film-makers, travelling to the Swedish island of Faro, where Bergman had a house and found much of his inspiration. Anthony is there to show one of his films and give a masterclass, while he and Chris both plan to write scripts. They are assigned a comfortable house, where they will sleep in the actual bedroom where Bergman shot Scenes From a Marriage, "the film that made millions of people divorce" - what could possibly go wrong?
After meeting members of staff of the island's Bergman Centre; joining discussions on whether one can be a great artist but also dysfunctional in one's private life; and listening to Bergman fans earnestly debate whether his trilogy is really a trilogy, the couple eventually get down to some writing. Anthony seems to have it easy, albeit with a drifting mind, as suggested by erotic doodles Chris spots in his notebook. But she finds the task harder, until she starts writing a drama set on the island – and starts pitching Anthony the story we start to watch next.
Seemingly prompted by Chris's flirtatious encounter with a young Bergmanite named Hampus (film-maker Hampus Nordenson), her movie is about a young American director, Amy (Mia Wasikowska), who comes to Faro for a wedding, knowing she'll run into an ex-love, Joseph (Anders Daneilsen Lie), for whom she still carries a torch. Chris later has more time alone on the island, and a privileged spot of quiet in the 'meditation room' of Bergman's own house triggers a shift onto yet another narrative level – at which point, viewers hoping for any sort of narrative stability may lose patience.
One problem of the film is that it can't hide an evident awe at visiting cinephile sacred ground - even while it questions the myth, indeed tilts at it (the groom in Chris's movie is quite scathing about Bergman, echoing Chris's own scepticism). But another problem is how pampered and self-absorbed these characters are – there's a certain Sunday supplement chic to the film that makes it feel as if it should have been titled Lifestyles of a Summer Night.
And while the film is very much a woman director's view of female creativity and desire, Krieps's performance – likeably breezy until she overdoes the coltishness - makes Chris come across as whimsically mercurial, and makes it harder to take her movie seriously, or see it other than an extended form of acting out, born of dissatisfaction with her relationship (even though Roth's wryly played Anthony comes across as an altogether likeable, type.
The fictional Amy actually comes across as a more substantial figure, the flickerings of doubt and desire playing nicely in Wasikowska's sometimes teasingly elusive performance – but, as the guy she left behind, Danielson Lie feels too blank and distant to register as a plausible love object.
The film undoubtedly shows some of the spark, wit and intelligence of Hansen-Løve's most applauded film to date, 2016's Things To Come. But some of her English dialogue is decidedly clunky: for Chris, we hear, writing is: "Torture. Self-inflicted agony. Blood from a stone."
It's a film made with honesty, integrity and a certain grace, but it can't quite overcome an earnestness that was never a problem in Hansen-Love's best films, which carried their literary and cinematic inspirations lightly. Typically unlikely musical choices leaven the tone: Robin Williamson's Celtic-styled folk instrumentals, Lee Hazelwood songs, disco chestnut 'I Love To Love'. Shot gorgeously by Denis Lenoir, the film is of course a fabulous visual advertisement for Faro, although you might prefer to go there when the film buffs are not in season. To be fair, Hansen-Løove does give herself a let-out for the film's failings: as Anthony says about the business of scriptwriting in this particular locale, "No-one's expecting Persona."
Production companies: CG Cinema, New Bioskop Film, Scope Pictures, Platform Production, Piano, Arte France CinémaI
International sales: Kinology, festivals@kinology.eu
Producer: Charles Gillibert
Screenplay: Mia Hansen-Løve
Cinematography: Denis Lenoir
Editor: Marion Monnier
Production design: Mikael Varhelyi
Main cast: Vicky Krieps, Tim Roth. Mia Wasikowska, Anders Danielsen Lie