An excellent reunion feels a little bogus.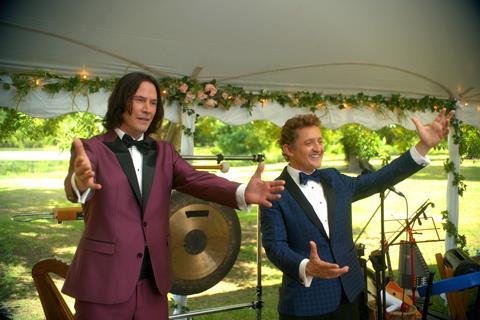 Dir: Dean Parisot. US. 2020. 92mins.
Now well into middle age, can Bill S. Preston and Ted "Theodore" Logan reclaim their youthful glory? It's a question that haunts Bill & Ted Face The Music, the third instalment in a franchise that feels well past its peak. For the first time in nearly 30 years, Alex Winter and Keanu Reeves reunite as the lovable Valley goofballs who have grown up and now have to worry about mortgages, marriages and the literal end of the world. But this fitfully funny comedy — in which they must come up with the perfect song to stop reality from folding in on itself — offers little beyond nostalgia for an onscreen friendship that was once far more excellent.
This long-in-the-works sequel is mostly reminiscent of when much-loved rock bands decide to reunite after years of inactivity.
Face The Music will be coming to on-demand (and some theatres) in the US on August 28, with a UK release planned for September 23. Reeves' stardom has exploded since he was part of the Bill & Ted pictures of the late 1980s and early '90s, and there will surely be ageing Gen-Xers who want to see these characters' latest exploits, no matter how underwhelming they turn out to be.
Set in the present day, the film follows Bill (Winter) and Ted (Reeves) as they awkwardly navigate adulthood. Although they've settled into domesticity, they sport the same immaturity of their teenage years — a fact that's put into sharp relief once they go to couples counselling with their wives, Joanna (Jayma Mays) and Elizabeth (Erinn Hayes), and seem utterly oblivious to their spouses' disenchantment with their marriages.
A larger jolt occurs when Kelly (Kristen Schaal), an emissary from the future, arrives to tell Bill and Ted that these former rockers have only 77 minutes to fulfil their destiny and compose a song that brings the whole world together — if they don't, the universe will be destroyed. Bill and Ted frantically time-travel to different years in the future to find older versions of themselves, hopeful that one of them has written that song.
Directed by Dean Parisot (Galaxy Quest), Face The Music makes sure to feature all the catchphrases and references to satisfy the series' fans. (Rest assured, Bill and Ted exclaim "Excellent!" and "Bogus!") This sequel is written by Chris Matheson and Ed Solomon, who also penned the screenplay for the first two films, and certainly this follow-up sports the same silly, unassuming sweetness that was the hallmark of Bill & Ted's Excellent Adventure and Bill & Ted's Bogus Journey.
Unfortunately, Winter and Reeves have a hard time climbing back into these roles. Put simply, they no longer possess the lighthearted, babyfaced demeanour of their younger selves — and Face The Music doesn't do much that is interesting with the realisation that Bill and Ted are no longer carefree kids. Instead, the actors feel like they're doing a stilted impression of these characters as middle-aged men, which lacks much poignancy or humour.
The disappointing characterisations are matched by a laboured time-travel adventure which is meant to give the film built-in urgency, but the ticking-clock narrative leads to few laughs. (The happy exception is Anthony Carrigan as a seemingly fearsome killer robot who, it turns out, is actually deeply insecure and just wants a friend.) While Bill and Ted meet their different future selves, their daughters Thea (Samara Weaving) and Billie (Brigette Lundy-Paine) go on a separate mission to recruit the greatest musicians across the centuries — including Jimi Hendrix, Mozart and Louis Armstrong — to play this important, yet-to-be-composed song. But the actors are forced to mimic Winter's and Reeves' performances, giving us a mildly amusing female Bill and Ted.
On occasion, the earlier films' impish streak will emerge, reminding viewers that what was always so delightful about Bill and Ted was that, even though they were hopelessly dumb, they exuded a gentle, playful spirit far removed from the mean teenagers we often see in high school films. But because Face The Music never generates much comedic momentum — and the effects and production design belie the film's relatively modest budget — this long-in-the-works sequel is mostly reminiscent of when much-loved rock bands decide to reunite after years of inactivity. It's briefly fun to have Bill and Ted back, but you may just long for the old hits and ignore their new material.
Production companies: Many Rivers, Hammerstone
International distribution: MGM
Producers: Scott Kroopf, Alex Lebovici, David Haring, Steve Ponce, Ed Solomon Alex Winter
Screenplay: Chris Matheson & Ed Solomon, based on characters created by Chris Matheson & Ed Solomon
Production design: Melanie Paizis-Jones
Editing: Don Zimmerman
Cinematography: Shelly Johnson
Music: Mark Isham
Main cast: Keanu Reeves, Alex Winter, Kristen Schaal, Samara Weaving, Brigette Lundy-Paine, Anthony Carrigan, Erinn Hayes, Jayma Mays, Amy Stoch, Holland Taylor, Kid Cudi, William Sadler, Jillian Bell