Brazil's official Oscar submission gets under the skin of the country's most famous TV clown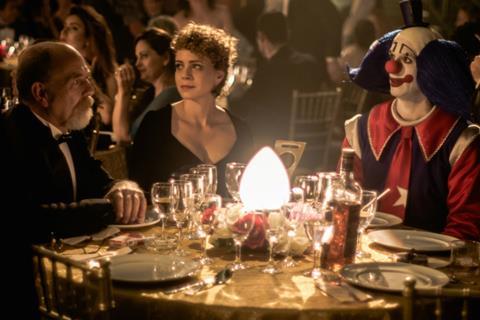 Dir: Daniel Rezende. Brazil. 2017. 113 mins
An ambitious actor finally realises his dream, graduating from bit parts in soft porn movies and telenovelas to household name celebrity status. But, while Augusto (Vladimir Brichta) is famous throughout Brazil, it's only only as Bingo the clown, the anarchic bewigged frontman of a children's morning television show; an iron-clad contract forbids him from revealing he is the man behind the greasepaint. Based on a true story, this cheerfully lurid rise and fall tale reveals sleaze, debauchery and industrial quantities of cocaine beneath the costume of a much loved family entertainer.
It maintains a crackling, almost demented energy which matches the fizzing mania of Vladimir Brichta's performance
Bingo — the Brazilian submission for Best Foreign Language Film at the Academy Awards — is a picture which will inevitably resonate most strongly with a domestic audience. Based on the life of Arlindo Barreto, who played the Brazilian incarnation of Bozo the Clown, the film taps into a national fascination with the character which was long fuelled by circulating rumours. Brichta's live wire performance, and the sordid antics of Bingo, are, however, sufficiently compelling that the film could also connect with audiences unfamiliar with this cultural significance.
This feature film directing debut of acclaimed editor Daniel Rezende, (Tree of Life, Motorcycle Diaries and Oscar-nominated for his work on City Of God) has a little more flab than you would hope given Rezende's experience of driving a narrative. Yet it maintains a crackling, almost demented energy which matches the fizzing mania of Brichta's performance.
As Augusto, he's a flawed blend of loving single parent to son Gabriel (Cauã Martins), and fiercely ambitious performer who refers to himself as 'Baron' and craves success with every fibre of his frequently naked body. As Bingo, he is a rampaging Id, a wickedly quick witted improviser, a tireless party animal and a sexual harassment suit waiting to happen.
Denied personal recognition for making Bingo a success, Augusto lays claim to the other privileges of celebrity – an endless supply of drugs and woman. His self destruction goes in cycles; as such, the film can seem a little repetitive. We see a lot of close up shots of Augusto's cocaine sweats seeping through his face paint; numerous sequences involving a sad Gabriel realising that his father has let him down once again. There are some scenes with real shock value however; a sequence in which Bingo's clown nose fills with a cocaine induced nosebleed is ghoulishly effective.
Like Pablo Larrain's No, the film borrows the aesthetic of the television of the period – in this case, the brash, tackiness of 1980s Brazilian mass entertainment. The production design is first rate, nailing both the sugared-up colour-popping sets of the TV show, and the synthetic glamour of Augusto's slick bachelor pad. Later, when Augusto's impulses have started to catch up with him, the colour palette dulls to a stale ashtray dusting of greys and browns. The soapy quality to some of the drama makes sense. Augusto, his mother, his ex-wife: all are actors for whom everyday life is simply an extension of the stage, and every conversation is a performance.
Production companies: Empyrean Pictures, Gullane
International Sales: Loco Films info@loco-films.com
Producers: Caio Gullane, Fabiano Gullane
Screenplay: Luiz Bolognesi
Cinematographer: Lula Carvalho
Editor: Marcio Hashimoto
Art Direction: Cassio Amarante
Music: Beto Villares
Starring: Vladimir Brichta, Emanuelle Araújo, Raul Barreto, Cauã Martins