An ageing, ailing captain of industry gets some fowl news in this delighful, deadpan Czech drama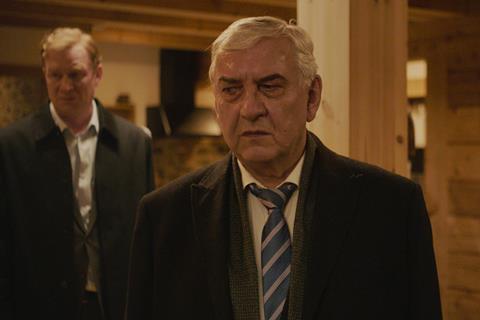 Dir: Olmo Omerzu
. Czech Republic/Slovenia/Slovakia. 2021. 92 mins.
Prague-based Olmo Omerzu confirms his lofty perch among Central Europe's younger writer-directors with his absorbingly twisty and likeably quirky third feature Bird Atlas. Chronicling the familial, financial and emotional travails of an ageing, ailing businessman who learns that a trusted employee has been feathering their own nest, it plays like a delightful and deadpan Czech counterpart of HBO smash Succession.
Omerzu spins an engrossing and unpredictable yarn
Audaciously and memorably dipping into magical realism by giving the eponymous avians an oddball quasi-choric function, the Czech-Slovakian-Slovenian co-production could finally deliver Omerzu (himself Slovenian) the international breakthrough that has been looming since his impressive 2012 mid-lengther A Night Too Young. Six years later his Winter Flies landed the Best Director prize at Karlovy Vary; Bird Atlas bows in the same competition and will be much in demand at future festivals. Warm responses from juries, audiences and critics could then conceivably pave the way for theatrical distribution in receptive territories.
Previously best known for his work with youthful performers via A Night Too Young and road movie Winter Flies, Omerzu here shows similar skill with much more seasoned thespians. Veteran Miroslav Donutil — a character actor well-established in the Czech Republic with credits dating back to the 1970s — makes the absolute most of a rare central role as arch-capitalist paterfamilias Ivo Rona. A doughty, hawk-faced, hard-noised captain of industry, Rona should have vacated the hot seat at electronics manufacturer Aron some years ago, but he evidently regards ambitious son and heir Martin (Martin Pechlat) as an unworthy successor.
A coronary waiting to happen, concrete-complexioned Ivo suffers the first of several severe health crises in the film's opening moments when he stumbles across significant "irregularities" in his firm's accounts that point to long-term embezzlement. An unlikely-seeming chief suspect quickly emerges in the form of Ivo's long-serving, long-suffering secretary Marie (Alena Mihulova). Complications rapidly ensue, with so many revelations and surprises along the way that the screenplay by Omerzu and his regular collaborator Petr Pycha agreeably skirts telenovela territory.
Crucially, the drama (and comedy) here emanate organically from the convincingly-etched characters, fleshed out into three dimensions by a top-flight ensemble cast. Working with his usual, unobtrusively skilled behind-the-scenes team headed by cinematographer Lukas Milota and editor Jana Vlckova, Omerzu spins an engrossing and unpredictable yarn. The picture soars to even higher altitudes by means of his wild-card ornithological jeux d'esprit.
The "bird chorus" kicks in some way into the story: as Ivo is recovering in hospital, a pigeon at his window coos insistently; this communication is "translated" into human language via ornately-presented subtitles. The winged messenger turns out to be dispensing sage advice, recommending that true happiness is best achieved by the absence of debt — Ivo, unfortunately, has no way of processing this salutary missive.
At regular subsequent intervals, further innocuous-looking fowl deliver aphorisms, bons mots and observations, some of which directly refer to the specific human drama of the Rona clan (usually from an anti-capitalist, even Marxist perspective), some of which are more generally philosophical. "Without family," gravely (and amusingly) counsels a somewhat Kierkegaardian crow, "one shivers in the infinite cosmos."
In lesser hands, this narrative strategy might have come across as precious or even plain silly; Omerzu, however, delivers it with highly persuasive aplomb. Indeed, after seeing Bird Atlas viewers may never be able to experience cinematic background birdsong in quite the same way again; what unheard messages were and are being imparted by our feathered friends? Here the avian host consistently underlines the story's morals and messages, but in a manner much more charming than didactic.


The only notable misstep is another set of occasional interpolations: brief, mid-grade video inserts showing soldiers in a windblown, mountainous desert setting which we eventually recognise as Afghanistan. These enigmatic sequences turn out to be loosely connected to a crucial subplot involving Marie's online-only boyfriend — topically enough, an American serviceman supposedly battling the Taliban — but ultimately fail to pull their narrative weight, and could easily be culled.
Production company: endorfilm

International sales: Cercamon, sebastien@cercamon.biz 

Producer: Jiri Konecny

Screenplay: Olmo Omerzu, Petr Pycha

Production design: Antonin Silar

Editing: Jana Vlckova

Cinematography: Lukas Milota

Music: Monika Omerzu Midriakova

Main cast: Miroslav Donutil, Alena Mihulova, Martin Pechlat, Eliska Krenkova, Vojtech Kotek, Pavla Beretova