DC's choreographed carnage stars Margot Robbie as Harley Quinn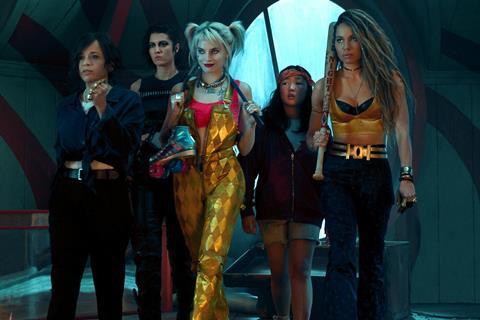 Dir: Cathy Yan. US. 2019. 109mins.
Harley Quinn is such nasty fun: it's a shame her cohorts aren't equally compelling company. Margot Robbie imbues Birds Of Prey with swagger, giving us an irreverent psychiatrist-turned-psychopath anti-hero who wears her villainy lightly. Often entertaining and very colourful — both tonally and literally — this follow-up to Suicide Squad takes that film's best asset and provides the Oscar-nominated actress with a winning star vehicle. And yet, Birds Of Prey is hampered by a drab story and an underwhelming ensemble of supporting players — whenever the movie shifts its attention from Harley, it suffers.
This intensely violent film should cater to adult crowds
Warner Bros. will launch Birds Of Prey in the UK and US on February 7, hoping to capitalise on the success of such recent DC films as Aquaman and Joker (both of which grossed $1.1 billion worldwide). Audience familiarity with Harley from 2016's Suicide Squad ($747 million) will certainly help, as will Robbie's continued rising star. This intensely violent film should cater to adult crowds, and with little direct competition in the marketplace, Birds Of Prey ought to feast, even if the DC's highest numbers are probably beyond its reach.
During the film's opening moments, master criminal Harley Quinn (Robbie) explains that she and the Joker have broken up, which leaves her despondent but also a little worried. Without his protection, she's fearful of all the Gotham bad guys looking to take revenge on her. She meets Roman Sionis (Ewan McGregor), a slimy gangster who wants a rare diamond which is in the possession of crafty young pickpocket Cassandra Cain (Ella Jay Basco), and promises to track down the kid in order to save her own skin. Soon Harley and the thief are teaming up to defeat Roman's goons.
As in Suicide Squad, Robbie exudes a malicious glee here as Harley, a menacing figure who subverts sexist stereotypes of the blonde bombshell. Beneath the character's cutie-pie exterior is a steely warrior who has no problem snapping body parts, and it's a treat to watch the actress portray Harley's smilingly unhinged temperament with such gusto.
Collaborating with cinematographer Matthew Libatique and production designer K.K. Barrett, Dead Pigs director Cathy Yan gives us a Gotham that's multiracial, seedy and surreal, with each new locale imaginatively conceived and different than the ones that came before. Even when Christina Hodson's screenplay gets bogged down by distracting temporal jumps and predictable plotting, Birds Of Prey's fresh look (matched by Robbie's wicked good cheer) keeps the proceedings lively.
Difficulties arise, however, once the film starts introducing the characters who will become part of the Birds Of Prey, an all-female fighting force (first seen in DC Comics) who end up working with Harley to protect Cassandra. Mary Elizabeth Winstead's Huntress and Jurnee Smollett-Bell's Black Canary don't feel especially novel, although Winstead gets a few laughs from the fact that her crossbow-wielding superhero isn't exactly cool. None of these women are as clever or arresting as Harley, and when the movie's later stretches require them to join forces, it's less an exciting Avengers-style team-up than an obligatory battle-royale.
With shades of Logan, Birds Of Prey pairs its maladjusted protagonist with a kid, giving Harley a chance to show a softer side around Cassandra, who is on the run for her life after stealing the diamond. Unfortunately, this only leads to de rigueur scenes of these mismatched characters reluctantly bonding, and nothing much in the way of drama or comedy. Frankly, such forgettable moments come across as merely an excuse for the solid hand-to-hand fight sequences — and one muscular car chase — that litter the movie. These scenes may not exhibit the over-the-top bloodshed of a John Wick, but Yan displays an enthusiasm for choreographed carnage.
McGregor plays Roman as outlandishly as possible — he's fussy, vain and susceptible to temper tantrums — but as amusing as it can be in small doses, the character feels laboriously crafted, a collection of actorly quirks. It's a problem that carries over to Birds Of Prey in general: the movie is delightfully odd but not consistently inspired, often straining to rewrite the rules of superhero cinema, a mixture of good and bad ideas all mashed together. Where other comic-book movies lumber along with self-importance, this film is a breezy, amoral lark, which proves somewhat refreshing. But that's not enough to allow Birds' hit-or-miss pleasure to soar.
Production companies: LuckyChap Entertainment, Clubhouse Pictures, Kroll & Co. Entertainment
Worldwide distribution: Warner Bros.
Producers: Margot Robbie, Bryan Unkeless, Sue Kroll
Screenplay: Christina Hodson
Production design: K.K. Barrett
Editing: Jay Cassidy, Evan Schiff
Cinematography: Matthew Libatique
Music: Daniel Pemberton
Main cast: Margot Robbie, Mary Elizabeth Winstead, Jurnee Smollett-Bell, Rosie Perez, Chris Messina, Ella Jay Basco, Ewan McGregor