Imogen Poots fights a masked killer - and her own demons - in this feminist remake of the 1974 slasher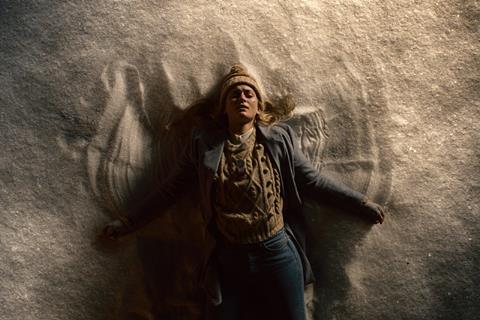 Dir: Sophia Takal. US. 2019. 92mins
Atmospheric in tone and intensely unsubtle in its agenda, the politically pointed Black Christmas is a horror movie that positions its female protagonists not just at the mercy of a mysterious killer but a patriarchal society determined to oppress them. This proudly feminist remake of the Seventies horror may not appeal to hardcore genre fans who measure a film's success by how bloody the kills are, but director Sophia Takal gives the material an intriguingly off-kilter rhythm — prizing mood over copious gore — which taps into the fragile headspace of her imperilled coeds. Anchored by Imogen Poots' emotional performance, Black Christmas is uneven and overreaches, and yet its anger at a misogynistic society gets its claws into its audience.
Suspense sequences nicely dovetail with the script's underlying theme of women living with trauma
Opening on December 12 in the UK, and a day later in the US, this Blumhouse production will hope to cater to horror viewers, even if the target audience may not be old enough to remember the 1974 original. Less violent and graphic than most modern horror offerings — a conscious choice on the filmmakers' part in order to court a larger, younger female audience — Black Christmas doesn't boast much star power. The low-budget affair probably won't be a breakout success in a crowded Christmastime marketplace, but should prove profitable regardless.
Poots plays Riley, a student at a prestigious conservative college who's still traumatised from being raped a few years ago by her then-boyfriend, and from the fact that school officials refused to believe her. With most students heading home for winter break, Riley spends time with her sorority sisters, including sporty Marty (Lily Donoghue) and socially conscious Kris (Aleyse Shannon). But when classmates start being murdered, Riley realises that there's a killer running amok.
The 1974 Black Christmas is regarded as one of the original slasher films, but Takal (Always Shine) is less interested in one rampaging psychopath than she is in painting a disturbing portrait of a society in which young women never feel safe. She and cowriter April Wolfe understand the architecture of horror, but they subvert expectations throughout — initially by holding off on traditional kill scenes and, later, by making their story's subtext bluntly apparent.
Working with cinematographer Mark Schwartzbard, Takal has crafted an elegant, disquieting horror movie that borrows camera moves and techniques from bygone eras to give Black Christmas a consciously old-fashioned feel. That stylishness is important considering that this remake's plotting isn't particularly inventive. (At its core, this is another story about a group of friends being picked off one by one by a killer.)
In the place of stunning twists, Black Christmas invests in Riley's scarred psyche, laying an emotional foundation for why she's so wary and haunted. It's no coincidence that just about every man she encounters in Black Christmas is arrogant, predatory, thoughtless or ineffectual — there are few allies. (Hinting that this politically-minded film also has a sense of humour about itself, Cary Elwes plays an impossibly pompous classics professor who definitely seems to be up to something nefarious.) Sometimes, the commentary is so heavy-handed as to be tedious but, as the murderer starts to close in on Riley and her friends, the movie's suspense sequences nicely dovetail with the script's underlying theme of women living with trauma.
Poots has to sell the film's narrative shortcomings — Black Christmas winks at certain genre clichés but then stoops to incorporating others — but she unleashes Riley's repressed rage in satisfying ways. And even when the film goes over the top in its predictably outlandish finale, the actress gives us a rooting interest: in a way, every bizarre thing that happens during the ending is connected to the ordeals Riley has endured from men across her young life.
Despite Black Christmas' close study of how women feel marginalised and targeted, Takal reduces Riley's sorority sisters to bland female archetypes; strident Kris gets on Riley's case that she's not as politically active as she once was, while Marty is loyal to her pathetic boyfriend. The movie champions the idea that women have to rely on each other in a disinterested male-driven world, but sisterhood isn't strongly developed in Black Christmas; although, they do have to team up to fight the black-masked, cloaked villain who's been stalking them. But ultimately, this remake isn't about its onscreen scares — it's about the real-world issues that torment women every day. Black Christmas' points are obvious, but that doesn't make them any less true.
Production company: Blumhouse
Worldwide distribution: Universal
Producers: Jason Blum, Ben Cosgrove, Adam Hendricks, Brigitte Berman
Screenplay: Sophia Takal & April Wolfe
Production design: Mark Robins
Editing: Ben Baudhuin, Jeff Betancourt
Cinematography: Mark Schwartzbard
Music: Will Blair & Brooke Blair
Main cast: Imogen Poots, Aleyse Shannon, Lily Donoghue, Brittany O'Grady, Caleb Eberhardt, Cary Elwes