A radical project for Disney+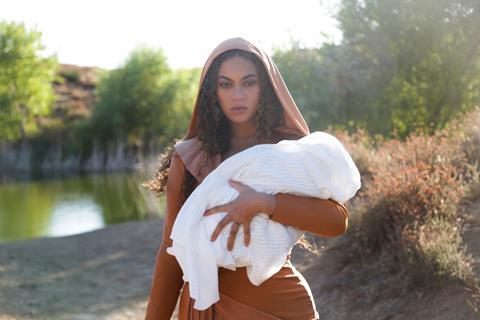 Dir: Beyoncé Knowles-Carter. US. 2020. 86mins.
The Lion King meets Queen Bey in Black Is King, the resplendent new visual album from director/musician Beyoncé Knowles-Carter. Representing a slightly more family-friendly exploration of the urgent themes that consumed her previous film, 2016's Lemonade, this tie-in to her 2019 record The Lion King: The Gift — itself a tie-in to last year's photo-realistic Lion King remake, in which she co-starred — salutes feminism, family and black empowerment, using the Disney movie as tangential inspiration for what is chiefly a celebration of her own creative exuberance. Stuffed with gorgeous costumes, vivid choreography and deft tunes, Black Is King doesn't have the depth or anguish that made Lemonade so epochal, but its more inspirational tenor and consistently high artistry make this a feast for eyes and ears.
There's no question who the film's star is
Released today on Disney+, Black Is King is a fairly radical project for the buttoned-down studio — this visual album is boldly political in its focus on the black experience and narratively unconventional in its lack of a straightforward storyline. Still, Knowles-Carter's massive stardom ensures this will be the streaming site's biggest event since Hamilton. And even if young Lion King fans get confused about what Black Is King has to do with that beloved film, social media will spend days obsessively unpacking all of this movie's killer moves and fabulous looks.
As with Lemonade, the new film combines Warsan Shire poetry with distinct vignettes devoted to specific album tracks. (Black Is King also contains snippets of dialogue from last year's Lion King which serve as bridges between sequences.) Often honouring the richness of the natural world, Black Is King travels from Africa to New York for its picturesque musical montages, with Knowles-Carter usually front and centre in scenes that pay tribute to African culture and the primacy of the family unit.
Comparisons will be inevitable to Lemonade simply because of how groundbreaking that 2016 visual album was: Its mixture of striking photography and deeply-felt songs was Knowles-Carter's audacious attempt to connect her heartbreak over husband Jay-Z's infidelity to America's painful legacy of slavery, police brutality and racial injustice. Black Is King fails to reach such heights, and in some ways tones down and repeats Lemonade's intent and design, resulting in a film which is less blazingly original.
But once the viewer accepts that limitation, Black Is King is potently entertaining, with Knowles-Carter and her team of co-directors referencing everything from the Bible (shots of a baby in a basket floating down a river) to Hollywood musicals (a brief Busby Berkeley number). It's fair to criticise visual albums as being merely highfalutin' terminology for what's really just a string of music videos tied together by a central concept, but each of Black Is King's segments is so meticulous crafted — each of them seemingly existing in its own ecosystem — that there's pure pleasure in finding out where the next sequence will take place, and what it will look like.
Additionally, the format allows Knowles-Carter to flesh out The Gift's lyrical ideas. As opposed to the Lemonade album, which was a personal expression of grief and defiance, this new record features a bevy of guest stars — including African vocalists Burna Boy, Tekno and Yemi Alade — that underline themes of community and black pride. And on a track like "Brown Skin Girl," which advocates that people of colour should reject white standards for beauty, Black Is King's choice to film a collection of black men and women staring straight into the camera visualises that uplifting message more forcefully than a song could.
Black Is King features cameos from celebrities such as Lupita Nyong'o, Naomi Campbell and Jay-Z, but there's no question who the film's star is. In recent years, Knowles-Carter has emerged as one of pop's defining forces, an icon in both music and fashion. The militancy of her ambition, although certainly empowering for many of her fans, has sometimes felt overweening, so it's refreshing that alongside her reliably electric dance choreography and inherent sense of drama, she also includes some sly humour in Black Is King. Amidst images of African royalty and black excellence, the viewer might spot a painting of Queen Bey in which chubby cherubs brings gifts of Grammys to her throne. Her kingdom is vast, but it also has room for a little levity at the expense of her well-established (and well-deserved) self-confidence.
Co-director: Kwasi Fordjour
Production company: Parkwood
Worldwide distribution: Disney+
Producers: Jeremy Sullivan, Lauren Baker, Jimi Adesanya, Jason Baum, Blitz Bazawule, Alex Chamberlain, Ben Cooper, Robert Day, Astrid Edwards, Christophe Faubert, Durwin Julies, Brien Justiniano, Yoli Mes, Rethabile Molatela Mothobi, Dafe Oboro, Sylvia Zakhary, Akin Omotoso, Nathan Scherrer, Will Whitney, Erinn Williams
Screenplay: Beyoncé Knowles-Carter, Yrsa Daley-Ward, Clover Hope, Andrew Morrow
Production design: Freyja Bardell, Hannah Beachler, Jennifer & Pablo Boyd, Kevin Emecheta, Carlos Laszlo, Susan Linns, Miranda Lorenz, Brandon Mendez, Rika Nakanishi, Max Randall, Gerard Santos, Ethan Tobman
Editing: Andrew Morrow, Maria-Celeste Garrahan, Haines Hall, Tom Watson
Cinematography: Ryan Marie Helfant, Santiago Gonzalez, Mohammaed Atta Ahmed, David Boanuh, Michael Fernandez, Erik Henriksson, Danny Hiele, Laura Merians, Nicolai Niermann, Kenechukwu Obiajulu, Malik Sayeed, Benoit Soler
Music: James William Blades, MeLo-X, Derek Dixie
Main cast: Beyoncé Knowles-Carter