Marvel's latest superhero adventure sits in its own, unique universe.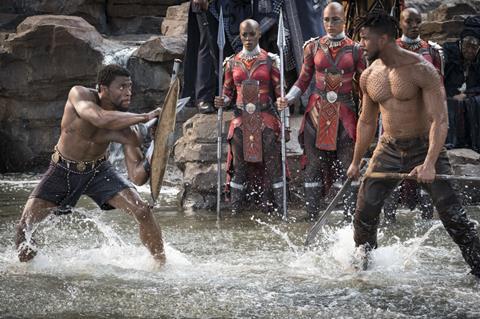 Dir: Ryan Coogler. US. 2018. 134mins
Black Panther delivers what fans would expect from the latest instalment in the Marvel Cinematic Universe — rousing action, riveting heroism — but what is best about this chapter in the studio's sustained box-office domination is the willingness to go its own way. Director Ryan Coogler and star Chadwick Boseman give us a superhero movie which is part spy thriller, part all-out battle and part social commentary, and while all the pieces don't always work, Black Panther is consistently propelled by tonal and thematic flourishes that break with the conventions that have defined this lucrative franchise.
There's a touch of Shakespearean grandeur to Black Panther
Opening across most of the world by February 16, this Disney release doesn't feature an icon as famous as Iron Man or Captain America, putting it more in line with 2015's Ant-Man ($519m worldwide) or 2016's Doctor Strange ($678m), both of which it could easily out-rank given pre-release excitement. Surrounded by stars like Michael B. Jordan, Lupita Nyong'o, Martin Freeman, Daniel Kaluuya and Forest Whitaker, Boseman may not be an A-lister – yet – but the Marvel brand will be all the attraction most audiences need.
Taking place shortly after Captain America: Civil War, Black Panther follows wise warrior T'Challa (Boseman) as he copes with the tragic death of his father T'Chaka, king of the African nation of Wakanda. Now in line for the throne, T'Challa realises his land is threatened by two very different dangers: a deranged weapons dealer (Andy Serkis) and an assassin named Erik Killmonger (Jordan) with a mysterious grudge against T'Challa.
The two most striking elements of Black Panther are its deep immersion in African culture and its relative lack of jokey, self-mocking humour, which has become a staple of recent Marvel films as their writers and directors begin to acknowledge the series' formulaic qualities. As a result, Coogler (Fruitvale Station, Creed) has fashioned a slightly more earnest variation on the typical MCU movie — one that is still fun and funny, but also rooted in a desire to speak meaningfully about racism, global culture clashes, and the tension between hiding behind one's borders and helping outsiders in need.
That mixture of sincerity and comic-book exploits can be awkwardly executed, but Coogler is assisted by Boseman, who projects a quiet, confident dignity that's far removed from the snarky swagger of Iron Man or Spider-Man. There's a touch of Shakespearean grandeur to Black Panther — much of the story revolves around T'Challa's uneasy ascension to the throne and his subsequent battle to hold onto his crown — and while T'Challa isn't a particularly dynamic character, his sober nobility makes him appealing. (That's especially true when his kid sister, Wakanda's technology expert Shuri, played by young British actor Letitia Wright, gleefully needles his stoicism.)
Unlike so many Marvel films, in which outside characters and storylines assert themselves into the narrative, Black Panther is blessedly free of such distractions, making this one of the most straightforward and easy-to-follow MCU instalments. Still, Black Panther is overstuffed with characters, with everyone from Whitaker's wizened mentor Zuri to Angela Bassett's regal Queen Mother Ramonda to Kaluuya's warrior W'Kabi fighting for screen time.
But even if Black Panther's story is a little plodding, Coogler and his creative team have crafted an absorbing, specific world for the viewer to explore. Oscar-nominated cinematographer Rachel Morrison and production designer Hannah Beachler envision a Wakanda that, to the rest of the world, looks like just another desolate, impoverished African country — only to reveal that the seemingly inconsequential nation is actually incredibly technologically advanced thanks to a treasure trove of a rare metal that powers its hidden cities and sophisticated spacecraft. Combined with Ludwig Göransson's propulsive, rhythmic score, Black Panther has a look and feel that separate it from other MCU movies, placing the film in its own unique universe.
Serkis overdoes his lunatic villain, while Jordan seethes beautifully. But the film is stolen by its female co-stars. Wright is all impish delight as Wakanda's version of Q, supplying T'Challa with cool gadgets and firing off pithy rejoinders. As T'Challa's former flame, Nyong'o plays an operative who is steely and sexy in equal measure. Best of all, though, is Danai Gurira as General Okoye, a spear-wielding enforcer who has little patience for elaborate schemes — just put her in the middle of a fight, as Coogler does several times in Black Panther, and she can show you what kind of mayhem she's capable of unleashing.
Production company: Marvel Studios
Worldwide distribution: Disney, www.movies.disney.com
Producer: Kevin Feige
Executive producers: Louis D'Esposito, Victoria Alonso, Nate Moore, Jeffrey Chernov, Stan Lee
Screenplay: Ryan Coogler & Joe Robert Cole
Cinematography: Rachel Morrison
Production design: Hannah Beachler
Editors: Michael P. Shawver, Debbie Berman
Music: Ludwig Göransson
Website: www.marvel.com/blackpanther
Main Cast: Chadwick Boseman, Michael B. Jordan, Lupita Nyong'o, Danai Gurira, Martin Freeman, Daniel Kaluuya, Letitia Wright, Winston Duke, Angela Bassett, Forest Whitaker, Andy Serkis