The loss of star Chadwick Boseman casts a long shadow over Ryan Coogler's return to Wakanda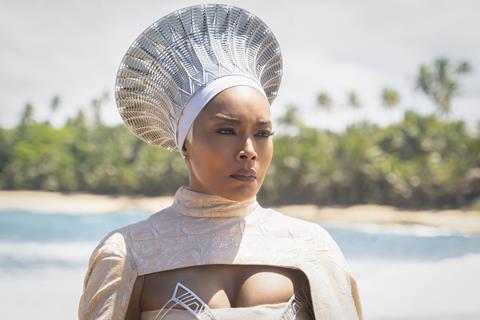 Dir: Ryan Coogler. US. 2022. 161mins
The grief many viewers will feel while watching Black Panther: Wakanda Forever is matched by the collective mourning that suffuses this ambitious, emotional, uneven sequel. Attempting to both deliver a momentous new instalment in the Marvel Cinematic Universe and pay homage to former star Chadwick Boseman, who died in 2020 from colon cancer at the age of 43, director Ryan Coogler has crafted one of the franchise's most distinctive chapters — a sombre epic with an unmistakable hole at its centre. But in the process of exploring how T'Challa's death impacts those closest to him, Wakanda Forever proves poignant in two ways: the film is often quite thoughtful in its exploration of bereavement, but it struggles to overcome what the actor's loss means to the future of this series.
'Wakanda Forever' wants to honour Boseman's legacy while obeying commercial considerations that insist more Black Panther instalments must follow
Disney releases Wakanda Forever on November 11, hoping to come close to matching the 2016 original's worldwide gross of $1.3 billion. The loss of Boseman will be the focus of much of this sequel's coverage, but a fine returning cast that includes Letitia Wright, Danai Gurira and Angela Bassett helps bring some sense of continuity. And while reviews may not be as glowing as they were for Black Panther, there's no denying the film's potential to provide some catharsis for fans afected by the Oscar-nominated artist's death.
As Wakanda Forever begins, T'Challa has died from an unspecified ailment, with his brilliant scientist sister Shuri (Wright) unable to save him. A year later, Wakanda remains grief-stricken, but his mother Queen Ramonda (Bassett) must turn her attention to the discovery of a hidden underwater kingdom, Talokan, which is ruled by the powerful mutant Namor (Tenoch Huerta Mejia). Revealing that Talokan possesses huge quantities of vibranium — long thought to be found only in Wakanda — Namor proposes an alliance between the two nations to take over the world. If Ramonda refuses, he'll target Wakanda next.
The picture's melancholy tenor is established early, as Shuri grapples with her brother's absence and Wakanda tries to move on. But apart from contending with the bloodthirsty Namor while mourning her son, Ramonda must also rescue Riri (Dominique Thorne), an MIT prodigy who has invented a vibranium-detecting device that makes her a target of the US government. If ever Wakanda needs its fallen champion, it's right now – and indeed, much of the film is about the surviving characters coming to accept that T'Challa is gone forever. (There's a deeper irony at play as well: audiences have grown accustomed to popular characters in franchises "dying", only to be miraculously brought back through convoluted plot twists, but Boseman's death prevents such narrative gimmicks.)
Rising to the challenge, Coogler frequently harnesses these tragic circumstances for a rousing, politically pointed spectacle, which also touches on xenophobia and the cruelty of endless wars over dwindling natural resources. But the film is powered by its vibrant supporting cast, which now takes centre stage. Gurira's ferocious warrior Okoye shines in her fight sequences, although the actress also flashes a cutting sense of humour that's especially welcome. Bassett conveys Ramonda's regal manner that is now flecked with profound sorrow. Meanwhile, Wright's role as T'Challa's mischievous kid sister has been understandably retooled, forcing the character to grow up in order to emulate her brother's heroic example.
But despite the heartfelt execution and the ingenuity of Hannah Beachler's production design and Ruth E. Carter's costumes, the film can't quite recapture the magic of the original. This is, perhaps, inevitable and Wakanda Forever seems to embrace that limitation, with cinematographer Autumn Durald Arkapaw expressing the sequel's sober mood through a darker colour palette. Still, at over two-and-a-half hours, Wakanda Forever is most potent as a mediation on mortality, which by comparison makes its familiar comic-book tropes feel strained. The seemingly invincible soldiers of Talokan are a formidable foe, but as compelling as Huerta Mejia is as the vengeful Namor, his surprisingly empathetic villainy isn't to the level of Michael B. Jordan's similarly fascinating Killmonger.
Sequels often try to outdo their earlier chapters by going bigger, and although that tendency towards overkill hampers Wakanda Forever, the film is further affected by the lack of a central character as magnetic as Black Panther. There's something ineffably moving in how Coogler has, essentially, crafted a blockbuster around a mighty nation's anguished awareness that no Wakandan can replace T'Challa — in a way, Shuri and her comrades are working through their shared pain by teaming up to defeat Namor. But the sequel ends up at war with itself, wanting to honour Boseman's legacy while obeying commercial considerations that insist more Black Panther instalments must follow. Ultimately, Wakanda Forever is about the fact that Wakanda will never be the same again — a heartbreaking reality that this haunted, imperfect film can't escape, no matter how hard it tries to soldier on.
Production company: Marvel Studios
Worldwide distribution: Disney
Producers: Kevin Feige, Nate Moore
Screenplay: Ryan Coogler & Joe Robert Cole, story by Ryan Coogler
Cinematography: Autumn Durald Arkapaw
Production design: Hannah Beachler
Editing: Michael P. Shawver, Kelley Dixon, Jennifer Lame
Music: Ludwig Goransson
Main cast: Letitia Wright, Lupita Nyong'o, Danai Gurira, Winston Duke, Florence Kasumba, Dominique Thorne, Michaela Coel, Tenoch Huerta Mejia, Julia Louis-Dreyfus, Martin Freeman, Angela Bassett