At last, Scarlett Johansson casts her web in this MCU standalone spinoff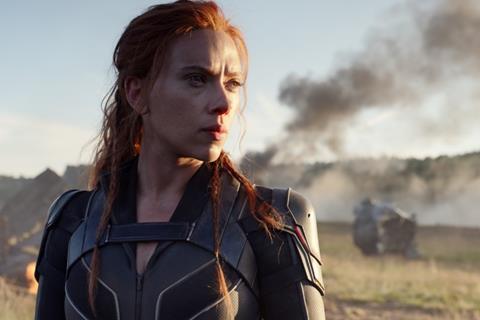 Dir: Cate Shortland. US. 2021. 134 mins.
Natasha Romanoff takes a break from the rest of the Avengers in Black Widow, a standalone adventure that could have used some of the inventiveness and stakes of her old crew's films. The first theatrical instalment in the Marvel Cinematic Universe since 2019's Spider-Man: Far From Home has muscular action sequences and humour, following Scarlett Johansson's hero as she reconnects with painful memories from her traumatic past. But despite the size of the spectacle, the picture feels minor by the standards of the franchise, placing Natasha in a James Bond-style spy thriller that proves diverting rather than truly gripping.
An energetic placeholder in the Marvel Cinematic Universe meant to tide audiences over until a bigger, richer adventure comes along
Delayed by over a year from its planned May 2020 launch and is set to land on July 7 in the UK with the US following two days later through Disney, and eventually Disney+. Recent MCU streaming series such as WandaVision have helped sate the hunger of franchise fans, but the first solo film for Johansson's character — in which she is joined by Florence Pugh and Rachel Weisz — will be heavily anticipated.
Taking place after Captain America: Civil War, the film finds Natasha (Johansson) on the run from the American government after the Avengers have disbanded. Hiding out in Norway, she is attacked by a powerful, mysterious masked figure known as the Taskmaster. This leads Natasha to seek out her estranged sister, Yelena (Pugh), and Melina (Weisz) and Alexei (David Harbour), the Russian spies who raised the siblings as their own children when they were orphaned. Reuniting with this dysfunctional de facto family, Natasha plans to take down Dreykov (Ray Winstone), the evil architect of the Black Widow programme that turned young women like herself and Yelena into coldblooded assassins.
Much like Spider-Man: Far From Home, Black Widow suffers from operating in the shadow of Avengers: Endgame, which, no matter its weaknesses, was a grandiose conclusion to years of MCU films. Perhaps inevitably, Natasha's modestly ambitious standalone saga can't compare, especially in terms of its lacklustre villain and supporting cast. Director Cate Shortland (Lore) gives the story some pathos by viewing this Black Widow program as a metaphor for trafficked and abused girls — Dreykov essentially targets young orphaned women, stealing their childhood — but juxtaposes those darker moods with jokey self-referential moments in which Black Widow mocks MCU conventions. (For instance, Yelena loves teasing Natasha about her signature heroic pose, which the character has sported frequently since her introduction in Iron Man 2.)
Between its allusions to Moonraker and the presence of a maniacal bad guy whose fortress is a floating compound, Black Widow boasts some of the cheeky swagger of Roger Moore-era James Bond. Even Johansson's costars' Russian accents seem to speak to the film's lighthearted, escapist bent, deriving much humour from the fact that these heroes may be able to do amazing things but still bicker like any other family. Unfortunately, a little of this comic banter goes a long way, especially considering that Natasha's family members aren't well-drawn.
In the Avengers films, Natasha's potent hand-to-hand fighting skills were often on display, and Black Widow flashes similarly intense kicking-and-punching sequences. But with the exception of a rousing finale, Shortland struggles to top the action scenes featured in previous MCU chapters.
Johansson has played Black Widow for a decade now, although her character frequently took a backseat to more famous Avengers. Ideally, then, Black Widow should be her chance to grab centre stage, so it's disappointing that the filmmakers give her a familiar "tragic past" backstory that she has to navigate during the picture. Johansson remains commanding in the role — steely but also vulnerable — but she hasn't been given a story that really lets her shine.
Likewise, the sarcastic, bitter Yelena — who hasn't forgiven Natasha for reasons that will later become clear — is rather one-note, depriving Pugh of sufficient dramatic or comedic material. Harbour has some amusing moments as an insecure superhero constantly comparing himself to Captain America, Weisz projects a regal warmth, and O-T Fagbenle exudes smouldering sex appeal as Natasha's fixer who is also harbouring feelings for her. But like this teased romantic subplot, Black Widow seems like a missed opportunity — an energetic placeholder in the Marvel Cinematic Universe meant to tide audiences over until a bigger, richer adventure comes along.
Production company: Marvel Studios
Worldwide distribution: Disney
Producer: Kevin Feige
Screenplay: Eric Pearson, story by Jac Schaeffer and Ned Benson
Production design: Charles Wood
Editing: Leigh Folsom Boyd, Matthew Schmidt
Cinematography: Gabriel Beristain
Music: Lorne Balfe
Main cast: Scarlett Johansson, Florence Pugh, David Harbour, O-T Fagbenle, Olga Kurylenko, William Hurt, Ray Winstone, Rachel Weisz