Ethan Hawke directs this biopic of ill-fated country artist Blaze Foley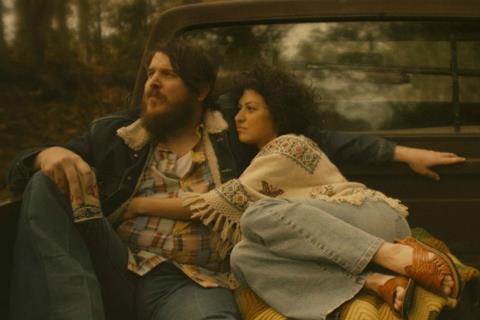 Dir: Ethan Hawke. US. 2018. 127mins
Blaze is a ballad for Blaze Foley, an iconoclastic, underappreciated musician who penned a series of devastating country songs before he was murdered in 1989 at the age of 39. Director and co-writer Ethan Hawke latches onto the beauty and tragedy of his short life for a biopic that thinks deeply about an age-old conundrum: Why do so many incredible artists self-destruct? Singer-songwriter Ben Dickey is affecting as Foley, assisted ably by a supporting cast that fights to transcend the drunken-angel clichés of the man's legacy.
It's inevitable that the film touches on familiar artist-biopic tropes
Opening in New York and Los Angeles in September through Sundance Selects, Blaze could receive Independent Spirit Award attention for Dickey's performance and Hawke's sensitive, sympathetic direction. (This is his fourth film as a director, and first since the 2014 documentary Seymour: An Introduction, about another artist, pianist Seymour Bernstein.) Blaze has enjoyed strong buzz since its Sundance premiere, and fans of outlaw country will be first in line for this affectionate portrait.
Blaze jumps around chronologically, focusing on different crucial periods in Foley's life — as well as interludes at a radio station where his friends are interviewed following his death. But a love story slowly emerges as Blaze's centrepiece: Foley falls hard for Sybil Rosen (Alia Shawkat), an aspiring actress who becomes his muse and soul mate, even when the musician's hard-living existence tears them apart.
Because the interview segments with Foley's friends serve as Blaze's framing device, their reminiscences positioned as a running commentary on Foley, Hawke gives us a main character who often seems like a spectre — a complicated, troubled figure as poignant and mythical as any in a country song. Not surprisingly, then, Dickey plays him as somewhat larger than life, mumbling his poetic, loopy observations or gently singing heartfelt songs of intense feeling with an utter lack of show-biz pizzazz.
The movie suggests that no one — not even close friend and revered fellow songwriter Townes Van Zandt (an effortlessly weary Charlie Sexton) — knew Foley as well as Rosen did, an understandable assertion since her memoir serves as Blaze's source material. (Rosen also co-wrote the screenplay with Hawke.) Playing the man's one true love, Shawkat radiates a steely will, despite being tiny in comparison to the towering Foley. Their scenes have a rumpled sweetness, carefully choreographing the ups and downs of their relationship. (The downs are mostly his fault, as addiction, crippling self-doubt and a wandering eye threaten to torpedo their future together.)
Hawke, who plays the radio DJ interrogating Van Zandt and a fictionalized buddy portrayed by Josh Hamilton about why Foley mattered, is unafraid to expose his subject's less-savoury side. Blaze wrestles with its conflicted feelings — awed by Foley's talent while lamenting his indulgent behaviour — ultimately arriving at a place of empathy for this lost soul. Nonetheless, it's inevitable that the film touches on familiar artist-biopic tropes, which diminish the uniqueness of Foley's legitimately sad story.
Unfortunately, Blaze also occasionally rambles, its two-hour-plus running time risking repetition as it details many of Foley's failings and career stumbles. (In his lifetime, he was largely overlooked, gaining acclaim and respect over time because of the country legends who covered tearstained tunes such as "If I Could Only Fly.") Here, too, Hawke can't always distinguish his protagonist from other snake-bit musicians, especially as Foley reaches his tragic end.
Thank goodness Foley's music still resonates. A songwriter making his major acting debut, Dickey captures the burly, vulnerable quality of Foley's lyrics and vocal delivery, creating a palpable sense that the songs were excavated from the darkest corners of his soul. Hawke seems to connect to Foley's restless artistry, as well as his questioning of if it's even worthwhile to plumb one's soul if there isn't much of an audience to receive the art that springs forth from such an arduous process.
Production companies: Under The Influence, Ansgar Media, Cinetic Media
International sales: Cinetic Media, international@cineticmedia.com
Producers: Jake Seal, Ethan Hawke, John Sloss, Ryan Hawke
Screenplay: Ethan Hawke & Sybil Rosen, based on the memoir Living In The Woods In A Tree: Remembering Blaze Foley by Sybil Rosen
Production design: Thomas Hayek
Editing: Jason Gourson
Cinematography: Steve Cosens
Cast: Ben Dickey, Alia Shawkat, Josh Hamilton, Charlie Sexton