Justin Chon takes a step up in this Focus Features tearjerker co-starring Alicia Vikander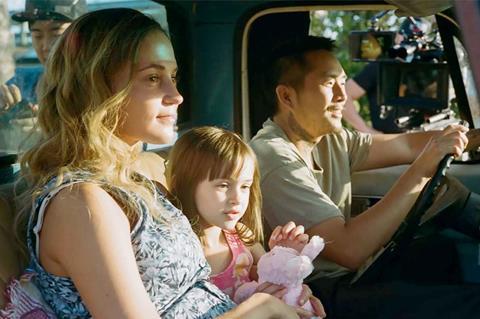 Dir/scr: Justin Chon. US. 2021. 119 mins.
After two indie dramas set among Los Angeles' Korean-American community, actor-director Justin Chon moves into the big league with this stirring deportation drama set in New Orleans. Like Britain's Windrush scandal, the issue at the heart of the film is an immigration 'loophole' that remains open to this day, one that has seen thousands of children adopted at a very young age by US parents discover only much later in life that they have no legal status as American citizens, and in some cases risk deportation.
Both a passionate exposé of a serious injustice and a big emotional ride that is also prepared to take some interesting risks in its journey towards a old-school tear-jerker finale
Yet Blue Bayou is lso a film about what makes a family a family and how a person of colour answers the loaded question that a potential employer asks Chon's character in the film's very first scene: "So where are you from?". Although it suffers from the occasional indie mannerism – there are one too many wordless golden hour bonding scenes or dreamlike flashbacks – this is an accomplished drama which bows in the newly-reinvigorated Un Certain Regard section at Cannes. Shot on tactile Super 16mm stock, it is both a passionate exposé of a serious injustice and a big emotional ride that is also prepared to take some interesting risks in its journey towards a old-school tear-jerker finale. With Focus releasing in the US and Universal delivering in the rest of the world, this is a title with theatrical ambitions far beyond that of Chon's previous films.
Chon and Alicia Vikander display considerable chemistry as husband and wife Antonio and Kathy, who live in a wood-siding shotgun house with Kathy's seven-year-old daughter Jessie, played by newcomer Sydney Kowalske. Antonio is an ex-con who is now going straight, though not making much money, as a tattoo artist, while Kathy, a working mother, is pregnant with the couple's first child. Jessie's natural father, Ace (Mark O'Brien) is a narrow-minded Lousiana white cop who wants to see more of his daughter after abandoning her and her mother years before. When Antonio is arrested for an altercation with Ace's racist patrol partner Denny (Emory Cohen), immigration services become involved, and Antonio is served with an order of deportation to South Korea, a country he left when he was three.
As his adoptive parents never finished the paperwork that would have guaranteed him citizenship, this American boy, whose name is Antonio LeBlanc, who speaks with a Louisiana drawl and has an eagle and stars tattooed on his neck, suddenly discovers he's not American after all.
There's plenty to run with in this main plot – especially in the neat but understated way in which the old Southern spectre of miscegenation is represented by Ace, his racist partner and Kathy's disapproving mother, who never addresses a single word to her son-in-law. But Blue Bayou strides off in an intriguing new direction with a subplot about an older Vietnamese American woman called Parker (Linh-Dan Pham) who drifts into Antonio's life and becomes a kind of spiritual helper, almost a ghostly one, with a terminal disease that places her astride two worlds for the second time since she arrived in the States as a refugee.
There are some nice New Orleans locations in a film that explores the dark side of the city but also evokes its life and camaraderie – the colourful tattoo parlour with its cast of likeable reprobates is a cocoon against outside dangers, where even an ICE immigration officer client is badmouthed and joshed. The organ-led soundtrack by regular Chon collaborator Roger Suen hits some big sentimental notes in the finale but mostly works with more subtle counterpoints. Ante Cheng and Matthew Chuan's warm handheld photography is reminiscent of Emmanuel Lubezki's work with Terrence Mallick in some of the film's more impressionistic moments, but mostly it simply maps a moving tale with great empathy.
Production companies: Focus Features
International distribution: Universal Pictures International
Producers: Charles D. King, Kim Roth, Poppy Hanks, Justin Chon
Screenplay: Justin Chon
Production design: Bo Koung Shin
Editing: Reynolds Barney
Cinematography: Ante Cheng, Matthew Chuang
Music: Roger Suen
Main cast: Justin Chon, Alicia Vikander, Sydney Kowalske, Linh-Dan Pham, Mark O'Brien, Emory Cohen, Vondie Curtis Hall