A teenage girl undergoes a strange physical transformation in Lisa Bruhlmann's coming of age story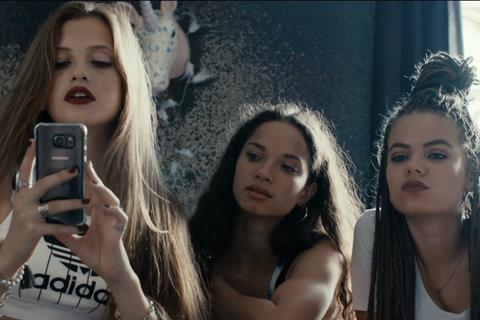 Dir/scr: Lisa Brühlmann. Switzerland. 2017. 97mins
Puberty is a time fraught with anxiety for Mia (Luna Wedler). Not only has she moved to a new home and school, she is desperate to be accepted by the cool kids in her class. The bedrock of understanding between her and her parents is also starting to crumble. All this pales into insignificance, however, when Mia notices that her physiology is starting to change; she is growing webs between her toes. Her behaviour becomes more extreme as she rebels against the betrayal of her body.
The debut feature from actress Lisa Brühlmann brings a surreal spin to the coming of age story
With its youthful cast and forthright approach to the rebellion against an adult world which has stopped making sense, this will appeal most to younger audiences; particularly those untroubled by the absence of a clear meaning to the story. Elements of body horror capture something of the heady mess of growing up, yet graphic scenes might prevent a younger audience from connecting. Further festival exposure seems likely, and theatrical sales are not out of the question.
The debut feature from actress Lisa Brühlmann, Blue My Mind brings a surreal spin to the coming of age story, and is an effective showcase for a striking cast of young performers. Both Wedler in the lead role and Zoë Pastelle Holthuizen, supporting as Mia's wild new friend Gianna, make an impression; both manage not to be upstaged by the slightly out-there use of allegory.
While Brühlmann's approach to adolescence is idiosyncratic, it is not without precedent. The outlaw kinship that Mia finds with Gianna and her bad girl band of rebels evokes something of the unpredictable power surges of female friendship that Celine Sciamma tapped into with Girlhood. Mia's physical transformation finds a parallel in Ivan I. Tverdovskiy's Zoology, the story of a middle aged woman who gains confidence along with a tail, and, to a lesser extent, in Agnieszka Smoczynska's The Lure, an account of a pair of mermaid sisters who take Warsaw's nightlife by storm.
Brühlmann drips aqueous references throughout the film – the sound design heightens the gurgle of the fish tank in Mia's living room; the colour palette repeatedly dips into the greys and blues of a stormy sea. Even so, we are unprepared for the turn that Mia's metamorphosis takes, although the fact that she feels compelled to scoff live goldfish from the tank should be a clue.
Mia's other urges are more characteristic of a teen girl with a grudge against the parents who barely know her anymore. She shoplifts, swigs vodka, determinedly sets about divesting herself of her virginity in an attempt to impress her new friends, munches MDMA on a school trip to a theme park. But as the changes in her body become more extreme so does the savagely self destructive nature of her behaviour. The knowledge of being different is a particular kind of torture for a girl who will do anything in order to fit in. And, disturbingly, Mia's anger is as often turned in on herself as it is targeted at the world around her.
Production company: tellfilm GmbH
International Sales: Be For Films sales@beforfilms.com
Producers: Stefan Jäger, Katrin Renz
Cinematographer: Gabriel Lobos
Editor: Noëmi Preiswerk
Production design: Marlen Grassinger
Sound: Patrick Storck, Gina Keller
Music: Thomas Kuratli
Main cast: Luna Wedler, Zoë Pastelle Holthuizen, Regula Grauwiller, Georg Scharegg