Sarah Jessica Parker enlists a starry cast of cameos to try her hand at a serious dramatic role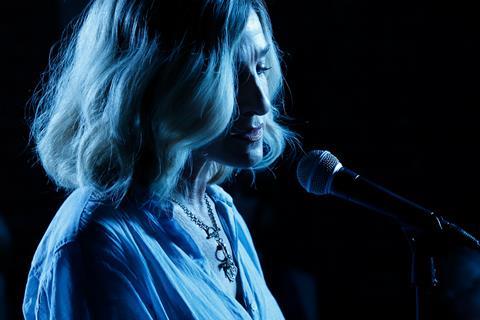 Dir. Fabien Constant. US. 2018. 96 mins
In Blue Night, Sarah Jessica Parker pivots to take on a huge challenge, playing a singer in a dark dramatic role. It's ambitious, and she hits some of the right notes, but much of it ends up off-key.
The solemn Blue Night is resolutely humour-free
Parker, who also produced, is the leading novelty in a dream-team cast – Simon Baker, Common, Jaqueline Bisset, Renee Zellweger. Her fans worldwide are sure to give Blue Night a try. Her world-weary expression looking over life's precipice – in endless close-ups – will make a poster that demands attention.
Blue, in a title that plays on everything from music to the tint of DP Javier Aguirresarobe's camera, is a word that understates the grave mood of the film's opening. Visiting her doctor, the veteran singer Vivienne Carala (Parker), is preparing for shows at Birdland in New York. She gets a staggering report. Her career and her life could be at risk. Director Fabien Constant, in his narrative feature debut, finds a momentum in that knowledge that propels the film forward, as Vivienne explores her fate (while never disclosing it) in encounters with friends, family and strangers.
Those encounters are structured episodically, so the other marquee names in the cast each get star-turns with Parker. In between, Vivienne's personal darkness gets maximum close-up exposure. In Sex and the City, Parker played for laughs with witty apercus on gender politics. The solemn Blue Night is resolutely humour-free.
The script by Laura Eason, structured around 24 hours after Vivienne's brusque collision with mortality, is barely a string of haikus, as characters stitch together parts of Vivienne's life, almost all in performances crafted with a cookie cutter. Jacqueline Bisset is an overbearing narcissist of a French mother. Common is a dutiful long-suffering manager. Simon Baker is the frustrated father of Vivienne's neglected teenaged daughter (Gus Birney), who pouts out her feelings of neglect. The drummer in Vivienne's band, strapping Taylor Kinney, is the singer's current sex partner.
Renee Zellweger, in a brief appearance, gives the drama some moments of nuance, as an old friend whom Vivienne encounters in front of a restaurant where her birthday party is in full swing. Boozy and blustery, she's lost hold of an active life, on the other end of the spectrum from Vivienne's dread of having life taken away from her suddenly. Zellweger brings spirit and a bracing reality to a tiny role.
Another of Vivienne's encounters is with Waleed Zuaiter as a ride-share driver from a Middle-Eastern country, giving Blue Night echoes of Jim Jarmusch's Night on Earth. He curses into his telephone and plays loud music that annoys Vivienne. He also turns up at a crucial moment with a noble act of friendship that Vivienne hasn't earned. By that time, the film is more about guest appearances than logic.
We're led to believe that Vivienne neglected friends and family to build a singing career, but in the one instance where Parker sings – the song, Unfollow the Rules, by Rufus Wainwright, was written for the film – her breathy voice is a girlish take on subdued cabaret, hardly that of a legend. Like so much in Blue Night, it's an element of the script that never amounts to much when it's performed.
Constant, best known as a director of fashion commercials and documentaries (Mademoiselle C, 2013), has taken the dramatic opportunities in a death scare and turned them into a journey into the end of the night where his actress can find new emotional depth. But the film feels like the kind of indie Sundance project where a commercial star wants to stake out new personal territory, albeit at a low budget. Parker's fans may commend her ambition. The rest of the audience may feel short-changed.
Production companies: AMBI Media Group, Pretty Matches Productions
International sales: AMBI Media Group j.sultan@ambidistribution.com.
Producers: Sarah Jessica Parker, Alison Benson, Andrea Iervolino, Lady Monika Bacardi
Screenplay: Laura Eason
Production design: Jimena Azula
Editing: Malcolm Jamieson
Cinematography: Javier Aguirresarobe
Music: Amie Doherty
Main cast: Sarah Jessica Parker, Simon Baker, Jacqueline Bisset, Common, Taylor Kinney, Renée Zellweger, Waleed Zuaiter