Charlize Theron, Nicole Kidman and Margot Robbie unite to take down John Lithgow's Roger Ailes in this Fox Newsroom-set drama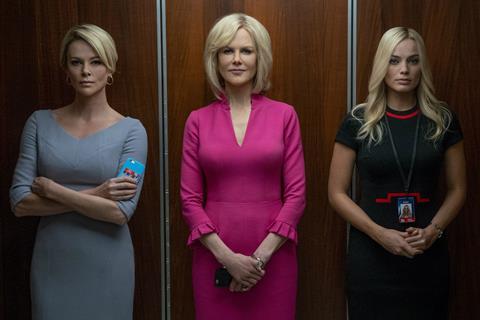 Dir: Jay Roach. US. 2019. 108mins.
"This place is crazy," observes one of Fox News' female employees in Jay Roach's fact-based drama, which seeks to demonstrate what an understatement her comment is. Chronicling the culture of sexual harassment that pervaded America's most popular cable channel, Bombshell has an electric, despairing tale to tell — one that involves scandal, abuse of power, and the cutthroat world of television journalism — and it's best when allowing the inherently compelling material to speak for itself. Despite an overly polished and broad approach, the film is ultimately a persuasive portrait, guided by strong performances from Charlize Theron and Nicole Kidman as anchors who decide they can stay silent no longer.
Bombshell effectively communicates how pernicious a toxic work environment can be for women
Opening December 13 in the US — the movie arrives in UK theatres early next year — Bombshell is a timely #MeToo document there, and awards buzz for Theron, Kidman and Margot Robbie will only further stoke interest. Those who disdain Fox News' ultra-conservative ethos should relish watching the channel's bullying boss Roger Ailes receive his comeuppance, although, like 2018's Vice ($76 million worldwide), that may doom the film to a somewhat limited but receptive choir that enjoys being preached to. Likewise, international audiences will not have the same familiarity with the characters depicted on screen.
Bombshell takes place in 2015 and 2016 as high-profile Fox News anchor Megyn Kelly (Theron) finds herself a target of presidential hopeful Donald Trump because she dares question him on his past sexist comments. Angering her network's base, Kelly is rattled, but not as much as when she discovers that ousted colleague Gretchen Carlson (Kidman) has filed a lawsuit against network head Roger Ailes (John Lithgow), charging him with sexual harassment. Kelly has her own complicated history with Ailes, but she's not sure she should come forward to support Carlson.
In the HBO dramas Recount and Game Change, Roach offered slick recaps of recent American political history, eliciting adroit performances while making sure that his actors looked eerily similar to their real-life counterparts. That same strategy is applied to Bombshell, which moves along at a brisk pace, dramatising the separate dilemmas of the two anchors. The film's makeup team, led by Kazu Hiro, does an astonishing job transforming Theron, giving her Kelly's exact cheekbones and nose. (Theron provides the anchor's confident, biting speaking voice.) Kidman gets Carlson's blonde bob, while Lithgow receives Ailes' jowls. It's an impressive act of mimicry across the board.
Unfortunately, the screenplay by Charles Randolph (who shared the Oscar for The Big Short with cowriter Adam McKay) doesn't always successfully repeat that film's jazzy narrative strategy of bouncing around between characters. Although Roach dutifully captures the anxiety-ridden, caffeine-driven rush of cable news, Bombshell can be superficial in its depiction of these famous individuals, almost taking it on faith that viewers will be familiar enough that a deeper psychological examination isn't necessary. That said, Theron manages to bring complexity to Kelly, revealing her to be a woman of principle who, nonetheless, is ambitious and pragmatic. She wants to speak out in a show of solidarity with Carlson, but she's savvy enough to know what will happen to her career if she condemns Ailes.
Kidman deftly hints at the bitterness Carlson feels toward Kelly, who views her as a rival, while Robbie is superb as a fictionalised naïve aspiring anchor named Kayla who will learn first-hand how the lascivious Ailes commands loyalty from his female subordinates.
If Bombshell is overly glossy, it nonetheless effectively communicates how pernicious a toxic work environment can be for women. We witness how harassment doesn't simply affect the women being harassed — silence and fear envelop everyone around that person, each employee scared to challenge the status quo for fear of reprisals. In a movie that can often be unsubtle, Bombshell nicely underplays the trauma shared by all the women at Fox News — both those who have been harassed and those who know it happens but blindly follow Ailes' direction to keep quiet — which only makes his and his male cohorts' behaviour all the more infuriating.
Sometimes the supporting cast is stuck performing extreme accents or forced to wear distracting prosthetics for the sake of realism, but Lithgow exudes arrogance as Ailes, a monster who believes he's above reproach because of his network's ratings dominance. Bombshell makes him the face of sexual harassment, entitled and remorseless. It's hardly a nuanced perspective, but Roach and Lithgow ensure that its bluntness gets the point across.
Production companies: Bron Studios, Denver and Delilah Productions, Gramsci, Lighthouse Management & Media
International sales: Lionsgate
Producers: Aaron L. Gilbert, Jay Roach, Robert Graf, Michelle Graham, Charles Randolph, Margaret Riley, Charlize Theron, Beth Kono, A.J. Dix
Screenplay: Charles Randolph
Production design: Mark Ricker
Editing: Jon Poll
Cinematography: Barry Ackroyd
Music: Theodore Shapiro
Main cast: Charlize Theron, Nicole Kidman, John Lithgow, Malcolm McDowell, Allison Janney, Margot Robbie, Kate McKinnon, Connie Britton