A career-high performance from Ben Stiller fuels this poignant character study.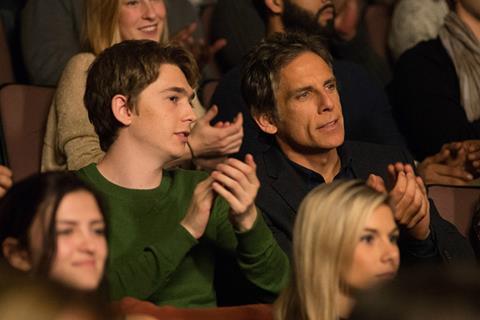 Dir/scr. Mike White. US. 2017. 101mins.
A marvellous dissection of a midlife crisis that's far more self-aware than its protagonist, Brad's Status features one of Ben Stiller's richest and most bittersweet performances as a husband and father whose considerable obstacle to happiness is himself. Writer-director Mike White has crafted a painfully funny and surprisingly moving character piece, but what's most remarkable is how he and his star empathize with Brad's feelings of inferiority while, at the same time, pinpointing the arrogance, privilege and callousness that often factor into such soul-searching.
Stiller's is a magnificent performance, both comic and touching
Opening Stateside on September 15, following its premiere in Toronto's Platform strand, Brad's Status will benefit from Stiller's box-office clout and a starry supporting cast that includes Michael Sheen. Strong reviews ought to propel art-house business.
Brad (Stiller), the owner of a modest non-profit, is about to take his son Troy (Austin Abrams), a talented musician, on a tour of prestigious East Coast universities. But rather than being excited, Brad is suddenly hit with the enormity of how little he believes he's achieved in comparison to his impressive college classmates, who are now obscenely rich or influential thought leaders. When Troy accidentally misses his crucial interview at Harvard, Brad has to swallow his pride and call Craig (Sheen), who now teaches at the university, to see if he can pull some strings.
White's work (Year Of The Dog, TV series Enlightened) often concerns the insecurities of depressed, everyday people seeking transcendence. A movie like Brad's Status could easily open itself up to accusations of navel-gazing as it dramatizes the mildly unhappy life of a relatively well-off neurotic. Yet White eschews such an easy reading of Brad, looking at the man's hang-ups from the inside; specifically, through a deft use of voiceover in which our main character repeatedly acknowledges how ridiculous his self-loathing is without being able to free himself of his obsessive need to compare himself unfavourably to his peers.
Stiller is critical to the film's success, essaying a more nuanced, less brazenly caustic variation of the uptight, dissatisfied men he played in Greenberg and While We're Young. The actor must walk a fine line, letting us mock Brad's intensive competitiveness and yet understand how his late 40s have triggered a wistfulness for the idealism and promise of his youth. It's a magnificent performance, both comic and touching, charting the inner journey of a decent fellow who compulsively seeks confirmation from the outside world that he's an utter failure.
Because Brad is so wrapped up in the achievements of his college chums, viewers may suspect that White is piloting us to a feel-good finale in which the character learns the importance of accepting and loving oneself. Brad's Status is far too nimble a comedy-drama for anything so obvious, however, chronicling Brad's wrestling with different viewpoints on how successful he's been and, likewise, how successful his peers are.
New characters enter the narrative, sometimes to challenge Brad's interpretation of events, but White never lands on an ultimate takeaway, forcing the main character (and the audience) to ponder the fluidity of happiness and the dangers of envy.
This film's humane, sharply observant tone is strengthened by a supporting cast that navigates tricky emotional terrain. Sheen is terrific as an acclaimed political commentator who hasn't seen Brad for 10 years and, as a result, exists more as a symbol of Brad's career disappointments than as an individual. Also strong is Abrams, who plays a character who isn't fully fleshed out. That's by design: Troy, like everyone in Brad's Status, is viewed from Brad's jaundiced perspective, but the young actor hints at the sensitive, great son his own father is too blind to recognize.
Production companies: Amazon Studios, Sidney Kimmel Entertainment, Plan B Entertainment
US distribution: Annapurna Pictures, www.annapurna.pictures
International sales: Sierra/Affinity, Joey@sierra-affinity.com
Producers: Dede Gardner, Jeremy Kleiner, David Bernad, Sidney Kimmel
Executive producers: Brad Pitt, Carla Hacken, John Penotti, Mark Kamine, Sarah Esberg, Bruce Toll
Cinematography: Xavier Grobet
Production design: Richard Hoover
Editor: Heather Persons
Music: Mark Mothersbaugh
Main Cast: Ben Stiller, Austin Abrams, Jenna Fischer, Luke Wilson, Jermaine Clement, Shazi Raja, Luisa Lee, Michael Sheen