Jimmy Keyrouz's impressive debut feature chronicles the horrors of war-torn Syria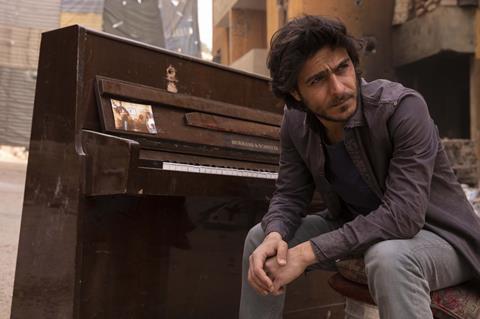 Dir/scr: Jimmy Keyrouz. Lebanon. 2020. 110 mins.
Music is a means of escape and a form of defiance in Broken Keys. Inspired by true events and expanded from his 2016 short Nocturne In Black, Jimmy Keyrouz's impressive debut feature captures the horrors of everyday life in war-torn Syria. It also provides a sense of uplift in its story of one musician's determination to transcend his circumstances. The result is a handsomely crafted, emotional drama from Lebanon that should connect with audiences and programmers.
Throughout the film, Keyrouz reflects the extremes of life under a reign of terror
Opening titles remind us that by 2014 extremist groups had seized control of vast areas of Iraq and Syria, imposing a strict interpretation of Islamic Sharia law. The film's opening shots depict a makeshift community clinging to the remnants of normality. The camera snakes and glides through a basement that is both shelter and sanctuary. We witness a woman studying, someone prepares food, old women sew, old men are hunched over a game, and by a pale light in a shadowy corner Karim (Tarek Yaacoub) gently plays the piano. It is a small act of rebellion in a community where music is now banned. Later, ISIS soldier Abbas (Julian Farhat) arrives, smashing Karim in the face and unleashing a burst of machine gun fire to destroy the piano keys.
Throughout the film, Keyrouz reflects the extremes of life under a reign of terror. A man is flogged for cutting his hair and "drinking like a Westerner". Books are burned in a classroom where the lesson is to wipe clean the indoctrinations of the past. A gay man is thrown from a roof to his death. There is no flinching from the hardships endured or the risk to life. There are also small victories over the encroaching darkness as people gather to celebrate the reopening of a shop or provide assistance to strangers.
The story of Karim embodies all these tensions. He has heard of an opening with an orchestra in Vienna. The only course available to him is to leave the country, and he is prepared to sell his piano to fund his escape. First he has to find a means of restoring it, and the film becomes part-road movie, part-quest as he heads to the ruins of Ramza in search of a music store that might still be standing.
Keyrouz proves a compelling storyteller, maintaining a firm sense of pace and crafting some tense moments. When Karim reaches the bombed-out remains of Ramza, there is a feeling of danger lurking around every corner. The distant sounds of bombs and gunfire move ever closer. A trigger-happy sniper might shoot at any moment. There are echoes of a classic western in the fate of this stranger traversing a hostile landscape. Kamir also finds an unexpected ally in Kurdish freedom fighter Samar (Rola Beksmati), who has the survival skills that he lacks.
The hint of romance between them threatens to give Broken Keys a more conventional feel but is something Keyrouz underplays. There is a more substantial secondary strand to the film in the fate of Zaid (Issa El Hajj), a resourceful young boy for whom the streets of the fictional Syrian city Sekka are like a vast playground until ISIS take an interest in controlling his future.
Cinematographer Joe Saade makes the most of the location filming that was 90 percent completed in Lebanon. The crumbling ruins of barely standing buildings, piles of rubble and criss-cross of narrow streets are used to create a feeling of entrapment. Vast sunlit stretches of empty desert hold the promise of a freedom that is no longer possible. The warm glow of interiors and the darting camerawork through life-and-death chases all help to sustain an attractive, involving drama.
Securing the services of Lebanon-born Gabriel Yared (The English Patient, Cold Mountain) to compose the score may have felt like a coup, but his work here is disappointingly sentimental in a way that Keyrouz otherwise generally tries to avoid. The rousing, crowd-pleaser of a finale feels true to a film that celebrates heroic defiance whilst acknowledging the sacrifice of those lost along the way.
Production companies: Ezekiel Film Production, Ginger Beirut Production
International sales: Indie Sales. Cchautant@Indiesales.Eu
Producer: Antoun Sehnaoul
Cinematography: Joe Saade
Editing: Yves Beloniak, Maria Malek
Production design: Issa Kandil
Music: Gabriel Yared
Main cast: Tarek Yaacoub, Rola Beksmati, Mounir Maasri