Hirokazu Kore-eda's first Korean-language picture is a sensitive and compassionate look at the market for unwanted children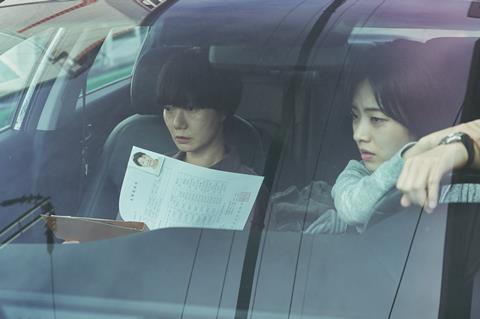 Dir/scr: Hirokazu Kore-eda. South Korea. 2021. 130mins.
An unwanted infant stirs powerful, sometimes conflicting feelings for the characters in Broker, Hirokazu Kore-eda's lovely examination of spiritual and physical abandonment. Making his first Korean-language picture, the veteran Japanese writer-director has returned to his core theme — family — to tell the story of two baby brokers and a mother trying to sell her newborn to prospective parents. By Kore-eda's gentle standards, Broker is a more suspenseful, plot-driven affair than usual, but the enormity of his compassion and melancholy air remain undiminished.
As often with Kore-eda's pictures, Broker is about family, but it extends beyond that theme to talk about fundamental aspects of life
Broker marks the filmmaker's return to the Cannes Competition for the first time since he won the Palme d'Or for 2018's Shoplifters, and his cast, led by Song Kang-ho, who won Best Actor at the festival, will only further boost this drama's commercial profile. Neon will be handling the picture for North America, while Picturehouse snapped up UK and Ireland – it has sold to a total of 171 countries – with strong reviews and warm buzz seemingly a certainty.
Sang-hyun (Song) and Dong-soo (Gang Dong-won) are partners in a black-market business: they collect infants left at baby boxes, selling them to couples who can't have children on their own. But after they grab newborn Woo-sung, the child's mother, So-young (Lee Ji-eun), surprises them by having a change of heart, insisting that they give the baby back. Instead, Sang-hyun and Dong-soo convince her to team up with them, arguing that it's better to give Woo-sung to someone who will pay a large sum and truly love him, as opposed to letting him be trapped in the bureaucratic South Korean orphanage system.
With shades of Shoplifters, Broker focuses on people who operate outside the law, although the two men see themselves as performing a societal good — especially Dong-soo, who grew up an orphan. But, as quickly becomes apparent, he's not the only character who feels emotionally unmoored, his commitment to Woo-sung a projection of his own sense of being unwanted. That proves true of even the cops who are following Dong-soo and his compatriots, led by Su-jin (Doona Bae), who wants to catch the baby brokers in the act so that she can arrest them. For Su-jin, there's something personal about the case that drives her, with Kore-eda only slowly revealing the detective's full motives.
After crafting so many sensitively rendered, lightly bittersweet dramas about families, Kore-eda is undoubtedly examining familiar terrain here but, even so, he remains a master of understated feeling, gradually allowing his characters to expose parts of themselves until we at last see them in their entirety. Song in particular is touching as someone who, like many in Broker, is holding onto secrets; his desire to help Woo-sung provoked by a mysterious incompleteness. It's a tender performance that works in concert with the rest of the ensemble, including Lee Ji-eun as a woman who's not ready to be a mother, feeling varying degrees of shame and resentment about that fact.
But So-young's secrets run deeper than anyone else's in the film, and Kore-eda has surprises in store. It turns out that it's not just the police who are after Woo-sung, resulting in Broker occasionally having a vaguely thriller-like tone. (There's even something very faintly resembling a fight scene at one point.) These plot developments lead to a more heightened sense of tension than we normally get from Kore-eda's films, but it's entirely in keeping with the seriousness of Sang-hyun and Dong-soo's crime — no matter how justified they are in their minds about committing it.
In due time, the viewer will come to understand more regarding why So-young forsook her baby, the film hinting that there can be very complicated reasons behind people's actions. Kore-eda's willingness to consider different perspectives extends to the potential parents the brokers meet on their road trip from town to town. Each has their own story — some of them very sad — and Broker quietly ponders how children are such a potent image in our society, representing optimism, vitality and innocence. "I wish we could start over again like that," one of the characters says wistfully, suggesting that children (or, more accurately, the absence of them) can also signify what we lose as we get older. As often with Kore-eda's pictures, Broker is about family, but it extends beyond that theme to talk about fundamental aspects of life — the need to belong, the hope of connecting with likeminded souls, and the desire to find a place called home.
Production company: Zip Cinema
International sales: CJ ENM, filmsales@cj.net
Producer: Lee Eugene
Production design: Lee Mok-won
Editing: Hirokazu Kore-eda
Cinematography: Hong Kyung-pyo
Music: Jung Jae-il
Main cast: Song Kang-ho, Gang Dong-won, Doona Bae, Lee Ji-eun, Lee Joo-young