A young Cambodian boy struggles with life as a slave labourer on a Thai fishing vessel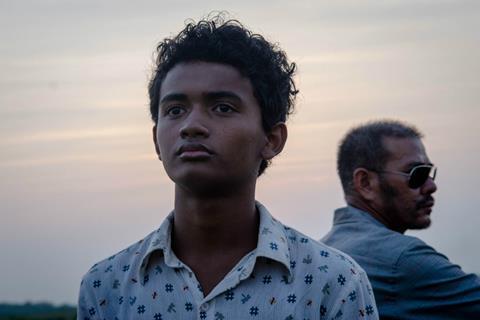 Dir/scr. Rodd Rathjen. Australia. 2019. 93mins
In the Cambodian-shot drama Buoyancy, fish are scooped up by trawler nets, flounder on baking decks then descend into a black pit by the shovel load. One of the film's recurrent images, it mightn't be subtle but, as a metaphor for the boat's human inhabitants, it's instantly effective. In surveying the plight of workers sold into modern-day slavery on Thai vessels, this brutal, powerful drama draws upon true tales and never shies away from the South East Asian industry's punishing reality. Diving deep into dark material yet always remaining afloat, it's a potent feature debut from Australian filmmaker Rodd Rathjen.
Taking its tone from the gruelling ebbs and flows of trawler life, Buoyancy's world is one of unrelenting harshness
After the writer/director's acclaimed short Tau Seru premiered in Cannes in 2013, Buoyancy bows in Berlin's Panorama program. Like its predecessor, it should chart a clear course to further festival berths. As an account of exploited immigrants desperate for a better life, this is a highly topical film. As an unflinching depiction of human trafficking, it's also grimly stirring. And, by focusing on a 14-year-old trading his unhappy upbringing for an even tougher future, it spins a terse, absorbing coming-of-age narrative.
Exhausted from hauling bags of rice day in and day out, and tired of working without pay at his father's demand, Chakra (Sarm Heng) spits an exasperated question across the dinner table. "Why did you have so many kids?" he asks defiantly, although pain and uncertainty flicker in his eyes. Like his counterpart in Nadine Labaki's thematically similar Capernaum, Chakra swiftly leaves home in search of something more than his current lot — but, despite local chatter about well-paying Bangkok factory jobs, a run-in with a ruthless broker sends him toiling on the ocean under the watch of cruel captain Rom Ran (Thanawut Kasro).
Taking its tone from the gruelling ebbs and flows of trawler life, Buoyancy's world is one of unrelenting harshness. Rathjen may pepper the film with quiet moments to break up the torment and torture, but the words "feed him to the sea" have an unmistakable meaning here. Chakra bears witness as his co-workers invoke Rom Ran's wrath over trivial matters, and tries to avoid such a fate himself.
In his first film role, Heng proves a captivating lead, with his often-unspoken portrayal commandingly conveying every minor change in his Chakra's mindset. There's a rawness to his performance that ranges beyond his non-professional status — a mix of perseverance and fragility that feels steeped in truth, yet fine-tuned to the movie's story. His co-stars, including veteran Mony Ros as a fellow worker and Thai filmmaker and actor Kasro as Rom Ran, may bring force rather than nuance, but they make exactly the impact that the script requires.
Giving the feature a grey yet still scenic sheen, cinematographer Michael Latham is Buoyancy's other key player. Embodying the resilience that continues to flicker inside Chakra, every frame finds the balance between bleakness and beauty.
Production company: Causeway Films
Sales: Charades, sales@charades.eu
Producers: Samantha Jennings, Kristina Ceyton, Rita Walsh
Cinematography: Michael Latham
Editing: Graeme Pereira
Music: Lawrence English
Production design: Bethany Ryan
Main cast: Sarm Heng, Thanawut Kasro, Mony Ros