Emin Alper's tense Turkish thriller critiquing maschismo is a standout among this year's films in Un Certain Regard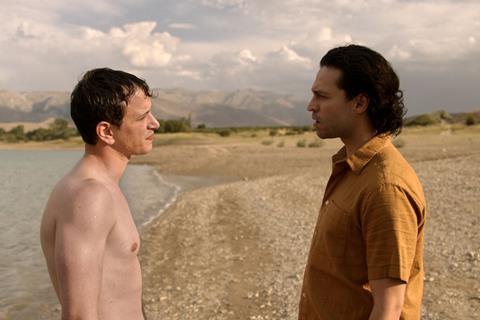 Dir/scr: Emin Alper. Turkey/France/Germany/ Netherlands/Greece/Croatia. 2022. 130 mins
The heat, and the tension, fairly crackle in Emin Alper's Burning Days, a Turkish thriller that's one of the standouts of this year's Un Certain Regard. The director of Beyond the Hill, Frenzy and A Tale of Three Sisters returns with a film that seems certain to break out across the arthouse/mainstream border into wider exposure, and that deserves to be its country's most visible filmic export since the heyday of Nuri Bilge Ceylan.
A highly-charged suspenser, a savvy piece of tightly-enclosed world-building and a sharp critique of machismo, populism and their very tangible dangers.
The setting is a small town named Yaniklar on an arid, sun-blasted inland plain, where the only source of water is drainage from the ground, resisting in a calamitous spate of sinkholes that are perilously appearing ever nearer to the town itself. Seen in a knockout opening shot, peering into one such gaping crater, is Emre (Selahattin Paşali), a young man from the city who has just been appointed the town's new state prosecutor – his predecessor having vanished in mysterious circumstances. It turns out everyone is very happy to welcome him, except perhaps Murat (Ekin Koç), the owner of the local opposition newspaper who is regarded with suspicion by the town's conservative elements. And it's those elements who really rule the town, with its long-standing mayor beloved by all, not least because he's the man with his grasp on the water supply.
Emre promptly gets off on the wrong foot, a little too high-handedly asserting his authority in expressing disapproval about the boar shoots that are a local obsession, and that often occasion reckless gunfire in the town's streets. Differences seem to be forgotten when he's invited to dinner at the mayor's house, where his son Şahin (Erol Babaoğlu) and creepily grinning dentist pal Kemal (Erdem Şenocak) go full out to keep him entertained; and as the raki flows, we begin to realise that even hospitality can be a form of violence.
This dinner scene might seem to overstay its welcome and overstate its point – but in fact, Alper is playing it for canny effect because what happens, or appears to happen, that night has repercussions for Emre and for the whole town. From the next morning on, the drama cranks up slowly and inexorably, with Emre increasingly isolated and in danger, the narrative building to a nerve-rattling situation that finds him, and another key character, figuratively and literally under siege. A sly open ending doesn't deliver the resolution we expect but gives us a strong closing image in which the film's meanings, emotional and political, resonate.
The underlying theme – the political control of a water source – makes this something of a Turkish Chinatown, and Burning Days lives up to that with its slowly cranked-up intensity, powerful heat-drenched atmospherics (if Christos Karamanis' photography doesn't make you sweat, nothing will) and gradually mounting homoerotic subtext. Selahattin Paşali gives a terrific performance as a character we get to know very slowly (and who gets to know himself slowly too, with mounting panic), his vulnerability slowly emerging from beneath the façade of big-town big-shot entitlement. Ekin Koç makes his loner figure Murat tantalisingly unknowable, and Babaoğlu and Şenocak bring genuine menace to the bumptiously, oppressively affable dinner hosts.
The psychological and narrative revelations – as Emre starts clearing the mists of the fateful night's raki stupor – are cunningly doled out. By the time we reach a genuinely unnerving climax, Alper has pulled off something special – a film that works at once as a highly-charged suspenser, a savvy piece of tightly-enclosed world-building and a sharp critique of machismo, populism and their very tangible dangers.
Production companies: Ay Yapim, Liman Film
International sales: The Match Factory, sales@matchfactory.de
Producers: Nadir Öperli, Kerem Catay
Production design: Nadide Argun
Cinematography: Christos Karamanis
Editors: Özcan Vardar, Eytan İpeker
Music: Stefan Will
Main cast: Selahattin Paşali, Ekin Koç, Erol Babaoğlu, Erdem Şenocak