Maksym Nakonechnyi's debut feature is a sensitive meditation on the psychological effects of war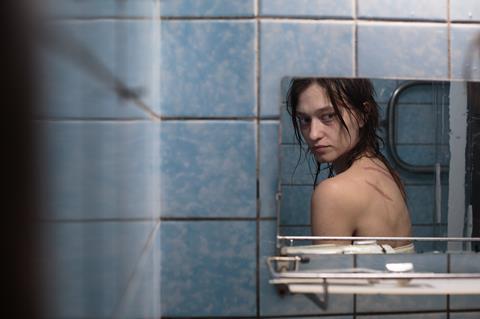 Dir: Maksym Nakonechnyi. Ukraine/Czech Republic/Croatia/Sweden. 2022. 107mins
Shot before the Russian invasion of his homeland, Ukrainian director Maksym Nakonechnyi's debut feature is a sensitive, nuanced meditation on war and its effects on the psyche of individuals and nations. It is framed via the story of a female prisoner of war's difficult return to family, home and friends after months of captivity at the hands of Russian-backed separatists in the Donbas region. Some might argue that this makes Butterfly Vision obsolete, as nuance has been one of the collateral victims of the current conflict. In fact, the opposite is true.
What Lilia went through while in captivity is eloquently conveyed through the smallest of details
Picked up by Wild Bunch shortly after its selection in Un Certain Regard, this tough but compelling film will appeal to arthouse audiences anywhere who are keen to go beyond black-and-white news and social media coverage of the ongoing war. Or indeed, those who are simply up for a universal film – anchored by a magnetic central performance from Rita Burkovska – about a woman trying to navigate her own route out of trauma, while all around her are telling her what she should be doing and thinking.
Burkovska plays Lilia, code name 'Butterfly', a military aerial reconnaissance expert who we first see being returned to her Ukrainian army colleagues as part of a prisoner exchange. Before she can catch her breath, she's being interviewed by news anchors, embraced by her family, and put through a series of routine but also insensitive medical tests. Lilia's mother loves her intensely – but there's a telling moment when, soon after greeting her daughter in a flood of tears, she tells her she shouldn't be smoking so much. When she finally lands home, Lilia can't bring herself to even be touched by her husband Tokha (Liubomyr Valivots). A fellow soldier and irascible hothead who has since become involved with a paramilitary vigilante group, he sort of understands why – but at the same time really doesn't want to know.
Written by the director with fellow filmmaker Iryna Tsilyk, whose Donbas-set documentary The Earth is Blue As An Orange played in Sundance and Berlin in 2020, the script keeps the focus firmly on Lilia, even when – as in one evocatively shot hospital scene towards the end – she's out of camera focus in the unlit background. What she went through while in captivity is eloquently conveyed through the smallest of details – scars on her back, a mutilated tattoo, her jumpiness during a gynaecological examination.
Only occasionally, a pixelated dissolve – as when you're trying to watch a YouTube video with low bandwidth – gives a fragmentary glimpse of the abuse she suffered. Today's online world also leeches onto the screen in the form of scrolling TikTok comments and troll videos, while Lilia's military training is figured in a series of inserts that take the kind of Google Earth view she would have seen during her aerial reconnaissance missions and applies it to her new, trauma-distorted vision of her hometown, Kyiv. One small but brilliantly observed moment of assonance in Nakonechnyi's carefully-dosed forays into other screens and dream visions comes when we realise that the fan-shaped 'windscreen wiper' view of the territory in the corner of Lilia's aerial reconnaissance monitor is almost identical to that of a fetal ultrasound. It's just one of several spot-on directorial choices in a film that ends with a beautifully understated emotional release, months after Lilia's unresolved 'release' from captivity.
Production company: Tabor
International sales: Wild Bunch International, smichel@wbinter.eu
Producers: Yelizaveta Smith, Darya Bassel
Screenplay: Maksym Nakonechnyi, Iryna Tsilyk
Production design: Maria Khomyakova
Editing: Ivor Ivezic, Alina Gorlova
Cinematography: Khrystyna Lyzohub
Music: Dzian Baban
Main cast: Rita Burkovska, Liubomyr Valivots, Myroslava Vytrykhovska-Makar, Natalya Vorozhbyt