The New York Asian Film Festival's closing film is both brazenly cynical and brilliantly executed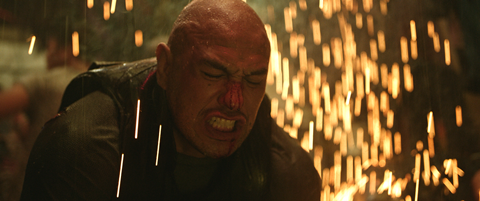 Dir: Erik Matti. Philippines. 2018. 128 mins
When a drugs bust goes south in a labyrinthine Manila slum, the primary objective for a resourceful rookie female officer and a few other survivors promptly shifts from apprehending a top-level dealer to simply getting out alive. Using this streamlined premise as the basis for a searing take on President Rodrigo Duterte's merciless war on drugs, Filipino genre pioneer Erik Matti has delivered one of the most blistering action pictures since Mad Max: Fury Road (2015) on a fraction of George Miller's blockbuster budget.
Matti views crime as a pervasive game where both sides are complicit, however unwittingly, and the 'townsfolk' caught in the middle are anything but passive
Based on its topical edge and ample publicity generated by the against-type casting of rom-com queen Anne Curtis in the physically taxing lead role, Matti should score a sizeable hit at home on its August 1 release that will justify the two years spent on this logistically challenging production. Premiering as the closing film of the New York Asian Film Festival, BuyBust will go out in the US through Asian genre specialists Well Go in August before a year-end release on Netflix. Although robust streaming revenues are guaranteed, this masterful exercise in escalating chaos really should be experienced on the big screen.
Our tough-as-nails heroine is Nina Manigan (Curtis), a new addition to an elite Drug Enforcement Agency squad who is nonetheless already battle hardened from seeing her previous colleagues wiped out during a botched operation. Nina prefers to follow her own instincts rather than the direct orders of recently promoted squad leader Bernie Lacson (Victor Neri) and is also the one member who does not join in with a traditional prayer while en route to a major bust. Almost like a protagonist in a Final Destination installment, she has an uncanny sense that this mission is doomed.
Using co-operating mid-level dealer Teban (Alex Calleja) to set a trap, the squad is aiming to take down slippery drug lord Biggie Chen (Arjo Atadya). But when a suspicious Chen suddenly changes the clandestine meeting place to a neon-lit, maze-like slum, the sting devolves into a shoot-out with his henchmen. Nina is one of the few agents left standing and works with burly teammate Rico (MMA competitor Brandon Vera) to make it through the night by any means necessary.
However, it's not just Chen's enforcers that they have to contend with. The slum's residents are even more frustrated with law enforcement than they are with the drug dealers because of the number of civilian causalities that have been racked up by large-scale busts. Seething with anger and armed to the teeth with makeshift weapons, they seek to extract their own brand of justice from the outnumbered agents.
Although heavily stylised from the outset, BuyBust ploughs standard procedural terrain for its first act as Matti mines suspense from audience expectation that this operation won't go as planned. As the camera follows the squad down the increasingly narrow alleys of the slum and picks up the resentful expressions of its disillusioned, marginalised residents, one gets disquieting glimpses of the further societal dimension that is going to come into play and how a lack of familiarity with this cramped shantytown district could prove fatal.
Once the bullets start flying, Matti ratchets up the intensity with increasingly elaborate, superbly choreographed fights in close quarters or on rickety rooftops. It soon becomes the kind of go-for-broke action film where even a plastic bucket can be weaponised, with the brawls often captured in immersive continuous shots by cinematographer Neil Derrick Bion. Following the likes of The Protector (2005), The Raid 2 (2014) or The Villainess (2017), such audacity is threatening to become passé. However, the menacingly-realised, borderline apocalyptic urban milieu ensures that the fierce skirmishes in BuyBust are not only sweat-inducing but have pertinent social connotations that transcend the sophisticated mechanics on display.
Indeed, as much as BuyBust seems to be engineered for maximum excitement, it's not without the complexities that are typical of Matti's ambitious genre pieces, notably his breakthrough cop thriller On the Job (2013). While some of the cues in Erwin Romulo and Malek Lopez's eclectic score suggest that the film should be appreciated as an urban western, morality here is far removed from the straightforwardness associated with classic oaters. Matti views crime as a pervasive game where both sides are complicit, however unwittingly, and the 'townsfolk' caught in the middle are anything but passive.
This applies to the troubled Nina who often threatens to let her rage run riot at the expense of her professional duties. Seizing an opportunity for career reinvention, Curtis anchors the mayhem with great charisma, forming a terrific partnership with the stoic Vera, whose towering frame and tank-like indestructability are offset by a resolutely calm manner. Their resolute performances give a vital human quality to a film that is otherwise as brazenly cynical as it is brilliantly executed.
Production companies: Reality Entertainment, Viva Films
International sales: XYZ Films, info@xyzfilms.com
Producers: Veronique Del Rosario-Corpus, Vincent Del Rosario, Erik Matti
Screenplay: Erik Matti, Anton Santamaria
Production design: Michael Espanol, Roma Regala
Editing: Jay Halili
Cinematography: Neil Derrick Bion
Music: Erwin Romulo, Malek Lopez
Main cast: Anne Curtis, Brandon Vera, Victor Neri, Arjo Atadya, Levi Ignacio, Alex Calleja