Lebanese director Nadine Labaki delivers a powerful story about a 12 year-old boy who takes his parents to court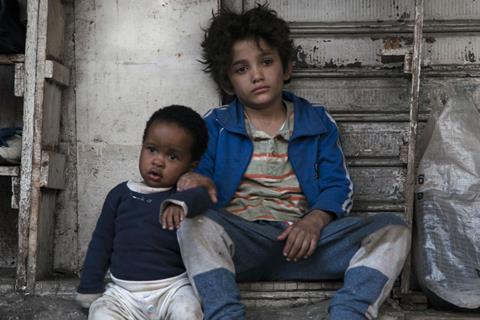 Dir: Nadine Labaki. Lebanon. 2018. 133mins.
A gritty drama shot on the streets of Beirut with a cast of non-professional actors, Capernaum is a howl of protest against social injustice, a film as grounded in a place and time and yet as universal in its empathy with the dispossessed as Bicycle Thieves or Salaam Bombay! If viewers were expecting another gently barbed women's comedy from Lebanese director Nadine Labaki (Caramel), it's time to think again.
It looks like an early shoe-in for a Best Foreign Film nomination
The title derives from the French term 'caphernaum' meaning "confused mess", and there are ways, both good and bad, in which Labaki's bombshell of a film is just that. Ostensibly, it's about a young Beirut street kid who takes his parents to court for the crime of bringing him into the world. But within this largely symbolic framing device, the script raises a host of issues, from the invisible status of migrants living in conditions of virtual slavery to the way parents facing grinding poverty are forced to make bad choices for their children, so as not to make worse ones. If it doesn't tie many (or any) of these thematic strands with a neat bow, that's in the nature of a film that chooses raw dramatic power over narrative finesse.
Long, at 133 minutes, with a loose middle section, Capernaum has the anger, the energy and a galvanising central performance by Syrian migrant child Zain al Rafeea to move audiences the world over. It looks like an early shoe-in for a Best Foreign Film nomination, its path smoothed by Sony Pictures Classics' acquisition of the title in the early days of the Cannes film festival, where it plays in a competition berth.
It will take the audience a while to get to the reason why 12 year-old Zaid wants to sue his parents in the courtroom scene that opens the film, or why he's currently serving a five-year sentence in a Lebanese juvenile prison, or who it was he stabbed to get there. What's clear from the get-go is that this tough but sensitive street kid, played by a tough but sensitive street kid who (the pressbook informs us) started working for a living at the age of ten, will be the film's main focus and moral centre. Backtracking from the courtroom intro, Capernaum reveals Zain's life before this parental arraignment, which has attracted intense media attention from local news networks.
Zain has been raised in the school of hard knocks, but he's also one of those rare souls who are saddled with goodness, condemned to care for others even when he can't provide for himself. He lives with his parents in a tiny, cluttered flat where seven siblings sleep in the same bed, and works for the owner of a convenience store who has an unhealthy interest in Zain's eleven-year-old sister, Sahar (Cedra Izam). Mother Souad (Kawthar al Haddad) and father Seilm (Fadi Kamel Youssef) live from day to day in permanent emergency mode. They'll try anything that makes a few bucks – including smuggling prescription drugs into prisons by grinding them down and soaking the resulting solution into the fabric of clothes taken to inmates as gifts.
Zain suspects his mum and dad of planning to marry Sahar, his favourite sister, off to his convenience store boss. When he's proved right, he runs away – and the film shifts gear, morphing from what had been shaping up to be a tight Loachian story of ordinary desperation into something more like a free-form docu-drama. In this section, its harrowing power undermined just slightly by its repetitive length, Zain meets Rahil (Yordanos Shifferaw), an Eritrean illegal immigrant, and helps her to care for the baby that she is forced to hide from her employers. Soon enough it's just boy and baby – a formula that is stripped of cloying sentiment by the pull of an increasingly tired Zain's need just to be a child and shrug off the unasked-for task of caring for a small, vulnerable creature.
Breathless editing and claustrophobic handheld camerawork (how can you take your distance in a cramped tenement?) convey the oppressive airlessness and relentless pace of a world where there's not much time for a luxury like sleep. And if the soundtrack by the director's musician husband Khaled Mouzanar pushes the emotional buttons a little too insistently towards the end, it's mostly well-used, creating dissonant choral textures that chime with the film's vision of a world that is seriously out of joint. Few answers are provided in this scattershot issue drama: but its questions are too urgent for that to matter much.
Production company: Mooz Films
International sales: Wild Bunch, ediederix@wildbunch.eu
Producers: Khaled Mouzanar, Michel Merkt
Screenplay: Nadine Labaki, Jihad Hojeily, Michelle Kesrouani, in collaboration with Georges Kabbaz, with the participation of Khaled Mouzanar
Production design: Hussein Baydoun
Editing: Konstantin Bock, Laure Gardette
Cinematography: Christopher Aoun
Music: Khaled Mouzanar
Main cast: Zain al Rafeea, Yordanos Shiferaw, Boluwatife Treasure Bankole, Kawthar al Haddad, Fadi Kamel Youssef, Cedra Izam, Alaa Chouchnieh, Nadine Labaki