Concise and compelling film from 'Tigre' duo wins a special mention at San Sebastian New Directors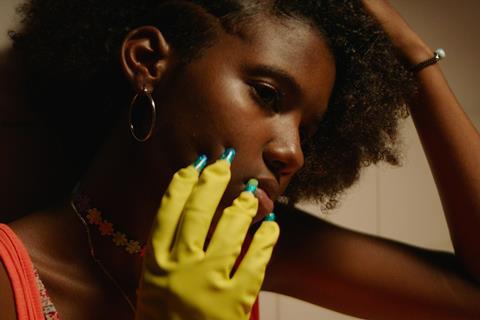 Dirs. Silvina Schnicer, Ulises Porra. Dominican Republic/Argentina. 2021. 89 mins.
The agonies of the Caribbean's colonial legacy are examined with aesthetic elegance and unsettling elusiveness in Carajita, the second feature by Argentinian-Spanish writing/directing duo Silvina Schnicer and Ulises Porra. Set in the Dominican Republic, this concise, compelling film somewhat misdirects us from the start about where it's heading, before examining a theme that is perhaps familiar but no less troubling for that. Returning to the New Directors section of San Sebastián, which also presented their 2017 debut Tigre, the duo offers a potent, visually gorgeous and sometimes potently enigmatic drama. Following its special mention in the San Sebastián awards, exposure in festivals and niche outlets looks healthy for a film that couldn't be more timely in the Black Lives Matter era.
The local slang use of 'carajita' roughly translates to 'little bitch' - or 'brat', as a subtitle has it when applied to teenager Sara (Cecile Van Welie). She is the daughter of a wealthy family which has just relocated to the Dominican Republic after several years absence; quite why the return is so sudden is unclear, but it seems to involve the activities of Sara's mover-shaker father, whom she describes at one point as 'corrupt'. The family is accompanied by long-serving maid Yarisa (Magnolia Núñez), a Black Dominican woman who hasn't even announced her return to her own family - which includes Mallory (Adelanny Padilla), the daughter of roughly Sara's age.
The film begins with a mysterious single image – a figure prostrate on a beach at night, police lights flashing on a palm tree – followed by a prelude with voice-over narration from Sara, showing her holding her breath underwater and remembering the baths that Yarisa gave her as a child. This sets us up for a gentle, impressionistic coming of age memoir – but Carajita proves to be something very different, stranger and sharper by far. Mallory and Sara attend a fairly bacchanalian party, after which Sara makes out with Diego, the boy she has long fancied – and who is angling for a job with her dad. But after a night of heavy rain, Mallory doesn't make it home…
Appreciative reviews of Schnicer and Porra's Tigre made comparisons with Lucrecia Martel, and they're apt here too – notably The Headless Woman, similarly a story about bourgeois privilege and its mechanisms of denial. The duo also takes a tack here which is somewhat similar to Claire Denis's debut feature Chocolat, examining colonial history through the eyes of a white daughter of the system and her relationship to a Black servant. However, Carajita takes us a long way from the starting point of Sara's solipsistic perspective, in particular showing Yarisa's family members as they refuse to accept official explanations of Mallory's disappearance. Local religious tradition is strongly evoked, in a manner not dissimilar to a highly-regarded recent drama from the Dominican Republic, Nelson de los Santos Arias's 2017 Cocote, with which Carajita shares at least one cast member.
Much of the drama hangs on the familiar image of the servant who is 'really' a family member – typically, at the cost of her own family ties. The suspicion and anger of her real relations in a moment of crisis is read as disrespect and ingratitude as Yarisa's employers inevitably remind them of who calls the shots. The acting is terrific, especially given the ambivalences the characters embody. Cecile Van Welie is outstanding as the callow Sara, naïve and spoiled, a lifelong good daughter who would be shocked to imagine herself a 'carajita'; while Magnolia Núñez gives Yarisa a tightly contained elusiveness from the start, hinting at the long-suppressed feelings of a woman whose job description insists on tenderness, devotion and self-denial.
Carajita's intensely imagistic dimension emerges strikingly in such shots as a close-up of Sara's brother Alvaro (Javier Hermida) wearing an animal mask, which he removes to reveal a battered face. There's also a leitmotif involving goats, an indomitable force of nature who feature almost as heavily – but less amusingly – as in Michelangelo Frammartino's Le Quattro Volte. One billy in particular, encountered on a back road at night, exudes a baleful presence equalling that of Black Philip, the four-hooved satanic star of Robert Eggers' The Witch. Use of darkness and intensely coloured light is a constant in the cinematography of Iván Gierasinchuk (returning from Tigre; additional camerawork is by Latin American regular Sergio Armstrong, known for his work with Pablo Larraín and Lorenzo Vigas (including recent Venice title La Caja). Production designer Monica de Moya also creates an clean, chilly luxury environment for the rich family, their modernist beach mansion a bulwark against the uncontainable realities of the outside world – which nevertheless invade in an eerily resonant final shot.
Production companies: Wooden Boat Productions, Pucará Cine
International sales: Bendita Film Sales, info@benditafilms.com
Producers: Ulla Prida, Alexandra Guerrero
Screenplay: Ulla Prida, Silvina Schnicer, Ulises Porra
Cinematography: Iván Gierasinchuk
Editing: Delfina Castagnino, Ulises Porra
Production design: Monica de Moya
Music: Andrés Rodriguez
Main cast: Cecile Van Welie, Magnolia Núñez, Adelanny Padilla, Javier Hermida