For her debut feature, Milica Tomovic takes the viewer to Belgrade in 1993 and a child's fractious birthday party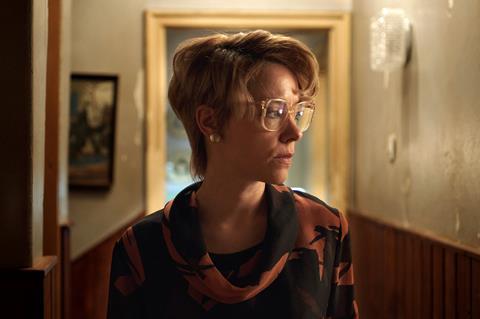 Dir/scr. Milica Tomovic. Serbia. 2021. 106 mins.
The sharp and engrossing Celts charts a hectic 24 hours in 1993 as the unhappy Marijana (Dubravka Kovjanic) prepares for and hosts her daughter's birthday party in her Belgrade home. Premiering as part of Berlin's Panorama section, this fluid debut feature from writer/director Milica Tomovic treats the narrative as a microcosm of its protagonist's fraying life in general, and of Yugoslavia's disintegration, and yet it is never blunt, broad or simplistic. Instead, it roams through a chaotic day and boisterous night to paint a portrait of people weathering uncertain times and trying to find a sense of release, and of something real, even if just for a moment.
It is a testament to the well-structured and well-paced script that nothing is overstressed
Celts' should easily attract further festival attention (it also won best debut feature at Locarno Pro's First Look, where it screened in 2019 as a work in progress). This is an easy film to fall into step with as it flits between characters, including Marijana, her taxi driver husband played by Stefan Trifunovic, eight year-old birthday girl Minja (Katarina Dimic), her punk-loving teenage sibling Tamara (Anja Dordevic) and, later, Marijana's unlucky-in-love sister Ceca (Jelena Dokic) and her ex-girlfriend Zaga (Nada Sargin).
Marijana's tale starts in bed, with her hands between her legs as her disinterested spouse sneaks out of the room. From the beneath-the-sheets camera placement to the gentle rustling of the quilt, everything is staged in a matter-of-fact fashion, an approach that continues throughout Celts. Her husband heads to work, running errands for the party between fares. Minja can barely concentrate in school, her birthday the only thing on her mind. Her grandmother Saveta (Olga Odanovic) tries to buy butter for the cake but, baulking at the 40 million dinar price, opts for margarine instead.
Making do by pouring powdered drinks into Coca-Cola bottles and borrowing a three-legged dog to pose as the family pet soon becomes a recurring theme. So does facing the resulting disappointment, such as when Minja's classmates tease her about her homemade Teenage Mutant Ninja Turtles costume at her own celebrations. Again, Tomovic deploys a canny touch. When alcohol starts flowing, what follows also happens in an organic fashion. It is a testament to the well-structured and well-paced script that nothing is overstressed, be it the emptiness echoing between the central couple, the arguments about Yugoslavia's dissolution, the childish bullying or the drunken party antics.
Also noticeable: the weariness that seeps into all but the most excited moments, as though almost everyone, young and old alike, is gradually being worn down. Celts is not bleak, generally seesawing from frank to amusing. But it is not interested in a blissfully glossy view of its characters' existence either.
Playing a couple locked into a pattern that neither likes, both Kovjanic and Trifunovic help achieve the feature's tonal balance; these parents are fatigued by their routine, but deeply buried hope still bubbles. There is a bittersweet air to young Konstantin Ilin, too, as Minja's oft-ignored brother Fica, who spends the night wandering around the edges of the party, content to be left alone.
The end result resembles a mix of That Strange Little Cat and The Ice Storm, even without the visual formality of the former and the key-swapping of the latter. That proves an engaging combination, with Celts chronicling the minutiae of a single day with a keen and unflinching eye, and exploring the widening fractures and lasting bonds that come out of it.
Production company: EED productions
International sales: m-appeal, films@m-appeal.com
Producer: Vladimir Vasiljevic
Editing: Jelena Maksimovic
Cinematography: Dalibor Tonkovic
Production design: Marija Mitric
Music: Ana Đurovic
Main cast: Dubravka Kovjanic, Stefan Trifunovic, Katarina Dimic, Anja Dordevic, Olga Odanovic, Konstantin Ilin, Nada Sargin, Jelena Dokic