Doug Liman directs an all-star cast in this long-delayed adaptation of Patrick Ness's YA bestseller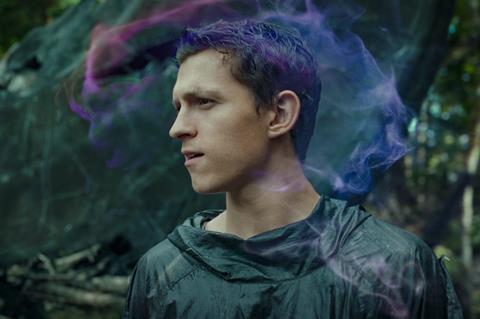 Dir: Doug Liman. US. 2021. 108mins.
Your thoughts can betray you — but they can also help you connect with others — in Chaos Walking, a sci-fi drama with much on its mind but not always the best approach for articulating its ambitions. Doug Liman's long-delayed adaptation of Patrick Ness' The Knife Of Letting Go, the first novel in his popular young adult series, takes a distant planet in the future where men's thoughts are audible to those around them — and the arrival of a mysterious woman threatens to upset this colony's shaky foundations. Daisy Ridley and Tom Holland are best known for blockbuster franchises Star Wars and Spider-Man respectively, and while this medium-budgeted action film clearly hopes to launch a cinematic series, the YA trappings feel familiar, despite some intriguing ideas about toxic masculinity and adolescent insecurity.
Chaos Walking can't help but feel painfully passé
Launching in the US on March 5, this Lionsgate offering was initially eyed as the studio's potential next lucrative franchise after Twilight and The Hunger Games. But after lengthy reshoots complicated by its stars' prior tentpole commitments, Chaos Walking may be limping into theatres and homes almost four years after it was shot, but the high-profile names in the cast, which also include Mads Mikkelsen, Demian Bichir, Cynthia Erivo and David Oyelowo, might help draw interest.
The year is 2257, and we're on New World, a colonised planet where sensitive Todd (Holland) lives with his adoptive fathers Ben (Bichir) and Cillian (Kurt Sutter), who have watched over him since his beloved mother, along with every other woman in this rustic territory, was killed by ferocious indigenous creatures. Meanwhile, the planet is producing a strange physiological phenomenon within the surviving men — dubbed The Noise, it amplifies their inner thoughts so that they're seen and heard by others.
One day, a ship carrying Viola (Ridley) crash-lands on New World, piquing the curiosity of the outpost's bullying self-appointed mayor Prentiss (Mikkelsen), who wants her captured. Determined to protect this young woman, who isn't afflicted with The Noise, Todd escorts her through the dangerous woods to a rumoured settlement where they might find sanctuary.
Liman, who recently shot and completed Locked Down during the pandemic, draws on his strengths as an action/sci-fi director (Edge Of Tomorrow, The Bourne Identity) to produce taut chase sequences involving horses and a raging river. Chaos Walking can often be closer in tone to a Western as Todd and Viola make their way through the woods, battling the elements and the natives — instead of spaceships and laser guns, the characters ride colts and fire shotguns.
The special effects used to render The Noise — an ephemeral cloud of random colours around the men that sometimes contains concrete images and features a voiceover of what's inside their head — can be distracting. But when he and Viola set off on their own, pursued by Prentiss and his posse, the gimmick takes on thematic significance. Desperate to prove his manliness, Todd behaves stoically to impress her, but his thoughts consistently undermine his posturing, revealing his anxieties nakedly to Viola. Ness (who also co-wrote the script) cleverly dramatises how young men in particular try to hide their insecurities out of fear that they'll be judged for being "weak" — when, in fact, Viola's discovery of his complex inner world has the opposite effect.
The colony's loss of its women is meant to be a patriarchal metaphor, and a later twist only drives home the point — albeit in a fairly obvious, unsatisfying way. Likewise, Chaos Walking's villains — principally, Mikkelsen's scheming mayor and Oyelowo's maniacal preacher — are one-dimensional symbols of toxic manhood, no matter the timely commentary. (Even more disappointing is an underused Erivo, who plays a leader of the remote settlement, which shocks Todd since he believed all New World's women had been slaughtered.)
But the picture's greatest liability is the cinematic deja vu that hovers over the proceedings like the grey skies enveloping the characters. Not unlike The Hunger Games and its less-successful sci-fi/YA offshoots, Chaos Walking is set in a dystopian future society in which teenagers must redeem a corrupt world through their noble heroics. Even when the film was initially shot in 2017, those tropes had turned into cliches, but four years later, Chaos Walking can't help but feel painfully passé. Ridley and Holland have a sweet rapport, but they're trapped in a picture that's chasing a faded cinematic trend that hasn't been a thought in most viewers' minds for a long time.
Production companies: Lionsgate, Quadrant Pictures, Allison Shearmur Productions, 3 Arts Entertainment
International sales: Lionsgate
Producers: Doug Davison, Allison Shearmur, Erwin Stoff, Alison Winter
Screenplay: Patrick Ness and Christopher Ford, based upon the book The Knife Of Never Letting Go by Patrick Ness
Production design: Dan Weil
Editing: Doc Crotzer
Cinematography: Ben Seresin
Music: Marco Beltrami and Brandon Roberts
Main cast: Daisy Ridley, Tom Holland, Mads Mikkelsen, Demian Bichir, Cynthia Erivo, Nick Jonas, Ray McKinnon, Kurt Sutter, David Oyelowo