Amanda Kernell follows up 'Sami Blood' with this 'impressively scratchy' character study of a flawed but loving mother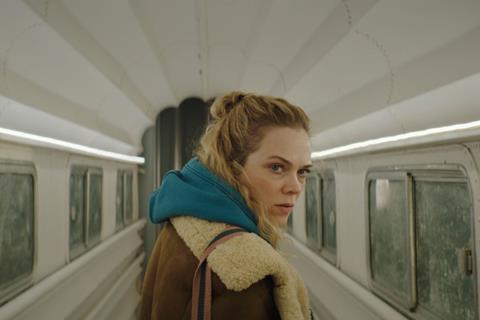 Dir/scr: Amanda Kernell. Sweden. 2020. 94 mins
Depictions of the mother in cinema have a tendency to veer to extremes: the saint or the monster, the warm protector or the cold harridan. Less common is a character like the one at the heart of Amanda Kernell's sophomore feature. Alice (Ane Dahl Torp) is flawed. She loves her children fiercely, but she left them with their father in order to start a new life in Stockholm. She's concerned about their welfare but her impulsive nature puts them at risk. This intriguingly scratchy character study follows Alice's ill-judged attempt to reconnect with her son and daughter by illicitly taking them on a charter holiday to Tenerife.
There's a brittle, hungry quality to Dahl Torp's excellent performance, a broken neediness which encroaches even on the happy moments
With its measured pace, finely wrought performances and sense of a vague, unspoken threat to the children, this is a solid follow-up to Kernell's eye-catching debut, Sami Blood (which won multiple prizes including the Venice Days Fedeora Award for Best Young Director and the Lux prize). Charter is an equally accomplished piece of filmmaking; if it doesn't find quite the same breadth of audience, it will be because it is thematically more familiar than the indigenous coming of age story at the heart of Sami Blood. Still, Charter seems destined for a healthy festival run, and some arthouse theatrical interest is possible.
Kernell's well-crafted screenplay holds back from revealing too much about the reasons for the mother's separation from her children. But clues are seeded, in the hostile stares from her former neighbours, in a brief, loaded encounter with a male friend, in the recriminations from Alice's teenage daughter Elina (Tintin Poggats Sarri, impressive) which are muttered towards the floor. It takes a while before Elina can even bring herself to look at her mother.
A distressed, abruptly curtailed phone call from her eight-year-old son Vincent (Troy Lundkvist) is the factor which wrenches Alice away from the life she has carved for herself in Stockholm. She hurries north to the snowbound small town where her embittered ex-husband and children still live. But walking the familiar streets is like returning to a crime scene. And the crime, whatever it is, is something that she has been tried for in her absence and found guilty. The sympathies of the town lie with the wronged husband, Mattias (Sverrir Gudnason). But his lunging physical response when he sees his ex is enough to plant doubts with the audience as to where the culpability lies.
Prevented by Mattias from spending time alone with the children, Alice impetuously decides to take them on holiday. "I'm your mother, I'm allowed," she reassures Vincent, who clearly wants to believe her. Elina wears a thunderous scowl although is eventually persuaded. But if the holiday is not quite the bonding experience that Alice had hoped for, the fault lies with her. There's a brittle, hungry quality to Dahl Torp's excellent performance, a broken neediness which encroaches even on the happy moments. As the ice between mother and children starts to melt over an order of mocktails, she can't help herself and blurts out the question which preoccupies her: "Would you rather live with me or Papa?" Deft camerwork from Sophia Olsson captures the mercurial shift of tensions between them.
Ultimately, what the film expresses beautifully in this sensitively-observed portrait of a shifting family dynamic is the fact that parenting is an imprecise science, that even with the best intentions people make mistakes and that, in a relationship breakdown, blame is rarely one-sided.
Production company: Nordisk Film Production Sverige AB
International sales: TrustNordisk info@trustnordisk.com
Producers: Lars G. Lindström, Eva Åkergren
Screenplay: Amanda Kernell
Editing: Anders Skov
Cinematography: Sophia Olsson
Production design: Sabine Hviid
Music: Kristian Eidnes Andersen
Main cast: Ane Dahl Torp, Troy Lundkvist, Tintin Poggats Sarri, Sverrir Gudnason, Eva Melander, Siw Erixon