Gail Lerner's modern update of this popular comedy about a blended family of 12 will be right at home on Disney+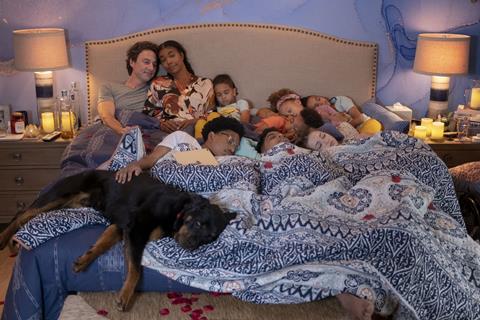 Dir: Gail Lerner. US. 2022. 108 mins.
Frank Bunker Gilbreth, Jr. and Ernestine Gilbreth Carey's popular story about an oversized family gets a modern update in its third cinematic adaptation of their 1948 novel. Director Gail Lerner's Cheaper By The Dozen is aggressively cutesy while trying to address real-world issues such as race and class. Lerner's version feels busy and laboured, its sitcom treatment straining equally for laughs and pathos.
For those seeking undemanding at-home entertainment, perhaps this Cheaper By The Dozen will fit the bill.
Coming to Disney+ on March 18, the film will target family audiences, with parents no doubt recalling the Steve Martin remakes of the 2000s — and, perhaps, the 1950 Clifton Webb/Myrna Loy picture. Gabrielle Union and Zach Braff lead this latest redo, and the film's message of remembering what is important in life could resonate with viewers curled up on the couch with their loved ones.
Zoey and Paul Baker (Union and Braff) are Los Angeles divorcees whose blissful marriage combined their sizeable families, as well as brought new children into the world. Now running a successful breakfast-all-day restaurant, Zoey and Paul have a chaotic life that they love, even if money can be tight. That all changes, though, once Paul is offered the opportunity to sell his delicious sauce in stores and franchise his eatery. But will moving into a bigger, nicer home in a more exclusive neighbourhood in Southern California actually make this couple and their kids happier?
Lerner, a television director responsible for the Oscar-nominated 2000 short Seraglio, lends Cheaper By The Dozen a sunny tone that matches Zoey and Paul's overwhelmed-but-optimistic outlook. Unfortunately, the film suffers from an abundance of adorableness, with the couple's youngest children delivering hip one-liners, while their eldest — including aspiring basketball star Deja (Journee Brown) — are angsty-teen cliches. Cheaper By The Dozen wants to illustrate how a complicated modern family functions — for instance, both Zoey's ex-husband, Dom (Timon Kyle Durrett), and Paul's ex-wife, Kate (Erika Christensen), are part of their children's lives — but there is not much weight to the drama that flares up over disagreements in how to raise this brood.
What is potentially intriguing about this remake, co-written and produced by Kenya Barris (who created the sitcom Black-Ish, where Lerner has served as a director), is its handling of interracial marriage and the fears that Black children face growing up in a bigoted America. At its strongest, this Cheaper By The Dozen gives those observations an offhand poignancy — never better than when, without explanation, Zoey tells two of her children that they can't play with toy guns outside. (The implication, of course, is that cops may be predisposed to think that Black kids are carrying actual weapons and respond with lethal force.) But too often, the picture's well-meaning but awkward discussions around race mostly serve as plot points — specifically, the tension between dorky Paul and cool Dom, who is unsure about having this white man be a father to his children.
Any friction between the two men will be resolved easily enough, however, which proves true of just about every confrontation that occurs. Almost no animosity exists between Zoey and Paul and their exes, and likewise the children's experience with racism and bullying at school is handled without anguish. It is all a bit too easy, and while one can appreciate Lerner's desire to present a lighthearted, positive portrait of family — especially considering the film's target audience of impressionable young viewers — there is little heft to the societal issues brought up.
To that end, Union gives the remake's strongest performance, portraying Zoey as a supportive partner whose patience is tested once Paul's desire to pursue lucrative franchising possibilities puts them at odds. Moving to snobby, exclusive Calabasas, the Baker family get their own McMansion, but Zoey quickly picks up on the unwelcome looks from locals, who disapprove of her large, loud family. (Even worse, the white Calabasas housewives assume she must be the nanny.) Union illustrates how Zoey must smile through her anger, while Braff struggles to dramatise Paul's obliviousness that, although he is trying to give his children a better life, uprooting the family is only making things worse.
For those seeking undemanding at-home entertainment, perhaps this Cheaper By The Dozen will fit the bill. But despite flirting with hard realities — including death and addiction — the remake consistently falters when trying to merge its breezier sensibilities with the darker issues inherent to the material. As a result, this latest redo aspires to be upbeat while soft-pedalling the modern woes that can tear down families and destroy marriages. It is a feel-good film that is afraid to feel too deeply.
Production company: Khalabo Ink Society
Worldwide distribution: Disney
Producer: Kenya Barris
Screenplay: Kenya Barris, Jenifer Rice-Genzuk Henry, screen story by Craig Titley and Kenya Barris & Jenifer Rice-Genzuk Henry, based upon the novel by Frank Bunker Gilbreth, Jr. and Ernestine Gilbreth Carey
Production design: Desma Murphy
Editing: Troy Takaki
Cinematography: Mitchell Amundsen
Music: John Paesano
Main cast: Gabrielle Union, Zach Braff, Erika Christensen, Timon Kyle Durrett, Christian Cote, Sebastian Cote, Caylee Blosenski, Journee Brown, Brittany Daniel, Mykal-Michelle Harris, Cynthia Daniel, Ron Funches, Leo Abelo Perry, Luke Prael, Andre Robinson, Kylie Rogers, Aryan Simhadri