Nikola Spasic builds a compelling docu-fiction around the titular Serbian transgender sex worker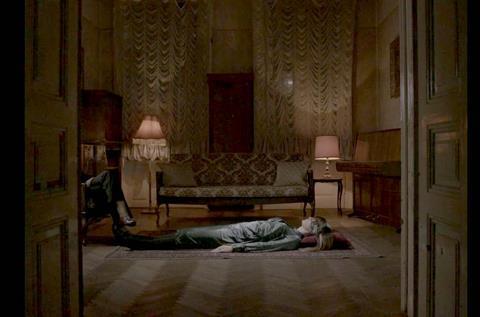 Dir: Nikola Spasic. Serbia. 2022. 86mins
A docu-fiction which also serves as a character study of its subject, this intriguing, elusive film is as poised and precise as its soigné central character, but ultimately shares her demeanour of arm's length enigma. Serbian transgender sex worker Christina (Kristina Milosavljevic) is a serenely elegant figure who surrounds herself with beauty – her Belgrade home is filled with art and antiques; even her picnics are impeccably styled. Through a series of chance encounters with Marko (Marko Radisic) a man of faith who may or may not turn out to be a soulmate, the film explores Christina's relationship with religion and how it tessellates with her chosen career.
What is perhaps most striking is just how unusual this is as a portrait of both a sex worker and a trans woman
The feature debut from Nikola Spasic, Christina (Kristina) premiered at FID Marseille, where it won the First Film Prize. The film was shot over a five year period, and represents a fictional story in which Milosavljevic and Radisic play themselves, but all other characters are played by actors, either professional or non-professional. It's a singular work which is notable for the painterly grace of the shot compositions – Impressionist art is a touchstone – and should be a title of interest on the festival circuit, particularly at events with an LGBTQ+ focus and strands which explore titles which blur the line between fiction and non-fiction. It may be a little too niche in its appeal, however, to make a mark much beyond these relatively specialist audiences.
What is perhaps most striking – beyond Christina's enviable bone structure – is just how unusual this is as a portrait of both a sex worker and a trans woman. Christina is no victim; she is in no way inclined to apologise for her profession. She will, she says, eventually confess her 'sins' in church and ask for forgiveness, but sees no point in doing so until she has left the business.
She is a working woman, in control of her life, with a connoisseur's eye for the baroque artefacts that she collects. Her clients abide by her rules: no shoes in her house. In her work, as in everything else, Christina is in control. This is reflected in the formality of the film's framing: meticulously composed static shots, referencing Degas, Manet, Seurat and others. Christina, and the world she inhabits, is a self-created work of art.
But this composure and control makes it hard to glimpse Christina, the person beneath the carefully cultivated veneer. For a character so magnetic, she is curiously emotionally inert for much of the picture. And it's telling that, although we see her in a session with an analyst, it is past life regression therapy rather than an exploration of her own history. Christina's faith might be conflicted, but she collects Christian iconography and is drawn to Marko, who spends much of his time working at an isolated monastery in the countryside. Between her religion and her transition, she has created a kind of armour which keeps the world – and the film's audience – at a distance.
Production company: Inkubator Rezon
Contact: Inkubator.rezon@gmail.com
Producers: Nikola Spasic, Milanka Gvoic
Screenplay: Milanka Gvoic
Cinematography: Igor Lazic
Editing: Nikola Spasic
Main cast: Kristina Milosavljevic, Marko Radisic, Jelena Galovic, Zvonimir Pudelka