Two undercover cops pursue an outlaw in Lijo Jose Pellissery's enigmatic blend of supernatural and sci-fi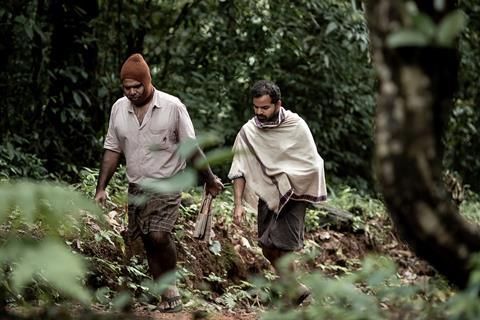 Dir: Lijo Jose Pellissery. India. 2021. 114 mins.
Two undercover policemen take new names and identities to travel deep into the forests of Kerala in search of an outlaw named Mayiladumpara Joy. But as the village liquor salesman informs them, this is no ordinary land. The names of the locals are fluid things which are shed along with the past — this is the kind of place where people go to disappear. But there's something more than that — a sense of enchantment which makes the village of Churuli into a kind of spatial and temporal maze. And that's before we encounter the aliens with glowing eyes who stroll through the woods at night. Lijo Jose Pellissery's follow-up to the buffalo-rampage thriller Jallikattu, which was India's submission for the 2020 Best International Film Oscar, is atmospheric but confounding, and ultimately unsatisfying.
The film makes effective use of its lush locations in Kerala's High Range
The film, which was adapted from a short story by Vinoy Thomas, lacks the punchy immediacy and energy of Jallikattu. And while the cult following that Malayalam-language filmmaker Pellissery has built in his native India should ensure domestic interest, it's hard to imagine that Churuli will make inroads into the arthouse market beyond the festival circuit. That said, the film's blend of supernatural and sci-fi elements, plus the robustly earthy dialogue, does make for a distinctive tone — even if it doesn't deliver on its early promise.
Churuli starts with a strikingly lovely animated segment which tells the legend of a priest who ventures into a forest with the aim of capturing a tricky shapeshifting phantom named Perumadan. But Perumadan transforms himself into an anteater and hitches a ride on the priest's back, dooming him to wander the paths of the forest for eternity, oblivious to the fact that he has been tricked. It's worth taking this little fable on board — while it doesn't quite offer a map to negotiate the baffling plot which unfolds, it does shed a little light on the picture's central enigma. Also worth knowing is that the film's title is both the name of the village but also translates as 'spiral'.
Taking the names Anthony and Shajivan, respectively, the brash police chief (Chemban Vinod Jose) and his subordinate (Vinay Forrt) make for an entertaining double act. Their journey to the village in the hills — the film makes effective use of its lush locations in Kerala's High Range — is an ordeal. Both the temperature and the attitudes of their fellow travellers cool as they draw closer to their destination.
A terrific nail-biting scene, in which their Jeep has to drive across a bridge made of precariously balanced branches, marks the point where the men unwittingly enter a place where the normal rules no longer apply. It takes a while before they realise this. Laying low, they land a job at the local liquor shop, serving food and cleaning in return for room and board. But Shajivan is troubled by dreams, or perhaps premonitions, of shadowy figures with glowing eyes. The obvious comparison to Apichatpong Weerasethakul's Uncle Boonmee does this muddled picture no favours.
The film is most successful when it is mining the fractious local atmosphere — the highlight of an evening's festivities is a "slapping competition" which is every bit as entertaining as it sounds. But as soon as Pellissery attempts to embrace a more fantastical tone, he, like his two central characters, seems to be meandering blindly and groping for a way out.
Production companies: Movie Monastery, Chembosky Motion Pictures
International sales: Movie Monastery, lijojosepellissery@gmail.com

Producers: Lijo Jose Pellissery, Chemban Vinod Jose
Screenplay: S. Hareesh
Cinematography: Madhu Neelakandan
Editing: Deepu Joseph
Production design: Syam Lal
Music: Sreerag Saji
Main cast: Vinay Forrt, Chemban Vinod Jose, Joju George