Pakistan's Oscar submission tells a story of social ostracism after mobile phone footage goes viral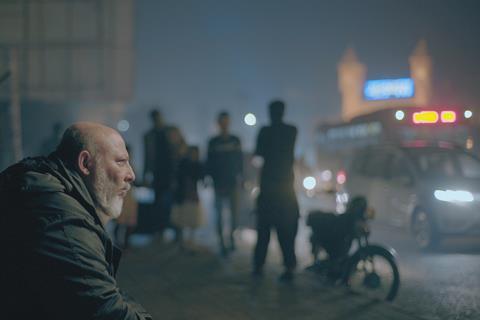 Dir: Sarmad Sultan Khoosat. Pakistan. 2019. 142 minutes
A well-meaning but ponderous indictment of intolerance, Sarmad Sultan Khoosat's Circus of Life (Zindagi Tamasha) takes more than two hours to tell a simple tale of narrow-mindedness in present-day Lahore. Even the remarkable central performance by sixtysomething newcomer Arif Hassan can't quite salvage this enterprise, selected amid some controversy as Pakistan's submission for the 2020 International Feature Oscar.
A protracted chronicle of woe
Indeed, the real-life shenanigans that have plagued Khoosat's largely self-financed production are arguably more diverting than the film itself. The multi-hyphenate, who shares screenplay and editing credits with Nirmal Bano, reportedly received death threats for supposed "blasphemy" in the piece. Khoost has endured various legal travails in his struggle to get the picture shown in his conservative homeland since it world-premiered (and won a prize) at Busan in October 2019. The Oscar selection and ensuing international attention will doubtless revitalise Circus of Life's renown at home, although AMPAS voters are another matter.
Hassan quietly compels attention throughout as Rahat, a small-time property-owner/landlord who has been delivering sing-song devotional-poetry recitals at community events and religious celebrations since he was eight years-old. An easygoing, uxorious chap devoted to his frail, largely bed-bound wife Farkhanda (Samiya Mumtaz), Rahat is the father of three adult daughters and leads a life of modestly devout respectability. His problems begin when he attends a wedding and afterwards — in a small, genial, all-male gathering — performs an impromptu lip-synching dance to 'Zindagi Tamasha Bani' ('Circus of Life') from Pakistani smash Naukar Vohti Da (1974).
Recorded on a fellow guest's smartphone (21st century technology is always bad news here), a video of Rahat's energetic, skilful female semi-impersonation is uploaded to the internet and goes viral in implausibly double-quick time. The dignified fellow becomes a figure of his fun in the neighbourhood, where traditional gender roles remain solidly entrenched.
His unwanted new "fame" is a heavily ironic development, given the song in question's plaintive lyrics ("my life has become a sad spectacle / no more than mere amusement for the world.") The ramifications escalate from social embarrassment to painful ostracism, straining Rahat's relations with his overworked TV-producer daughter Sadaf (Eman Anjum Suleman) and imperiling Farkhanda's delicate health.
Previously responsible for various television material and 2015's Manto — in which he also starred — Khoosat has a limited directorial box of tricks, periodically deployed to enliven the downbeat material and endow proceedings with a cinematic air. Distractingly offbeat camera-placement abounds, and the action is punctuated by several drone-shots providing overhead vistas of crowded big-city environs.
Some local atmosphere is imparted via Khizer Idrees' widescreen cinematography, but Fatimah Sattar's colour-grading yields an unappetising palette of drab hues, their energy seemingly sapped by Lahore's dusty smogs. The score by Saakin and Shamsher Rana is likewise both enervating and squarely conventional, with mournful, slow piano notes accompanying every sad development in Rahat's protracted chronicle of woe.
Despite occasional loose ends and underdeveloped avenues in the screenplay (an intriguing subplot involving a hot-headed local cleric goes nowhere) Circus of Life could probably have been knocked into reasonable shape and manageable length by a competent, experienced editor. Unfortunately no such cutter was employed: Khoost and Bano share this crucial credit with Nadeem Abbas, none of the trio having previously performed these duties on a feature-film. Shot after shot and scene after scene are over-extended, with inevitable consequences for the project as a whole — illustrating yet again why relatively neophyte writer-directors should entrust editing to more seasoned and objective hands.
Production company: Khoosat Films
International sales:Matt Leipzig mleipzig@modernliteraryarts.com
Producer: Kanwal Khoosat
Screenplay: Nirmal Bano, Sarmad Sultan Khoosat
Production design: Ahmed Shah
Editing: Nadeem Abbas, Nirmal Bano, Sarmad Sultan Khoosat
Cinematography: Khizer Idrees
Music: Saakin Rana, Shamsher Rana
Main cast: Arif Hassan, Samiya Mumtaz, Eman Anjum, Suleman, Adeel Afzal, Ali Kureshi, Hammad Hader Butt