Dir. Matthew Heineman. US, 2017, 90 minutes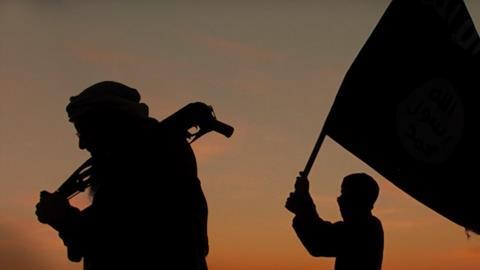 City Of Ghosts is Raqqa, the Syrian city and de facto capital of the Islamic State (ISIS). This documentary is Matthew Heineman's portrait of a dangerous place, observed by the city's own journalists. There's plenty of horror on the streets of City of Ghosts, where shootings, beheadings and crucifixions have been the brand of ISIS since it seized Raqqa in March 2014. The film's exposure will be driven by its inside glimpse of zealotry gone savage, which distinguishes it from violent Aleppo.
This tracks Raqqa's transformation from a sleepy isolated town into an insulated charnel house.
Also boosting this documentary's appeal is Heineman's own brand as the much-awarded director of Cartel Land (2015), a perilously close look at the US-Mexican border from both sides. A strong festival run is guaranteed, plus awards attention.
As fighting around Aleppo and in Mosul over the Iraqi border steals attention from Raqqa, the sheer brutality of the ISIS regime has been constant. Heineman followed an ensemble of journalists who evolved from carefree kids into reporters who risked their lives and often died to bring the truth of Raqqa to the world outside. They are the citizen journalists of the group named Raqqa Is Being Slaughtered Silently (RBSS), who have filmed in the streets in secret since 2014 and sent information out. Journalists are banned in Raqqa. Almost all those whom ISIS haven't killed are now in exile, where Heineman meets them.
Their do-it-yourself equipment tracks Raqqa's transformation from a sleepy isolated town into an insulated charnel house. Political opponents and suspects are slaughtered. So are RBSS members and relatives who remain after RBSS journalists flee. Some of these killings are filmed by ISIS and transmitted abroad in an escalating media war.
Heineman distills cell phone and video imagery from RBSS into a collage of atrocities and fear. RBSS activists explain that ISIS took hold in a power vacuum after the initial demonstrations of Syria's Arab Spring. They film ISIS entering Raqqa in stolen tanks, slaughtering prisoners. Soon some of RBSS will die on camera. The journalists who are not killed are driven out of the city, yet even in Turkey across the border they are hunted down and murdered. As in earlier documentaries about Syrian refugees, Heineman captures the isolation and helplessness felt by silenced journalists. Yet at least they got out alive.
These sequences of skype calls from bare apartments abroad lack the combustion of the Raqqa streets. So do scenes bookending the film at a generic gala for the Society to Protect Journalists, where well-groomed Americans applaud the courage of RBSS. When there's so much real drama in this story, such interludes seem unnecessary.
Yet Heineman makes sure that we know that RBSS has done work worth applauding, given the aggressive campaign by ISIS to track computer signals and to dismantle every unofficial satellite dish in Raqqa. Heineman's images of young children trained to be soldiers and killers at ISIS camps show a new generation of butchers being conscripted at the cradle.
Also chilling is Heineman's scrutiny of the refinement of ISIS as a media force, with resources to produce slick jihadist snuff films as the RBSS shrinks under persecution and ISIS puts targets on their backs, even in Germany.
The applause from other journalists, while dull dramatically, is well-deserved recognition. Yet as the western media toasts the courage of RBSS, the US and European countries aren't making Raqqa any less of a hellhole for those who remain. City of Ghosts shows us the power of media to bring the grim truth about life under ISIS to the world, even when under a death sentence. In keeping our eyes on Raqqa, it also reminds us of the limits of that power.
Production companies: A&E IndieFilms, Our Time Projects, Jigsaw Productions
International sales: Cinetic Media sales@cineticmedia.com
Producer: Matthew Heineman
Executive producers: Alex Gibney, Molly Thompson,
Maiken Baird, David Fialkow, Elaine Frontaine-Bryant, Stacey Offman, Robert Sharenow
Co-producers: Juan Camilo Cruz, Matthew Hamachek, Joedan Okun, Maya Seidler
Cinematographer: Matthew Heineman
Editors: Matthew Hamachek, Pax Wasserman, Matthew Heineman
Music: Jackson Greenberg, H. Scott Salinas