Johnny Depp, Forest Whitaker star in a long-delayed drama which investigates the murder of the Notorious B.I.G.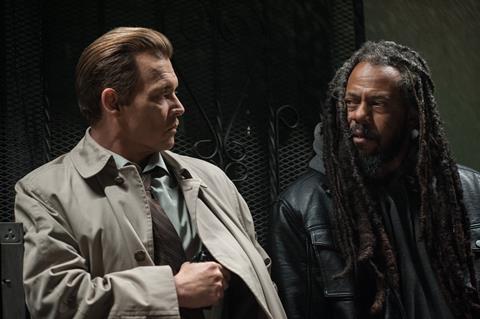 Dir: Brad Furman. US. 2018. 112mins.
For nearly 25 years, music fans have obsessed over who killed hip-hop artist Christopher Wallace (better known as the Notorious B.I.G.). City Of Lies tries to offer its own version of events, but doesn't offer much that is new to the conversation. This long-delayed drama stars Johnny Depp as a retired detective who is convinced the crooked Los Angeles Police Department played a part in the rapper's murder, and he is helped in his investigation by Forest Whitaker's dogged journalist. Typical of Lincoln Lawyer director Brad Turman's no-nonsense, lived-in approach, the picture benefits from its LA location shooting — not to mention the undeniable fascination surrounding this unsolved crime, which took place in the City of Angels in 1997. But familiar execution and drab characters conspire to drain this vital story of its intensity.
A Los Angeles which is devoid of celebrities and Hollywood glamour
Arriving in US theatres March 19 before moving to VOD in April, City Of Lies was filmed in late 2016, and the long road to release has been blamed on everything from issues with Depp's on-set behaviour (a lawsuit was filed against the actor by a location manager) to rumours of LAPD pressure, and that's before the loss of Depp's recent high-stakes court case in the UK involving his ex-wife Amber Heard. His tarnished reputation may not help the film, although interest in the Notorious B.I.G. remains high, as witnessed by the recent Netflix documentary Biggie: I Got A Story To Tell.
Furman's film is based on journalist Randall Sullivan's nonfiction book LAbyrinth, and begins when reporter Darius Jackson (Whitaker) reaches out to Russell Poole (Depp), a recluse who used to be an LAPD detective, for help with his anniversary piece on Biggie's murder. Poole is convinced that rival studio mogul Suge Knight plotted the rapper's killing as retaliation for the shooting death of his artist, Tupac Shakur — and that Knight was helped by cops within the LAPD. With his theories dismissed as wild conspiracies, Poole walks Jackson through the case, which we see in flashbacks as the younger Poole tries tracking down the perpetrators.
At times, Depp can bring rugged authenticity to Poole, who believed in the nobility of law enforcement only to be confronted by corruption all around him. (The real Poole, featured in LAbyrinth, died in 2015.) But unlike the wiry electricity Depp displayed in his youth, here he leans into cliche, giving us the trope of the one good cop trying to fight the system. Similarly, Whitaker's rumpled charm as the hard-drinking, once-promising reporter is undermined by Jackson's rather pedestrian narrative arc.
Monika Lenczewska's gritty lensing captures a Los Angeles which is devoid of celebrities and Hollywood glamour — rather, this is the working-class city of graffiti and bad cops. When Furman explores the minutia of police work — how evidence is gathered, how bureaucracy operates within the LAPD — the picture can crackle, hinting at the more meticulous thriller which could have derived from this material.
Indeed, the fact that such a high-profile murder was never solved — just as Shakur's killer still walks free — suggests the potential for a riveting mystery that speaks to systemic racism and police corruption. And unquestionably, Furman sometimes delves into these topics, in particular when the late rapper's mother Voletta Wallace appears near the end — a poignant reminder of the lingering pain this crime still elicits.
Unfortunately, as City Of Lies gets closer to its finale and lays out its argument for who the culprits might be, Christian Contreras' screenplay becomes more of an examination of the fragile friendship that has developed between Poole and Jackson. Predictably, the two characters start off at odds — the disillusioned retired detective doesn't want some nosy journalist poking around — but eventually they'll form a bond over their shared desire for the truth to come out. But beyond the hackneyed construction, their relationship simply feels less vital (or meaningful) than the events surrounding Notorious B.I.G.'s death.
There's an argument to be made that any picture that raises awareness about societal ills is a net positive. (The closing credits contain the statistic that "More than 50% of African American murders are unsolved.") And yet, City Of Lies lacks the urgency or rigour to make the story's underlying issues come alive. The film turns a tragedy into just another police procedural.
Production company: Good Films
International sales: FilmNation Entertainment

Producers: Miriam Segal, Paul Brennan, Stuart Manashil
Screenplay: Christian Contreras, based upon the book LAbyrinth by Randall Sullivan
Production design: Clay Griffith
Editing: Leo Trombetta
Cinematography: Monika Lenczewska
Music: Chris Hajian
Main cast: Johnny Depp, Forest Whitaker, Shea Whigham, Toby Huss, Peter Greene