Wendy Chinchilla Araya is a standout in this intense Costa Rican feature playing in Directors' Fortnight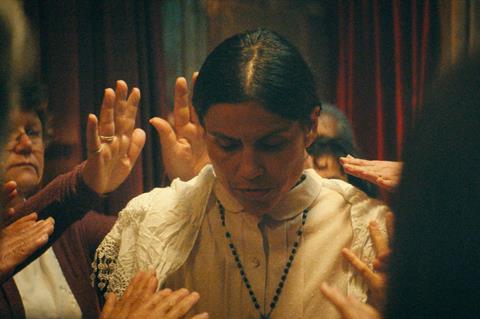 Dir. Nathalie Alvarez Mesen. Sweden/Costa Rica/Belgium/Germany/US. 2021. 106 mins.
In its overall content and style, Costa Rican drama Clara Sola may not seriously challenge anyone's preconceptions about atmospheric, thoughtful Central American art cinema. But while Swedish/Costa Rican director Nathalie Alvarez Mesen perhaps too easily fits a recognisable bracket with her first feature, she nevertheless makes the most of an acute sensitivity to character and to the symbolic potential of imagery, while a strong lead from Wendy Chinchilla Araya gives this Directors' Fortnight selection an intensity that forcefully counterpoints its predominantly contemplative energies. Healthy festival exposure is certain, especially given current interest in images of female empowerment and neurodiversity.
A defiant challenge to prejudice and repression
In a quiet rural region of Costa Rica, 40-year-old Clara (Chinchilla Araya) lives with her elderly mother Fresia (Flor María Vargas Chaves) and her sympathetic but spoiled teenage niece Maria (Ana Julia Porras Espinoza), whose mother – Clara's sister – has died. Clara has a spinal condition that requires attention, and mental issues that may be learning difficulties or a form of autism – although it also appears that this solitary, introverted, sometimes volatile woman has developed in response to her upbringing.
Supposedly capable of performing miraculous cures, Clara is regarded with veneration by locals, but treated in brusque, authoritarian fashion by her hyper-religious mother, who infantilises her and ferociously keeps her daughter's sexual appetites in check – not least, rubbing her fingers with chili to stop her masturbating when she gets turned on by telenovelas.
Clara tends to retreat into her own world, where she is hyper-sensitive to the presence of insects (she claims to know their and other creatures' secret names), and is particularly close to the farm's white horse. But her stable world cracks open with the arrival of a handsome and good-natured young worker, Santiago (Daniel Castañeda Rincón). Clara takes a shine to him, and they become friendly; then she discovers that he and Maria have become more intimate than Clara can handle.
The drama reaches its climax at Maria's quinceanera, the 15th birthday coming-of-age party for which their family and friends have been preparing throughout. Clara's wayward, rebellious behaviour has already disrupted the preparations intermittently, but when it comes to this final moment of truth, one suspects that Alvarez Mesen may be somewhat nodding to Carrie, given the party setting, the mother-daughter relationship and the particular kind of intervention that Clara makes. That is, appears to make – as Alvarez Mesen is certainly playing games with possible interpretations.
The film is shot with super-sensitive attention to detail by doP Sophie Winqvist Loggins (Pleasure) whose images, and especially close-ups, take us deep into Clara's perceptions (foliage, insects, textures) and it is edited by Dardennes collaborator Marie-Hélène Dozo with the same loose, associative rhythms that made her work with Roberto Minervini (Stop the Pounding Heart) at once so naturalistic and so lyrical. The overall stylistic approach works to highly immersive effect, but it doesn't escape a certain preciousness (underpinned by a sometimes too rhapsodic string score), notably when an erotic rapture in the forest is accompanied by flotillas of glowing fireflies.
The poetic feel, however, does help get across those ambivalent moments when Clara seems to put her supposed powers to work – effects that may be real, or purely in her mind.
What gives the film a force that balances out the delicacy is a commanding, charismatic lead by Wendy Chinchilla Araya, best known as a dancer, whose highly physical presence in turn evokes Clara's sensitivity, isolation, vulnerability, fury and – despite the pressure to keep it hidden – powerful sexuality. It is her performance that, come the denoument, finally makes Clara Sola a defiant challenge to prejudice and repression.
Production companies: Hobab, Pacífica Grey, Need Productions, Laïdak Films, Resolve Media
International sales: Luxbox, festivals@luxboxfilms.com
Producers: Nima Yousefi, Alan McConnell, Marcelo Quesada Mena, Karina Avellan Troz, Géraldine Sprimont, Anne-Laure Guégan
Screenplay: Maria Camila Arias, Nathalie Álvarez Mesen
Cinematography: Sophie Winqvist Loggins
Editor: Marie-Hélène Dozo
Production design: Amparo Baeza
Music: Ruben De Gheselle
Main cast: Wendy Chinchilla Araya, Daniel Castañeda Rincón, Ana Julia Porras Espinoza, Flor María Vargas Chaves