Dir. Stephen Dunn. Canada. 2015. 90mins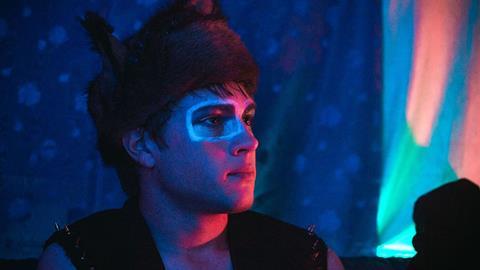 The debut feature of award-winning short film director Stephen Dunn, Closet Monster is a deftly handled and highly original spin on the coming-of-age drama. An unflinchingly macabre vein of body horror combined with the unique selling point of a talking hamster voiced by Isabella Rossellini should generate plenty of word of mouth to bolster the film's theatrical prospects. A solid festival career is already underway: the film plays at London, having already won Best Canadian Feature at Toronto, and Best Director and Best Screenwriter at the Atlantic Film Festival.
There is a freshness here, and a confidence that melds the disparate elements together satisfyingly.
We are introduced to Oscar Madly (Jack Fulton) as a child shortly before he is about to experience two life-defining moments. Firstly, the acrimonious breakdown of his parents' marriage leaves him stranded at home with his loving but highly erratic father (Aaron Abrams). Secondly, and more unsettling for the boy's nascent sexuality, Oscar witnesses the aftermath of a violent hate crime on a young man.
His father flatly states that the reason for the attack was the fact that the victim is gay. "That's why you have got to get rid of that hair," he adds, ruffling his son's mop and sewing the seeds for a particularly thorny bout of sexual confusion over the next decade. It's around this point that Oscar's hamster, Buffy, starts to talk to him.
Buffy is still Oscar's confidante several years later when we rejoin the now teenage boy (Connor Jessup plays the older Oscar) on the cusp of adulthood. The hamster has wisdom to impart about Oscar's turbulent family life: "I was born in a factory farm to an overweight rodent who tried to eat me. It doesn't mean my life can't be different." It's a comfort of sorts.
Oscar's over-active imagination is evident throughout his life, from the fantastic, grotesque special effects make up which he daubs onto his long-suffering friend Gemma (Sofia Banzhaf) to the vivid hallucinogenic horrors that flood into his mind when he tries to masturbate. Dunn's approach is satisfyingly deadpan – he treats the more outlandish elements of Oscar's inner world with the same light touch as the quotidian details of his numbing job in a home improvement store.
It's here that Oscar meets Wilder (Aliocha Schneider), his effortlessly sexy co-worker. Wilder's tattooed insouciance triggers a hormonal tsunami which forces Oscar to confront the sexuality that he has been conditioned to regard as unsafe, something to be concealed. Meanwhile, his relationship with his brooding, bitter and casually homophobic father deteriorates.
The resonating impact of Oscar's childhood experiences take him to some dark places – Dunn's compatriot David Cronenberg is a clear influence. But the director is careful not to make the film too inhospitable – the grisly elements are balanced by a zesty, youthful colour palette and an upbeat, if occasionally disorientating electronic score. Sound design is also well handled – particularly the seismic gurgle of trepidation that emits from deep in Oscar's guts whenever he is sexually aroused.
The trajectory of the story – a young man's discovery of who he is once he has pulled himself from the wreckage of his childhood – is a familiar. But there is a freshness here, and a confidence that melds the disparate elements together satisfyingly.
Production company: Rhombus Media, Best Boy Productions
International sales: Fortissimo Films, info@fortissimo.nl
Producers: Edward J. Martin, Fraser Ash, Kevin Krikst
Screenplay: Stephen Dunn
Cinematography: Bobby Shore
Editor: Bryan Atkinson
Production designer: Lisa Soper
Main cast: Connor Jessup, Aaron Abrams, Joanna Kelly, Aliocha Schneider, Isabella Rossellini