Joaquin Phoenix shines in Mike Mills' unsentimental exploration of strained family dynamics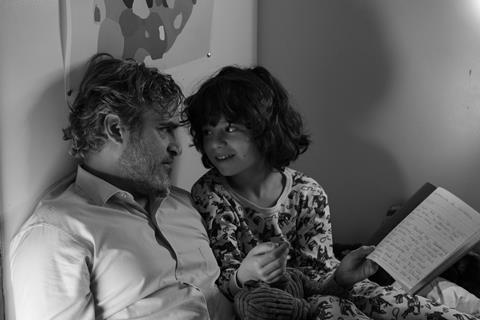 Dir/scr: Mike Mills. US. 2021. 108mins.
Writer-director Mike Mills makes films about family — how they fall apart, how they come back together — and his latest may be his loveliest yet. Telling the story of a single middle-aged man tasked with keeping an eye on his sensitive nine-year-old nephew, C'mon C'mon is a gentle drama, but its deep emotional wellspring is mitigated by how wise it is about what impossible little monsters kids can be when they're acting out. Joaquin Phoenix and Woody Norman prove to be a understatedly comic onscreen pair, navigating their characters' growing bond with a rich naturalism that allows no room for phoney uplift or tidy resolutions.
Phoenix is marvellous as Johnny
This A24 picture debuted at Telluride and will be traveling around subsequent festivals over the next month. Mills' first film since 2016's 20th Century Women is highlighted by Phoenix's first leading role since winning the Oscar for Joker; a performance that couldn't be more different from the reflective turn he delivers here. Arthouse audiences shouldn't need prodding to seek out this quiet gem, which is tentatively scheduled for a November release.
Phoenix plays Johnny, a New York radio journalist traveling across America interviewing children of immigrants to ask them about their feelings about the future. But his plans change when his sister Viv (Gaby Hoffmann), who lives in Los Angeles, needs a favour: her estranged husband Paul (Scoot McNairy) is suffering from mental-health issues, and so she's hoping Johnny will look after her boy Jesse (Norman) while she attends to him. Johnny is happy to help, even though he's a bachelor and never taken care of a child — but the limits of his generosity are tested once Viv's stay is extended and Johnny must return to the East Coast with Jesse to refocus on his work.
C'mon C'mon's logline might suggest an odd-couple comedy in which a cute tyke and a grumpy middle-aged man find common ground. Blessedly, Mills' approach is infinitely more nuanced, starting with his decision to hire cinematographer Robbie Ryan to shoot in silky black-and-white, which gives the story a fragile, dreamlike quality. With editor Jennifer Vecchiarello deftly weaving in impressionistic flashbacks to provide glimpses of the participants' lives, C'mon C'mon soon makes its intentions clear: while the picture is primarily about Johnny and Jesse, Mills is exploring the entire family's fault lines, wondering if these characters can repair what's been damaged between them.
Phoenix is marvellous as Johnny, who's overwhelmed by Jesse's impetuous, utterly believable kid-like behaviour. However, neither he nor Mills settle for cutesy short cuts, constantly finding the truthfulness in Johnny's attempts to understand this boy. Johnny never talks down to Jesse, and Norman ably conveys Jesse's precociousness and anxiety about being so far away from home. Jesse is a sweet kid, but C'mon C'mon lets him be multidimensional so that we see him being bratty and immature — all of which tries Johnny's patience and sends him calling Viv for advice.
In Beginners and 20th Century Women, Mills demonstrated a gift for understanding complicated family dynamics, and with C'mon C'mon, he crafts a tale of three generations and the hurts that have built up over time. In bits and pieces, the audience begins to understand how a dying mother and Paul's growing instability conspired to drive a wedge between Johnny and Viv. Phoenix and Hoffmann's scenes mostly take place over the phone, but they effortlessly exude the weathered rapport of siblings who have gone through a lot together.)
Intriguingly, C'mon C'mon includes actual interviews with children across the country, Phoenix holding the microphone and asking questions. The subjects are given the same queries — primarily, "What do you think the future will be?" — and while in some ways these interludes may feel extraneous, they connect to the general generosity and curiosity Mills exhibits towards all his characters. (Plus, these interview sessions echo Jesse's point-blank inquiries of his uncle — bluntly asking him why he's not married and why he and Viv don't talk like they used to.)
Mills' picture values such straightforward candour, arguing that only by being emotionally honest with those closest to us can we ever hope to have meaningful connection. "Are you ready for this?" Viv asks Johnny as he prepares to look after Jesse. He's not but, as C'mon C'mon attests, being willing to try to reach out to someone is the crucial first step.
Production company: Be Funny When You Can
International sales: A24 a24films.com
Producers: Chelsea Barnard, Lila Yacoub, Andrea Longacre-White
Production design: Katie Byron
Editing: Jennifer Vecchiarello
Cinematography: Robbie Ryan
Music: Bryce Dessner, Aaron Dessner
Main cast: Joaquin Phoenix, Gaby Hoffmann, Scoot McNairy, Woody Norma