Modern Cambodia under the lens in a perceptive debut from Jesse Miceli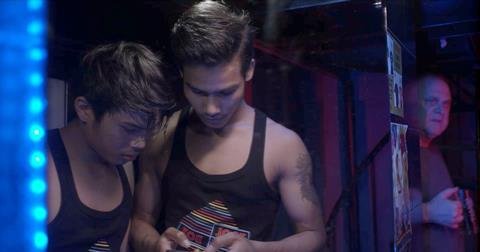 Dir/scr: Jesse Miceli. Cambodia, France. 2020. 82 mins
Individual hopes, dreams and disappointments are the key to gaining a wider understanding of life in Phnom Penh in Coalesce (Les Affluents). The first feature from writer/director Jesse Miceli uses the aspirations of three men to convey the opportunities and challenges facing a generation confronted by a fast-changing city. Festivals with an eye on new talent should show interest following a world premiere as part of the 2020 Cannes ACID selections.
There is the smell of money in the air in Phnom Penh but not for everyone.
The yearning for something better unites the three central characters. Songsa (Songsa Sek) is a mild-mannered teenager who barely utters a word. He is at the mercy of his family's demands. Thy (Rithy Rom) has just celebrated his 20th birthday and wants to buy an expensive motorcyle. Phearum (Phearum Eang) is 24 and married to a schoolteacher. They have a bunch of kids. He drives a taxi but wants to sell cars to the growing Chinese population drawn to Cambodia by the investment opportunities.
Their stories unfold in isolation before a connection is established in the closing stages. All three men are trying to find a voice and a means of achieving what they want. Songsa goes to work for his father, selling clothes in the city. Thy becomes a host in a gay bar, where he is encouraged to make customers feel welcome. "Old guys drinking alone give good tips," advises a fellow host. Phearum's customers reflect the invasion of Cambodia by tourists and big business.
Coalesce does convey a sense of Phnom Phenh. There is construction work on every corner of the city as hotels and skyscrapers spring up and land values soar. There is no sense of dark in the night, just a sea of flashing neon and LED screens as restaurants and casinos compete for business. There is the smell of money in the air but not for everyone. Songsa is selling jeans for a $1.25 a pair, Thy earns a dollar for every drink bought in the bar and Phearum's work provides him with a glimpse of how the other half lives.
The contrast is underlined by also showing a city of back-street abortions and humble karaoke bars where drunken men pass a tear-stained hour in sentimental refrain. At Songsa's rural family home even the chicken destined for the pot seems scrawny and undernourished.
There are common threads running throughout Coalesce from family ties that can unite or confine to the central role of transport in the life of the city. Tuk tuks that fill the roads are under threat from the shift to luxury taxis. Motorbikes hold the promise of freedom.
Miceli finds a lyricism in his vision of the city. It feels as if all three characters are running to keep up with the changes there that might easily leave them behind. There are moments when the film catches its breath and pauses to absorb the sights and sounds of Phnom Penh. A crowd dances on a city street, a volleyball game, Songsa's discovery of death metal music or the sight of a motorbike gang gliding towards country roads all add more reflective notes to the quiet momentum of the storytelling.
The moment when the three lives intersect and the subsequent "One Year Later" prologue feels rushed as if there is still some fine tuning to be done here. The strangely jolly closing music also jars. Overall, this remains a promising first feature with some sharp-eyed thoughts on modern Cambodia.
Production companies: Horoma Films, Perspective Films
International sales: Perspective Films contact@perspectivefilms.fr
Producers: Jesse Miceli, Gaelle Jones
Editing: Clement Selitzki
Cinematography: Run Sokheng
Music: Nikki Nikki
Main cast: Songsa Sek, Phearum Eang, Rithy Rom, Lek Vann