Leonie Kripendorff's coming-out drama opens the Generation sidebar at the Berlinale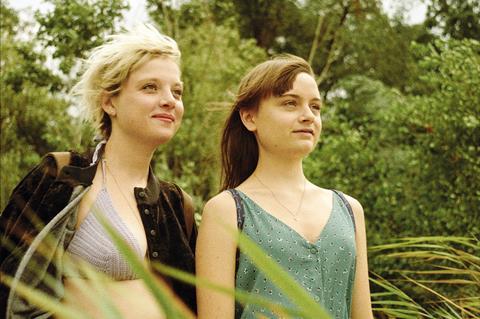 Dir. Leonie Krippendorff. Germany. 2020. 95 mins
Fourteen-year-old Nora (Lena Urzendowsky) drifts in the slipstream of her cooler, older sister Jule (Lena Klenke). With their mother wedded to alcohol and largely absent from the lives of her two children, the girls are each other's support system. But over the course of the languid, super-heated summer of 2018, Nora begins to realise that she can't shape herself into her sister's image. Her route to adulthood is her own journey: her first period, first love and first heartbreak are moments which all contribute to the person she will become. As the title suggests, this appealing lesbian coming of age drama leans on butterfly symbolism and metaphors of transformation and rebirth. Still, Leonie Krippendorff's feature debut feels fresh and authentic, both in terms of the performances, and in the film's restless sense of place, the culturally mixed Kreuzberg neighbourhood of Kottbusser Tor.
The film impresses is in its nervy evocation of the treacherous teen ecosystem
While there is little here that hasn't been seen or done before, Krippendorff's picture is deftly executed enough to ensure that further festival interest is likely, particularly in LGBTQ-themed events and programs. Likewise, specialist distributors might be seduced by the film's sunny, sexy adolescent insouciance, although whether the picture is distinctive enough to connect with arthouse audiences as well as those with a specific interest in gay cinema is less certain.
A skittish opening sequence of teen girl mischief, shot on Nora's phone, captures the dynamic between Jule, her best friend Aylin (Elina Vildanova) and the younger sister who is permitted to tag along. We see the action from Nora's perspective, as she scuttles behind and Jule and Aylin sprint ahead, crowing with triumph having just scrawled a penis on the face of a sleeping boy. Nora is tolerated as long as she doesn't draw attention to herself or upset the delicate balance of the social status that Jule and Aylin enjoy. It's a hierarchy which is explored with a fluid, watchful camera which mirrors Nora's sharp-eyed self-protection. She knows that she is slightly out of her depth; she is starting to realise that she is also out of place. As Aylin and Jule discuss which boys they prefer, Nora's eyes drift over to Romy (Jella Haase, effortlessly charismatic), the cropped blonde new girl who is the only person who offers sympathy when Nora very publicly starts menstruating for the first time.
A relationship develops between Nora and Romy. But there is something rather superficial about the way it is depicted – it's an extended montage of blissed-out kisses and lovesick gazes. Perhaps what Krippendorff is suggesting is that Nora is in love with the idea of Romy rather than Romy herself? But it does seem to be something of a wasted opportunity: what we do see of Romy makes a persuasive case that she is the most intriguing and textured character that Nora encounters.
Where the film impresses is in its nervy evocation of the treacherous teen ecosystem, a world in which the safest course of action is invisibility. But like the caterpillars that she keeps in jars in her bedroom, Nora realises that staying in a cocoon forever is impossible. And sooner or later she is going to have to show the world who she really is. Unlike the similarly themed Show Me Love by Lukas Moodysson, the film doesn't conclude with a happy-ever-after relationship narrative; however, the two pictures share a crowd-pleasing sense that, for all the churning doubts and spiteful jibes, the central character's journey is a joyful one.
Production company: Jost Hering Filmproduktion
International sales: M-Appeal salesoffice@m-appeal.com
Producer: Jost Hering
Screenplay: Leonie Krippendorff
Editing: Emma Alice Graf
Cinematography: Martin Neumeyer
Music: Maya Postepski
Main cast: Lena Urzendowsky, Jella Haase, Lena Klenke, Elina Vildanova