Three decades later, Eddie Murphy steps back on the throne of Zamunda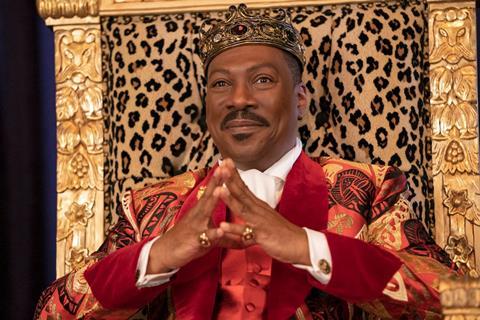 Dir: Craig Brewer. US. 2021. 109mins
More than 30 years after the original, Coming 2 America returns to the fictional African nation of Zamunda for a sequel that isn't as regal (or as funny). Eddie Murphy takes a backseat in this follow-up, which chronicles King Akeem's long-lost American son (Jermaine Fowler) as he struggles to assume his birthright as prince. Stuffed with references to Coming To America — including the many side characters that Murphy and Arsenio Hall portrayed — this new edition feels less inspired, missing not just the superstar's quick wit but the 1988 film's fecund fish-out-of-water premise.
A rehash rather than a renewal
Coming 2 America comes to Amazon on March 5, and certainly there's desire to see a Part Two to the beloved '80s hit. The original cast is joined by Fowler, KiKi Layne, Wesley Snipes, Leslie Jones and Tracy Morgan, courting several generations of comedy fans from the comfort of their couches.
As the film begins, Akeem (Murphy) is about to be made king of Zamunda after the death of his father (James Earl Jones). He and his queen Lisa (Shari Headley) have enjoyed a happy life since their wedding at the end of Coming To America, but because they've had daughters — and women cannot rule Zamunda — Akeem fears that his lack of a male heir will jeopardise his kingdom, which is being eyed by General Izzi (Snipes), the warmongering leader of nearby Nexdoria.
But Akeem soon learns that he does have a son, Lavelle (Fowler), who was conceived one night during his trip to Queens when he blacked out and had sex with Mary (Leslie Jones). Anxious to preserve his family's reign, Akeem flies Lavelle and Mary to Zamunda, where the young man will be coached on how to be king.
Coming To America found the massively popular Murphy generating sizeable laughs from playing a bubbly, sheltered African prince who was both confused and delighted by all he didn't understand about America. Although natural that Akeem would have changed in the past 30 years — to say nothing of the actor who portrayed him — it's nonetheless disappointing that Murphy doesn't bring the same buoyant spirit to the sequel. Similarly, because most of Coming 2 America takes place in Zamunda, the follow-up loses the original's amusing culture-clash conceit. Savvy Lavelle's exploration of Zamunda doesn't prove nearly as funny.
Director Craig Brewer, who previously worked with Murphy on Dolemite Is My Name, wisely hired that film's costume designer, Ruth E. Carter, to craft Coming 2 America's regal garb, which gives the picture a vibrancy that's not often matched by a pedestrian screenplay, which centres around Lavelle's attempts to prove himself worthy of the throne. Despite the protestations of Akeem's eldest daughter Meeka (Layne), who is eminently capable of ruling Zamunda, the King is so determined to adhere to tradition that he bonds with Lavelle, who secretly has fallen in love with the royal barber, Mirembe (Nomzamo Mbatha), even though he's to wed Izzi's daughter.
Unfortunately, this narrative echoing of the first film — in which Akeem fled to America to find true love, rather than going through with an arranged marriage — is only mildly clever. Fowler and Mbatha have a sweet rapport, but it pales in comparison to Murphy and Headley's chemistry in the original. In addition, when Coming 2 America tries to rectify some of the first film's sexism — primarily by empowering Meeka and having Lisa scold Akeem for his patriarchal worldview — it comes across as forced rather than heartfelt.
Murphy's megawatt smile still radiates, and he has several line readings that will remind viewers what a sharp comic presence he can be. But this isn't the same layered performance he bought to Coming To America — or Dolemite Is My Name — in part because the sequel really is Lavelle's story. Consequently, he ends up making only a slightly stronger impression than Hall (back as Akeem's confidant Semmi) and other costars from the original film who are awkwardly shoehorned into the narrative — especially the opinionated barbershop characters Murphy and Hall gamely reprise for the sequel.
Such obligatory fan service both stalls Coming 2 America's momentum and highlights what felt fresher about the 1988 picture. Of the new cast, Jones brings her boisterous energy to Mary, who hasn't seen Akeem since their one-night stand but has no problem making herself at home in Zamunda's opulent palace. But in Brewer's quest to include myriad references to Coming To America — including elaborate dance numbers — the sequel ends up feeling like a rehash rather than a renewal. This kingdom has seen better days.
Production companies: Eddie Murphy Productions, Misher Films
Worldwide distribution: Amazon
Producers: Kevin Misher, Eddie Murphy
Screenplay: Kenya Barris and Barry W. Blaustein & David Sheffield, story by Barry W. Blaustein & David Sheffield and Justin Kanew, based on characters created by Eddie Murphy
Production design: Jefferson Sage
Editing: David Clark, Debra Neil-Fisher, Billy Fox
Cinematography: Joe "Jody" Williams
Music: Jermaine Stegall
Main cast: Eddie Murphy, Arsenio Hall, Jermaine Fowler, Leslie Jones, Tracy Morgan, KiKi Layne, Shari Headley, Wesley Snipes, James Earl Jones