Dir: Hu Mei. China. 2010. 108 mins.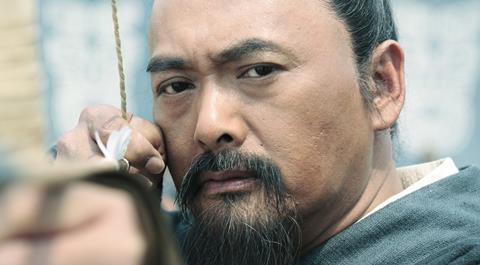 Chow Yun-fat is the main attraction in Confucius, a ponderous and weakly-imagined attempt at repackaging the ancient sage for the blockbuster era. Hu Mei's (For All Eternity) film includes both battle sequences and an attempted seduction of the legendary philosopher in hopes of drawing mainstream audiences, but a lack of narrative development results in a film that is neither entertaining nor enlightening.
Chow Yun-fat imparts a self-confident wit and charm to the central character
Despite strong state support, which allegedly involved clearing Avatar off 1,600 2D screens to make way for its release, the $23m Confucius has been weakly received in its native China, taking $5.1m on 2,500 screens during its opening weekend. Presold widely throughout Asia and to select European territories, Confucius' hopes of performing better abroad will rest entirely on the star power of Chow Yun-fat, who turns in a subdued but engaging performance in the lead role.
Kong Qiu (Confucius) lives in the turbulent era of China's Spring and Autumn Period, when the country is fragmented into competing states. A commoner by birth, he rises to positions of influence within the Kingdom of Lu by demonstrating the efficacy of his philosophy. His forward-thinking ideas - such as pleading for the life of a slave slated to be buried alive - earn him enemies, however, including the powerful General Ji Hengzi (24 City's Chen Jianbin).
Eventually, Confucius's success at subduing hostile neighboring states through a combination of tactics and wit earns him the position of Acting Minister of the Interior. However resentment spreads within the court, and in 497 B.C. he and a group of disciples embark on a life of wandering exile.
One of the film's main problems is that, for all of the myriad faces appearing on screen, none of Confucius' personal relationships are ever given dramatic depth. The highly talented Zhou Xun, awarded second billing in the credits, appears onscreen for barely ten minutes in a one-dimensional role that feels shoehorned in to provide extra star power. Similarly, although the film presents scenes illustrating the devotion of Confucius' disciples, none of these relationships are properly developed.
Thus it falls to Chow Yun-fat to carry the dramatic weight of Confucius almost single-handedly. In the film's opening reels he largely succeeds in doing so by imparting a self-confident wit and charm to the central character. However as it moves into the latter reels, Confucius accumulates weight rather than any sense of gravitas, and Chow's performance is gradually subsumed by narrative inertia.
On a technical level, the film is given a polished, professional look by the likes of DP Peter Pau (Crouching Tiger, Hidden Dragon), costume designer Yee Chung-man (Painted Skin) and production designer Lin Chaoxiang. Evocative landscape shots are scattered throughout, but on the whole the film offers few visual or stylistic surprises.
To sign up for Screen's weekly Reviews Newsletter with all the week's new releases, international openings and full festival reviews delivered free to your mailbox every Friday, please click HERE
Production companies
Dadi Century (Beijing) Limited
Dadi Entertainment Limited
China Film Group Corporation
Chinese distribution/international sales
Dadi Entertainment Limited
+ 86 10 5157 0257
Producers
Rachel Liu
John Sham
Han Sanping
Chui Po-chu
Screenplay
Chan Khan
Jiang Qitao
He Yanjiang
Hu Mei
Cinematography
Peter Pau
Production design
Lin Chaoxiang
Costume designer
Yee Chung-man
Music
Cong Su
Main cast
Chow Yun-fat
Zhou Xun
Chen Jianbin
Lu Yao