Demi Moore stars in this tale of a corporate retreat gone badly wrong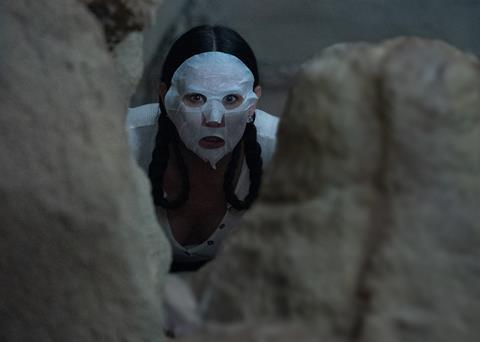 Dir. Patrice Brice. US. 2019. 86 mins.
It's The Office meets Alive in this sporadically funny comedy about a corporate team-building retreat that ends in disaster. Director Patrick Brice (Creep, The Overnight) has assembled a top-notch cast of comedic performers, including Karan Soni (Deadpool), Jessica Williams (The Incredible Jessica James), Isiah Whitlock Jr. (BlacKkKlansman), Nasim Pedrad (New Girl), and, briefly, Ed Helms (The Office). But Corporate Animals feels like a Saturday Night Live skit that's been stretched out over 90 minutes. The fact that the movie looks and feels like a television show doesn't help, further solidifying its destination as a small-screen streaming option.
Corporate Animals will be remembered, perhaps with a cringe, as the first film to use "Weinstein" as a verb, as in "your boss has been Weinsteining you."
Starring Demi Moore as Lucy Vanderton, a vain, egotistical boss from hell—she makes The Office's Michael Scott seem soft in comparison—Corporate Animals follows her and her staff as they head out on a caving adventure in New Mexico. Inner conflicts and character dynamics are quickly sketched out: Lucy's two assistants Freddie (Soni) and Jess (Williams) have been both promised Vice President, as a way of putting a wedge between them; and the rest of the team represent a hodgepodge of mutual anger and discontent.
Lead by their tour guide Brandon (Helms), the group soon finds itself trapped in an underground cavern with no way out. With no water, food or way of escape, it's only a matter of time before plenty of resentments and nasty revelations come to the surface—not to mention desperate measures such as cannibalism.
The script by Sam Bain (Four Lions) has some intermittent zingers, and yes, there's a few humorous scenes revolving around questions of eating another human being. "If you swap the letters around in the word 'team,' reminds Whitlock Jr.'s Derek, "it spells 'meat.'" And Corporate Animals will be remembered, perhaps with a cringe, as the first film to use "Weinstein" as a verb, as in "your boss has been Weinsteining you."
The actors play these beats like professionals; Soni, in particular, is an entertaining lead—his Freddie a jumble of arrogance and vulnerability. Whitlock, Jr., Pedrad, and Veep's Dan Bakkedahl also have their comedic moments, and Demi Moore is a perfectly despicable picture of self-interest and haughtiness. But mostly, there's a strange disconnect between the dire situation and the comedy that comes from it. On an episode of Parks and Recreation, there might be instances of office politics, insults lobbed at the quirky intern, and general backstabbing, but it's not remotely credible coming from a group of people who are trapped, starving, and dying of thirst.
The film comes alive briefly when it goes completely off the rails with a couple of totally absurdist sequences, involving an infected wound singing a Britney Spears song and a wild, animated hallucination, complete with images of cannibalist guilt. Indeed, if people really were out of food and water for more than a week, it would probably look a lot more like a feverish nightmare like this than a TV sitcom.
Beyond the broader comedic elements revolving around spoofing survival movies, Corporate Animals does have some meaningful satire at its core, lampooning Lucy's well-meaning progressive, earth-saving corporate personae as the problem, and not the solution, for our society. When she chastises Jess as a "quota queen," it's apparent that the film's diverse cast—also including Asian actress Jennifer Kim (Mozart in the Jungle) as another employee—isn't there just to be politically correct: The film cleverly ends up being a kind of revenge fantasy against white privilege.
Production Company: Snoot Entertainment, Pacific Electric Picture Co.
International sales: Protagonist, info@protagonistpictures.com
Screenwriter: Sam Bain
Producers: Keith Calder, Jess Wu Calder, Mike Falbo, Ed Helms
Production design: David Meyer
Editor: Chris Donlon
Cinematography: Tarin Anderson
Music: Michael Yezerski
Main cast: Demi Moore, Ed Helms, Jessica Williams, Karan Soni