Michael B. Jordan goes back in the ring for another bout with the Rocky franchise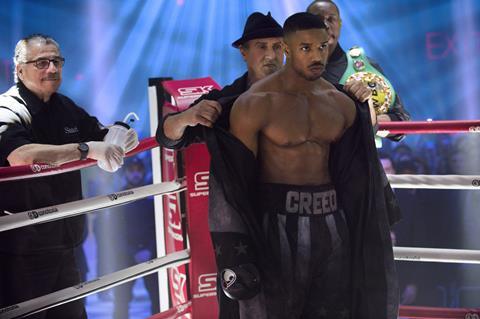 Dir: Steven Caple Jr. US. 2018. 129mins.
Contradictory impulses dominate Creed II. This sequel to the 2015 smash hit is both emotional and formulaic, nuanced and shameless, determined to set its own course while slavishly loyal to franchise strictures. It accomplishes its modest goals, and yet what's frustrating about this latest chapter in the Adonis Creed saga is that, whatever ambitions it might have, the primary objective is to fashion a familiar Rocky adventure. Michael B. Jordan brings poignancy to a character who learns that becoming the champ won't fill his inner void— a touching grace note in a movie that too often goes on autopilot.
The film always feels boxed in by its conventionality
Releasing through MGM in the US on November 21 — Warner Bros. will be handling for the rest of the globe, including a November 30 opening in the UK — Creed II looks to top the original's $174 million worldwide total. Jordan's star has only risen since the first Creed, and he's backed again by Tessa Thompson and Sylvester Stallone — not to mention Dolph Lundgren, who will appeal to fans of Rocky IV, a touchstone heavily referenced in this new film.
As Creed II begins, hotshot boxer Adonis Creed (Jordan) has just claimed the heavyweight crown, with his loyal trainer Rocky Balboa (Stallone) and musician girlfriend Bianca (Thompson) by his side. Yet Creed feels unfulfilled, which is when an enterprising promoter (Russell Hornsby) offers a bout with Viktor Drago (Florian "Big Nasty" Munteanu), the imposing son of Ivan Drago (Lundgren), who killed Creed's father in the ring 30 years ago. Vowing vengeance, Creed agrees over Rocky's objections.
Black Panther director Ryan Coogler won kudos for his 2015 Creed, which brought gritty urgency to the moribund franchise. Now serving as executive producer, Coogler hands the baton to Steven Caple Jr (2016 indie The Land).
Creed II doesn't have quite the same lived-in natural air of its predecessor. (It also lacks the spark of the first film, in which audiences watched Creed develop his relationships with Rocky and Bianca.) With that said, though, Juel Taylor and Stallone's screenplay constructs a narrative arc for Creed that is arguably more interesting: once he is the king of the ring, what's left for him to achieve?
Jordan gives us a Creed who has to accept adult responsibilities in the form of Bianca's surprise pregnancy and the pressure that comes with being the champ. No longer an underdog, Creed must finally confront his father's legacy, and the actor exudes rugged vulnerability as the character's macho swagger begins to unravel.
But because this is a Rocky movie, it's pre-destined that the plot will eventually shift towards preparing for boxing matches, waging war inside the ring, and then grappling with the bout's after-effects. It's a comfortable, pleasant routine by this point, and Caple delivers the adrenaline rushes and rock-'em-sock-'em violence. (Also, he and his three editors demonstrate a flair for training montages, a Rocky staple.)
Nonetheless, the predictable storytelling beats interfere with Creed II's good-faith effort to explore the pull of the past and how sons revisit the traumas of their fathers. It tries to make Ivan Drago, Rocky IV's seemingly unstoppable villain, into a tragic figure who has lived in disgrace since Rocky defeated him. His son Viktor wants to restore his father's honour, just as Creed wants to topple Viktor to avenge what Ivan did to his dad. But the film isn't nimble enough to capitalise on the two boxers' familial parallels — instead, Creed II merely feels like a shrewd way to extend this franchise by tapping into fans' nostalgia for the 1985 film.
Thompson remains a powerful, albeit somewhat marginalised presence — she and Jordan have a real rapport but not enough screen time together. And Stallone continues to be a limited but endearing actor in his iconic role as Rocky Balboa. Creed II tends to harp on the same themes — family, forgiveness, acceptance of the passage of time — that were prominent in the previous instalment, and the fragility of the once-mighty Rocky can be affecting. But the film always feels boxed in by its conventionality.
Production company: Chartoff Winkler Productions
nternational distribution: Warner Bros.
Producers: Irwin Winkler, Charles Winkler, William Chartoff, David Winkler, Kevin King-Templeton, Sylvester Stallone
Screenplay: Juel Taylor and Sylvester Stallone, story by Sascha Penn and Cheo Hodari Coker
Production design: Franco-Giacomo Carbone
Editing: Dana E. Glauberman, Saira Haider, Paul Harb
Cinematography: Kramer Morgenthau
Music: Ludwig Göransson
Main cast: Michael B. Jordan, Sylvester Stallone, Tessa Thompson, Wood Harris, Russell Hornsby, Phylicia Rashad, Dolph Lundgren