Dir: Ryan Coogler. US. 2015. 133mins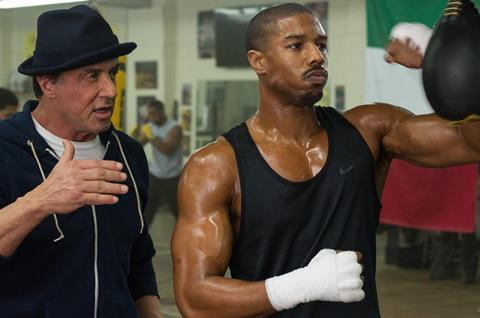 The son of a renowned boxer steps into the ring seeking to make his own name rather than coasting on the legacy of his lineage in Creed, a continuation of the Rocky saga that has its own troubles standing in the shadow of the franchise's previous films.
So much of Creed's emotional oomph comes from audience familiarity with the past films, the movie mostly shadowboxes with its past
Although highlighted by Michael B. Jordan's formidable charisma, this reunion with his Fruitvale Station director Ryan Coogler is only sporadically compelling, resulting in a movie that never quite shakes the impression that it's a novel but not particularly necessary addition to the Italian Stallion series.
Sylvester Stallone returns as that beloved cinematic icon Rocky Balboa to train rival-turned-friend Apollo Creed's long-lost son, but like Creed itself his performance is more about stirring nostalgia than finding much new to say about the four-decade odyssey of a prizefighter.
Opening across North America on November 25, Creed is a scrappy crowd-pleaser that will appeal primarily to fans of the Rocky series, which was reinvigorated when 2006's Rocky Balboa, the first in the franchise in 16 years, became a sleeper hit.
Creed focuses more on Jordan, who has seen his profile rise slightly due to this summer's Fantastic Four reboot, although that film's commercial and critical disaster perhaps tempered his ascent.
The Thanksgiving season will see competition from The Good Dinosaur and the final Hunger Games film, but Warner Bros. should be able to stake out its own turf amidst a crowded landscape. (And if Creed performs strongly, the producers may have found a new star to take over the franchise's reins.)
Jordan plays Adonis, the illegitimate son of Apollo Creed, the product of a secret affair. Not wanting to capitalise on his late father's cachet, Adonis boxes under an assumed name, traveling from Los Angeles to Philadelphia to ask Apollo's old friend Rocky (Stallone) to train him to become a contender. Rocky has long been out of the fight business, but his love for his much-missed friend Apollo stirs him to help this young pugilist, who winds up landing a title fight against the heavily-favoured champion (Anthony Bellew).
With Fruitvale Station, Coogler showed an ability to craft intimate, character-driven drama, and that skill is the most impressive element of Creed, which he co-wrote. As a Rocky movie, Creed is just too by-the-numbers — we get training montages, inspirational speeches and a big third-act bout — but Coogler digs into the details of Adonis's life, especially as the young man tries to walk his own path while falling for a no-nonsense musician (a quite good Tessa Thompson) whos losing her hearing. This may be the first film in the franchise in which the boxing scenes are so overshadowed by the personal moments, which have an unpredictability the rest of the film lacks.
Unfortunately, these characters aren't particularly well-drawn, with even Adonis in the troubled-kid-looking-for-direction stereotype. As he's demonstrated throughout his career, Jordan is deft at revealing the struggle within his character — Adonis is self-destructive and combative, even though he's got a good heart — but there's not much depth to play with.
As in recent instalments, Rocky confronts mortality in Creed. After losing his wife and friends to death in earlier movies, here he's staring down a cancer diagnosis, which leaves him wondering if it would be better to forgo chemotherapy to hasten his reunion with the people he loves. There's a poignancy to this plot development, and Stallone brings some pathos to the performance, but it plays out mostly as cliché, with Stallone and Adonis conveniently each going through their own personal "fight" over the course of the film.
Creed is an anomaly in the series because Rocky isn't the main character, but it's also the first Rocky film that Stallone neither wrote nor directed. It ha been nearly 40 years since the original Rocky first hit theatres, going on to win the Academy Award for Best Picture, launching Stallone's career and establishing one of the most enduring Hollywood characters.
It's somewhat commendable how this franchise has used its sequels to examine celebrity, aging, even world affairs (in Rocky IV) through the prism of sports. Creed is no different by highlighting the horrors of cancer, but as has happened in several instalments, the story specifics end up feeling like mostly just an excuse to get us to the big boxing match in the final reels.
Coogler has some talent for staging propulsive fight scenes — an early Adonis bout is executed as a nifty single take — but he's competing against the dozens and dozens of other boxing movies (not just Rocky films) that have also contained similarly wrenching, exciting scenes.
The filmmaker seems to have encouraged his cast to deliver stripped-down, low-key portrayals, and Stallone and Jordan oblige, displaying a little sarcastic odd-couple chemistry. (And, to be fair, Creed arrives at an ending that honours the original film in a bittersweet way.)
But since so much of Creed's emotional oomph comes from audience familiarity with the past films, the movie mostly shadowboxes with its past.
Production companies: Metro-Goldwyn-Mayer Pictures, Warner Bros. Pictures, New Line Cinema, Chartoff-Winkler Productions
Contact: Warner Bros. Pictures, www.warnerbros.com
Producers: Irwin Winkler, Robert Chartoff, Charles Winkler, William Chartoff, David Winkler, Kevin King-Templeton, Sylvester Stallone
Executive producer: Nicolas Stern
Screenplay: Ryan Coogler & Aaron Covington, story by Ryan Coogler
Cinematography: Maryse Alberti
Production design: Hannah Beachler
Editors: Michael P. Shawver, Claudia Castello
Music: Ludwig Goransson
Website: www.creedthemovie.com
Main Cast: Michael B. Jordan, Sylvester Stallone, Tessa Thompson, Phylicia Rashad, Anthony Bellew