A child struggles to find her mother in this tense debut set on a giant dump in Nicaragua's capital city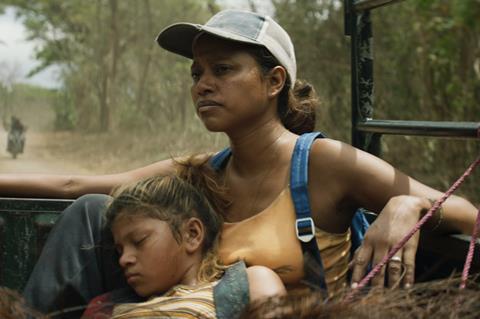 Dir/scr: Laura Baumeister. Nicaragua/Mexico/France/Holland/Germany/Spain/Norway. 2022. 90mins.
Daughter Of Rage, Nicaraguan Laura Baumeister's assured, compassionate and admirably clear-eyed feature debut, adds to the unhappy roster of Latin American films about children suffering by exploring the trials of an 11 year-old girl who has effectively been raised on a rubbish dump in the Nicaraguan capital of Managua. That shouldn't be a thing, but it is. One aim of this film, which elegantly fuses political protest and a celebration of human resilience into a gritty but poetic whole, is presumably to turn the film's audience into viewers of rage. This will surely happen during its premiere in Toronto's Discovery section, and perhaps elsewhere too, if it gets the further recognition it deserves.
You get the feeling that Baumeister has immersed herself fully and responsibly in the filthy and corrupted atmosphere of a place that literally and figuratively stinks
A stunning early shot shows a series of figures rising in silhouette from a mountain of junk. Though it's not named in the film, this is part of a massive dumping ground called La Chureca, and the figures rising from the rubbish like phantoms are Managua's human waste—the children scavenging there.
One of them is María (Ara Alejandra Medal), who has learned too young that, in her mother's words, "if you want something, you have to fight for it". She lives with her mother Lilibeth (Virginia Sevilla), and their shared bond is practically the only positive in their impoverished lives, with Lilibeth trying to raise money by selling scrap metal and the puppies they sometimes find abandoned in the rubbish. No question here of poor María actually getting to keep and play with one of them: they have to be turned into cash.
After they are fed with rotting food Maria has found, the puppies die. Quite apart from creating a new trauma for Maria, Lilibeth, who has taken an advance payment for them, is in trouble, and more so because she has cut the face of a gang member who tried to rape her. (With one exception, men in Daughter Of Rage are presented as people who, when they aren't trying to rape you, are driving round in gangs and threatening you for money.) And the violence has spilled over into the streets, too: events are set against the backdrop of protests inspired by the government's decision to put the disposal of the city's waste into private hands.
For Maria's safety, Lilibeth leaves her with Raul (Noe Hernandez) and Rosa (Diana Sedano), living saviours who effectively use their recycling plant as a home for abandoned children—although of course it is illegal for them to do so. However, Maria is missing Lilibeth and sets off to find her.
Daughter of Rage is mostly told from Maria's point of view. As an observer of events that she inevitably can't understand, she is at the mercy of her emotions, and one striking scene has her battering uselessly at the doors of the recycling plant, not understanding that she is there for her own good. A fine performance by Medal shows Maria's anger slowly rising to the surface as per the film's nicely ambiguous title; not only does María feel rage, she's also the victim of the anger of others.
With Lilibeth's disappearance, Maria retreats more and more into her imagination, and particularly into visions of a Cat Woman that the two would tell stories about. It is hard to portray a child's imagination convincingly, and these scenes feel less effective.
There's still a great deal of authenticity about Daughter of Rage, though,and you get the feeling that Baumeister has immersed herself fully and responsibly in the filthy and corrupted atmosphere of a place that literally and figuratively stinks, But there's a lot of visual poetry too. Through the early scenes particularly, Teresa Kuhn's photography is a stark reminder of the destruction wrought on nature, and on our connection with it. Another stunning shot has her floating down a river using two plastic containers for ballast: trash has elegantly become the vehicle for her escape.
But sometimes—as with one long-distance sunset shot, interposed at one point for no discernible reason—you wonder why the beauty of the dump has to be played up like this. Music by Para One and Arthur Simonini is minimalist and evocative, cleverly built around a stark but sweet two-note melody.
Production companies: Felipa Films, Martfilms, Halal, Heimatfilm, Promenades Films, Cardon Pictures, Dag Hoel Filmproduksjon, Nephilim Producciones
International sales: Best Friend Forever martin@bffsales.eu
Producers: Rossana Baumeister, Bruna Haddad, Laura Baumeister, Laura Baumeister, Martha Orozco
Cinematography: Teresa Kuhn
Production design: Marcela Gomez
Editing: Julian Sarmiento, Raul Barreras
Music: Para One, Arthur Simonini
Main cast: Ara Alejandra Medal, Virginia Sevilla, Carlos Gutierrez, Noe Hernandez, Diana Sedano