Debut comedy from Tom Edmunds features Tom Wilkinson and Christopher Eccleston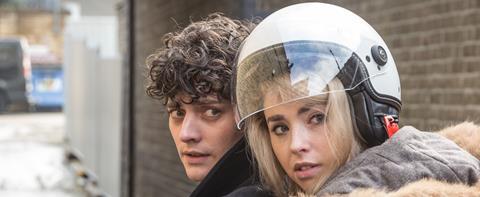 Dir.Tom Edmunds. UK. 2018. 90 mins
The promise of a spirited black comedy is never quite realised in Dead In a Week (Or Your Money Back). This feature debut from writer/director Tom Edmunds offers fitfully engaging, mild-mannered entertainment but lacks the scalding wit or vicious bite that might leave a lasting mark. A world premiere at Emden-Norderey Film Festival has been followed by other festival screenings (Edinburgh, Galway) but commercially this represents a tough sell in an unforgiving market. A hard-working cast might help it to find a slightly warmer welcome in ancillary markets.
Dead In A Week lacks big comic moments and the pace flags as the plot grows more convoluted and laboured.
Aneurin Barnard stars as William, a twentysomething life guard and aspiring writer whose latest failed suicide attempt is interrupted by genial hit man Leslie (Tom Wilkinson). He is offered a business card and a deal is subsequently struck for Leslie's services. If William is not dead within a week then he is guaranteed the return of Leslie's £2,000 fee.
The premise has promise although the film does carry the weary familiarity of an old-fashioned British comedy that might, with few alterations, have been variously made in the 1950s or the 1980s. William is a practical fellow, happily resigned to his fate and Leslie is an old school professional who claims that "I've never met anyone I couldn't kill."
Leslie is teetering on the brink of an unwelcome retirement and desperate to maintain his quota of kills and good standing in the British Guild Of Assassins. The contract to kill William is secured at just the right moment considering he is facing competition from ruthless Eastern European newcomers like Ivan (Velibor Topic) who has just been chosen as Hit Man Of The Year.
Predictably, just as William prepares to leave the world his fortunes change. A publisher expresses interest in his book and editor Ellie (Freya Mavor) swiftly becomes a reason for choosing life. Naturally, this rather complicates the contract with Leslie.
There is a mixture of styles in Dead In A Week that never quite gels. The domestic travails of budgerigar-loving Leslie and his sweetly supportive wife Penelope (Marion Bailey) could have strayed from a play by Mike Leigh or Alan Ayckbourn. Swaggering, sweary, over the top Guild Of Assassins boss Harvey (Christopher Eccleston) belongs among a collection of Guy Ritchie diamond geezers whilst the romance of William and Ellie has vague echoes of screwball comedy.
Dead In A Week lacks big comic moments and the pace flags as the plot grows more convoluted and laboured. The humour is heavy on irony and strays towards the tasteless (jokes about Michael J Fox for instance) without the compensation of provoking hilarity.
Tom Wilkinson's deadpan performance of exasperation and tetchiness creates a good deal of sympathy for Leslie and is one of the film's strongest assets. Generally, Dead In A Week's flippant tone and derivative plotting rarely succeed in persuading you that anything very real or significant is ever at stake here.
Production companies Guild Of Assassins Ltd, Rather Good Films
International sales: Altitude Film Sales info@altitudefilment.com
Producers: Daniel-Konrad Cooper, Nick Clark Windo
Screenplay: Tom Edmunds
Production design: Noam Piper
Editing: Tariq Anwar
Cinematography: Luke Bryant
Music: Guy Garvey, Peter Jobson, Paul Saunderson
Main cast: Aneurin Barnard, Tom Wilkinson, Freya Mavor