The sardonic superhero returns to head a new team of warriors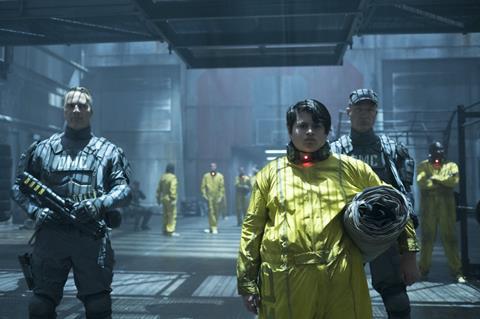 Dir. David Leitch. US. 2018. 120 mins.
Following the surprise success of the somewhat low-key (in superhero terms) Deadpool in 2016 ($783m worldwide), a sequel was clearly inevitable: but the plainly-titled Deadpool 2 is more of a multiple birth than a simple follow-up, spawning yet another team of super-heroes, or super anti-heroes. At least, if they stick to the decimal system, keeping up with the franchise should be relatively easy.
Perhaps it's the effort of introducing so many new characters that has sucked out the spontaneity from Deadpool
Deadpool 2 doesn't alter the formula. It's staked, as before, on the potty-mouth one-liners of Deadpool/Wade Wilson (Ryan Reynolds), delivering a sardonic rapid-fire adolescent diatribe which is very hit and miss, but pretty good-natured underneath all the outrageousness. The character, his dialogue, quips and in-jokes are as funny and bloody-bad-taste as before, creating goodwill and feeling of warmth for a character who is anything but. (Breaking the fourth wall to proclaim "lazy writing" at another pro-forma plot contrivance is, however, wearisome in the wake of Avengers: Infinity War.)
While Deadpool 2 delivers the gags and the gun-shot geeky Marvel insider references, the plot could have done with some more finesse. It's all crammed around the need to – Marvel confusion alert – create a new team of warriors confusingly called X-Force (and featuring Josh Brolin from Avengers: Age Of Ultron in a different role). If Superhero fatigue is ever going to set in (which seems alternatively inevitable and unlikely), it's going to be here.
Ryan Reynolds, again credited as producer, takes a story credit with Rhett Reese and Paul Wernick, returning from the first, although the director has changed from Tim Millar to David Leitch (John Wick, Atomic Blonde). Perhaps it's the effort of introducing so many new characters that has sucked out the spontaneity from Deadpool: still, it's nothing that can't be sorted for the likely next installments.
Coping with the death of his girlfriend Vanessa (Morena Baccarin) at the hands of a random villain sees Deadpool floundering for the first part in pain and regret, attempting to commit suicide. (Without the suit, he's still riddled with cancer, and intensely scarred). The film finds its feet at last when he decides to advertise for a superhero squad, and the team heads for Essex house - the training camp of the X-Men franchise - to help save it from the hands of evil Headmaster (Eddie Marsan, whose character fails to qualify for a name).
From there, the whole X-Men connection continues, including the return of Negasonic Teenage Warhead (NTW, played by Brianna Hildebrand) and her new one-note Japanese girlfriend Yukio (Shioli Kutsuna from Oh, Lucy!). Colossus (Stefan Kapicic) also has a part to play.
Young mutant Firefirst (Julian Dennison, all the way from New Zealand where he starred as Ricky Baker in The Hunt For The Wilderpeople), is laying waste to the school with his uncontrolled superpower of hurling bolts of fire from his hands. Cable (Josh Brolin) arrives from a future disaster to kill Firefist and stop him from a career as a serial killer, but Deadpool decides to step in to help the teenager, who is already alienated due to the lack of plus-size superheroes.
It's less of a plot and more of a branch on which to hang the new team – the X-Force. (Deadpool is annoyed about the sexist "men" of the film franchise). Interviews to join Deadpool's gang provide the film's first laugh-out loud moments, and also lend the show its true breakout star, Zazie Beetz as Domino, whose super hero ability is good luck, and who brings charisma, character and life into the script when it is most needed.
There's a lot for Marvel spotters, most notably a blink-and-you-miss-it appearance by Brad Pitt as Vanisher. Race gags continue with the return of taxi driver Dopinder (Karan Soni) in a bigger role, and an oddly-constructed character called Black Tom, which doesn't really work. It seems as if Marvel and, to a lesser extent now, DC, have set placemats on strategic opening weekends for years to come, and the films are filling a pipeline, whether they be good or bad. Deadpool 2 is somewhere in between.
Production companies: Kimberly, Maximum Effect
Worldwide distribution: 20th Century Fox
Producers: Simon Kinberg, Lauren Shuler Donner
Screenplay: Rhett Reese, Paul Wernick, Ryan Reynolds
Editing: Elisabet Ronaldsdottir, Dirk Westervelt, Craig Alpert
Production design: David Scheunemann
Cinematography: Jonathan Sela
Music: Tyler Bates
Main cast: Ryan Reynolds, Josh Brolin, Morena Baccarin, Julian Dennison, Zazie Beets, T. J. Miller, Leslie Uggams, Karen Soni, Brianna Hildebrand, Eddie Marsan, Shioli Kutsuna, Lewis Tan, Bill Skaarsgard, Brad Pitt, Rob Delany.