Indonesian genre outing marks a strong - if low-budget - debut for Cornelio Sunny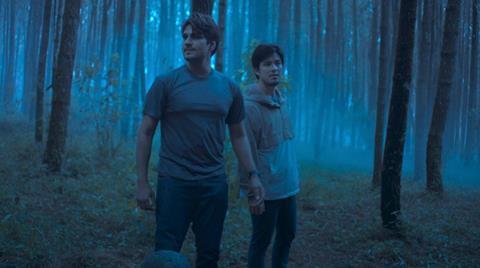 Dir: Cornelio Sunny. Indonesia. 2021. 103 mins
"Leave the house and leave this place." Cornelio Sunny's folk horror Death Knot may be full of stock warnings, but this tale of siblings who fall foul of a satanic pact upon returning to their family village still conjures up an unusual atmosphere. Indonesian horror cinema has been on a tear in recent years, with hardened genre aficionados not only getting a jolt from such loose remakes as Satan's Slaves (2017) and The Queen of Black Magic (2019) but being shaken by original fare like Impetigore (2019) and the May the Devil Take You duology (2018/20). As a low-budget production from a first-time director, Death Knot is relatively straightforward in its execution and cannot rival the accomplished output of reigning local terror masters Joko Anwar and Kimo Stamboel. Nonetheless, this thrifty shocker largely makes a virtue of its evident limitations to keep the bandwagon rolling.
This thrifty shocker largely makes a virtue of its evident limitations
Given the enduring popularity of horror films in South East Asia, Death Knot should perform well in relation to its modest production outlay once it hits theatres around the region. Internationally, its world premiere at the Udine Far East Film Festival will be followed by further engagements at Asian-themed or genre-oriented events. Although this will never be mistaken for a top-tier genre title, it's certainly effective enough to provide decent streaming revenues.
Shortly after simultaneously experiencing premonitions about their mother, siblings Hari (Sunny) and Eka (Widika Sidmore) learn that she has committed suicide. With Eka's husband Adi (Moran Oey) in tow, they travel from Jakarta to their impoverished home village to attend the funeral and find a caretaker for the family property. The locals are not particularly welcoming as the siblings are essentially outsiders, having relocated to the city with their father at a young age. Furthermore, they claim that their mother was a shaman who had made a deal with the Devil. "She should be burnt, not buried," is the overwhelming sentiment.
Although the villagers are generally reluctant to converse with Hari and Eka, a few confide that their mother practiced black magic to incite a spate of suicides in order to gain more power from dead souls. Eka is deeply uncomfortable and wants to leave, but Hari is convinced that these insidious rumours are just a ploy to spook them into signing over the family home to an estranged uncle. Yet his skepticism is challenged when some villagers are found hanging from a tree and Adi starts to exhibit strange behaviour.
After a sinister opening sequence in which the matriarch performs a ritualistic dance in a forest shrouded in blue mist before taking her own life, Death Knot builds steadily. Initially eschewing jump scares in favour of developing a disquieting mood, Sunny mines the eerie location for all it is worth and plays up the inhospitable attitude of the enclosed community, which narrowly enables him to get away with potentially clunky folklore exposition. As is typically the case with horror yarns that trap urbanites in remote settings, the film foregrounds a battle between opposing forms of existence: modernity/tradition, education/belief, individualism/destiny. Much of the first half finds Hari dismissing talk of ancestral deities and family curses as mere superstition while gloomy cinematography by Gunnar Nimpuno creates a sense of encroaching dread which undermines the protagonist's rationalisations.
When the scares do come, they are reasonably well handled, albeit somewhat repetitive since budgetary limitations prevents demonic confrontations from escalating beyond standard gnarly face-offs with human hosts. However, possession is craftily evoked through festering make-up work, with actors adopting creepily glazed facial expressions with their uncanny movements emphasised by subtly jarring sounds like the cracking of the neck. Indeed, one of the film's strongest elements is Dicky Permana's unsettling sound design. Bursts of bad weather add to the sense of confinement and the recurrent ominous ticking of a clock is methodically integrated to Charlie Meliala's sparsely arranged score to achieve a rattling crescendo in the final act.
Despite being an actor-turned-director, Sunny only makes a cursory effort when it comes to character development as the supposedly integral brother-sister bond is just perfunctorily sketched. Crucially, though, he handily ticks most of the genre boxes with a Lucio Fulci-inspired parting shot wrapping things up on an appropriately doom-laden note.
Production company: Matta Cinema
International sales: Good Move Media, chan@goodmovemedia.com
Producer: Ismail Basbeth
Screenplay: Ike Klose, Cornelio Sunny
Editing: Indra Sukmana, Helmi Nur Rasyid
Cinematography: Gunnar Nimpuno
Music: Charlie Meliala
Main cast: Cornelio Sunny, Morgan Oey, Widika Sidmore, Djenar Maesa Ayu