Ensemble cast attempt to steer Branagh's Poirot down a digitally enhanced Nile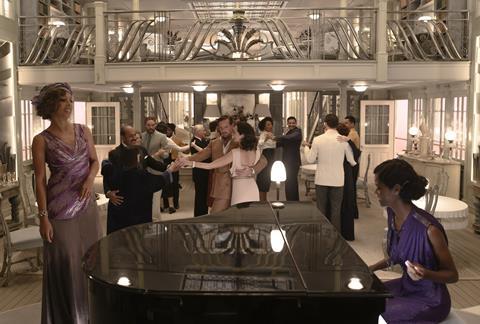 Dir. Kenneth Branagh. UK. 127 mins.
How long has it been since Kenneth Branagh shot Death On The Nile? Long enough for one of his leading male characters to have been 'cancelled' — but not long enough for him to have yet attempted a rehabilitation. Still, Armie Hammer - in the role taken by Simon MacCorkindale in the 1978 version - is not a household name for the target demographic of this nostalgia big-screen reworking of Agatha Christie's most popular Hercule Poirot novel, and director/star Branagh has popped out strong Oscar contender Belfast in the interim. Fortune has certainly been a mixed bag for this ensemble period drama.
Branagh can be overly fond of digital bells and whistles
Good-looking, if atmosphere-free, cosy-cinema which shot in late 2019, Death On The Nile holds neither narrative surprises nor any of the eye-popping action of Murder On The Orient Express, a $350m hit for Branagh and co in 2017. Interestingly, Branagh has followed the route taken by EMI back in the 70s by first adapting Orient Express (with Albert Finney as Poirot), followed by the less successful Nile (with Peter Ustinov). Much in the same way, 2022's Death On The Nile will probably reap smaller box office rewards.
It's all about the casting when it comes to commercial appeal of a film like this - as well as the costumes (the original won an Oscar for Anthony Powell) and locations. With Branagh reprising his hyper-fussy Poirot (a prologue explains the dark history of the moustache), he has surrounded himself with an ensemble which is just about interesting enough to carry the vessel on its lengthy trip down the Nile (although, at 127 mins, this is 13 shorter than the 1977 version). Annette Bening, Gal Gadot, Emma Mackey, Rose Leslie, Jennifer Saunders and Dawn French take over from Bette Davis and Angela Lansbury et al, while Letitia Wright and Sophie Okonedo are welcome new additions added by writer Michael Green, who does as much as is possible with the beloved original while still hewing to the familiar narrative.
The film itself has been divided in three: the prologue, with Poirot saving souls during a key battle during the First World War, is shot in black and white and features a digitally de-aged Branagh. The second is set in a London jazz club in 1937, leading to hopes of some spy intrigue - or at least a random Nazi subplot - which goes sadly unfulfilled. The third is a digitally enhanced Egypt (second unit only; the rest was shot in Longcross), where the newlywed society millionaire Linnet Ridgeway (Gadot) goes on honeymoon with her hunky if broke husband Simon Doyle (Hammer) and a whole vessel full of friends/family who hate her. The paddle boat SS Karnak is a lovely piece of art department craft: all wide spaces and bevelled glass and mirrors. Does it feel like Egypt, though? Not for a minute. Much of this film has been digitally augmented to the point where you long for a sweaty Peter Ustinov to pop up on deck waving his white handkerchief for authenticity.
Part of the Ustinov film's cheesy charm is that they were all - Jane Birkin, Angela Lansbury, Maggie Smith, David Niven, etc - clearly on an Egyptian boat, in Egypt. They looked hot. They fanned themselves. It had atmosphere. Branagh can be overly fond of digital bells and whistles - take Artemis Fowl as an example - which is what makes Belfast an unusually stripped-down piece of work for him. But here, it's mostly trickery, switching from matte-painted scenery to cameras which repeatedly swivel around in a circle during times of tense dialogue. There's also a few of his signature shots up the nostril. Ultimately, though, it's busy-ness trying to fill in the void where the texture should be. And yes, Death on the Nile is a guilty pleasure, a Jazz Age frippery, but these things do matter. They're what audiences can't quite put their fingers on when they know something is wrong (especially if they're watching it in 70mm, something of a vanity for a film like this).
Still, though, this is a mostly nicely-cast piece (Russell Brand is as stiff as the deck, while Tom Bateman's character Bouc still feels superfluous, even with a mother played by Bening). Some shine within the limitations of an ensemble - Letitia Wright and Emma Mackey in particular feel fresh and good, while Sophie Okonedo has a great deal of fun in her part as a chanteuse. Hammer's Simon is an anodyne lunk with not much to do but look pretty - he's simply not important enough for his sex scandal to torpedo this boat. Gal Gadot, though, is such an alive film star in the middle of this charisma desert that when the plot requires less of her presence (at least, alive), Death On The Nile does suffer a real dip in energy.
The bodies mount up, we know the ending, and there's no cheery wave-off from Branagh's Poirot, gloomily obsessed by what a dangerous thing love can be. As the narrative gears grind through like the slow and steady paddle boat, there's a sense that Branagh has lost a lot of the fun of Agatha Christie along with his passport - although as the credits indicate he kept a navy's worth of global digital compositors in work through the pandemic, at least they'll be smiling.
Production company: 20th Century Studios, Kinberg Genre, Scott Free Productions, TSG Entertainment, The Estate of Agatha Christie, The Mark Gordon Company
Worldwide distribution: Disney
Producers: Ridley Scott, Kevin J Walsh, Kenneth Branagh, Judy Hofflund
Screenplay: Michael Green, adapted from the novel by Agatha Christie
Cinematography: Haris Zambarloukos
Production design: Jim Clay
Editor: Una Ni Dhonghaile
Music: Patrick Doyle
Main cast: Kenneth Branagh, Tom Bateman, Annette Bening, Russell Brand, Ali Fazal, Dawn French, Gal Gadot, Armie Hammer, Rose Leslie, Emma Mackey, Sophie Okonedo, Jennifer Saunders, Letitia Wright.