Documentary about the hurdles facing an autistic couple which won the Grand Jury Prize at Sundance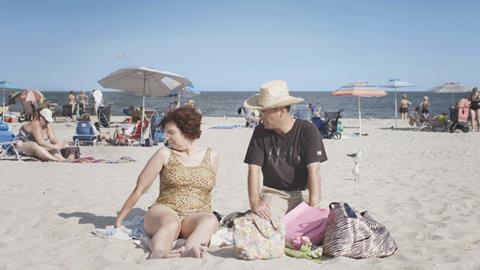 Dirs: Antonio Santini, Dan Sickles. US. 2016. 101mins
The challenges inherent in preparing for marriage are amplified in Dina, an affecting documentary about an autistic couple who discover that their condition complicates their commitment to one another. Winner of Sundance's US Documentary Grand Jury Prize, this fragile, frank film chronicles its subjects with stripped-down intimacy, which can sometimes border on feeling like simple gawking. But it's impossible not to care deeply about these anxious lovebirds, especially as we begin to understand the obstacles threatening their relationship.
Dina offers no easy resolution — this is not a Hollywood disease-of-the-week film in which serious medical conditions are grist for rank sentimentality
As the film begins, fortysomething Dina Buno and her fiancé, a middle-aged Walmart employee named Scott Levin, are moving in together in the run-up to their wedding. Both of them are autistic — Dina also copes with depression — and we watch as they participate in typical pre-marriage traditions such as the bachelor and bachelorette parties.
Filmmakers Antonio Santini and Dan Sickles (Mala Mala) approach Dina's central couple with compassion and affection — the Sickles family has known Dina since before she was born — but sometimes the presentation works against those intentions.
Utilising static shots that often observe Dina and Scott from a distance or from the corner of a room, Dina means to "normalise" the couple's "eccentric" behaviour, wanting viewers to familiarise themselves with a disorder we rarely see on screen. The problem is that the fixed camera placement can also come across as wryly deadpan — reminiscent of a similar technique in the films of Aki Kaurismäki and Roy Andersson — as if mocking the unusual way Dina and Scott talk and interact. (Indie actor Michael Cera's delicate, intermittently cutesy acoustic score augments this cringe-y feeling.) Without question, Dina intends to be comedic at times — both Dina and Scott, as well as their friends and family, deliver myriad clever quips — but the film's humour occasionally flirts uncomfortably with ridiculing autistic behaviour.
But with that said, there's also something daring in this technique. Santini and Sickles are challenging our preconceptions about autism by presenting it unadorned, asking us to let go of our unease at seeing people with this condition so that we can instead focus on Dina and Scott's romantic plight.
Dina is strongest in this regard as the filmmakers reveal that the strength of the couple's relationship is in serious doubt. Most worrying is the fact that although Dina is sexually experienced — she's been married before — Scott is naïve, almost childlike, preferring to hug her and kiss her on the cheek rather than being more amorous.
This sexual incompatibility would be concerning in any situation, but the couple's autism, mixed with other issues that will be revealed, makes the difficulty to communicate individual needs seem insurmountable. The warmth between Dina and Scott is palpable, but they both feel locked inside their autism, unable to fully break through and connect with the other person.
As Dina progresses and we learn more about the traumas Dina has faced, this documentary becomes increasingly heart-breaking. Here, the filmmakers' deceptively detached approach proves fitting, giving their subjects the respectful distance needed for them to wrestle with their romantic roadblocks. Appropriately, Dina offers no easy resolution — this is not a Hollywood disease-of-the-week film in which serious medical conditions are grist for rank sentimentality. But the resilient expressions of love shared by Dina and Scott are so strong one can only hope these people find some sort of happy ending.
Production companies: Moxie Pictures, El Peligro, Cinereach, Impact Partners, Killer Films
International sales: Submarine, info@submarinedeluxe.com
Producers: Antonio Santini, Dan Sickles
Executive producers: Stephanie Choate, Dan Levinson, Robert Fernandez, Christine Vachon
Cinematography: Adam Uhl
Editor: Sofía Subercaseaux
Music: Michael Cera